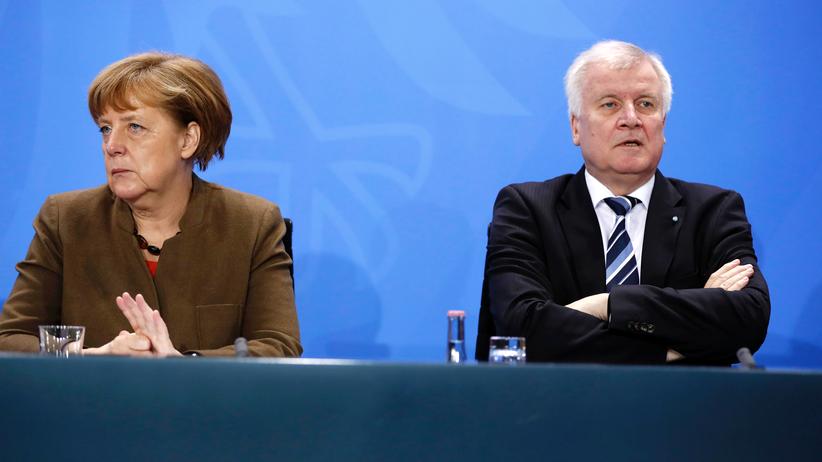 German chancellor Merkel and Interior Secretary Seehofer – lovely body language (Source: https://img.ziet.de/politik/deutschland ) 
German media is somewhat dramatically perhaps (this is Germany we're dealing with after all,) predicting Monday will be the 'day of destiny' for Angela Merkel when the the Chancellor will be issued an ultimatum over, either suport Germany or support Islamification.The coalition between the Merkel-led Christian Democratic Union (CDU) and its conservative Bavarian allies is in crisis over the four – term Chancellor's insistence that Germany's borders stay open to all comers. Fed up of being forced by the federal government to pander to Muslim militants by removing any references to Christianity in public buildings because 'these might offend Muslims,' the Bravarian provincial government recently ordered that a Christian cross be displayed in every school classroom.
Germans have previously been urged to comply with requests from Muslims to remove pork and pork products from supermarkets and shops, to stop walking dogs in public spaces, and to desist from playing music outdoors as all these things are offensive to Islam. German women have also been told they should not complain when raped by Muslims because the way European women dress identifies them as whores in they eyes of Muslim men. The left wing idiots who screech about multiculturalism and diversity conveniently forget that even prostitutes in the west are protected by law and if they do not consent to sex it is rape.
The current dispute centres on one of the sacred cows of EU federalists, free movement. While the free movement rules apply to EU citizens being able to move freely within member states, in recent years globalist leaders, with Merkel to the fore, have reinterpreted this to allow non EU citizens, including those who have entered Europe illegally without even a passport or national ID card to establish who they are or where they are from to enter the Union and move around at will.
Christian Social Union (CSU) leader and interior minister Horst Seehofer, a vocal critic of Merkel's immigration policy, has warned he will give Merkel two weeks to arrange a deal with other EU leaders over migrants who have already applied for asylum elsewhere, or else shut the borders to newcomers who have previously registered in other European nations.
Merkel, who has led Germany since 2005, has rejected the proposal, claiming that turning aliens away at the border would within the bloc. The so called EU values
Both party leaders are expected to issue statements on Monday afternoon after CSU and CDU officials hold separate talks in Berlin and Munich, to which Merkel was not invited. CSU secretary general Markus Blume told reporters that Seehofer's 'migration masterplan' had the party's total backing.
Publication of the masterplan has been postponed to allow for negotiations, but local media reports suggest the interior minister's plan has the potential to further damage relations between the coalition partners because ir contains anti-mass migration proposals such as slashing asylum seekers' cash payments and replacing them almost entirely with benefits in kind.
The sooner Merkel and those infected with the same globalist virus is gone the sooner we can get on with saving Europe.
German Justice Minister Runs From Stage As Angry Audience Members Yell "TRAITOR!"
The peoples' pushback against European federalisation and genocide of Europe's white working classes by flooding nation states with third world immigrants continues to gather pace as, with the onset of warmer weather, the flow of illegal immigrants into Europe starts to increase towards last year's levels.
Disillusionment With EU Grows as Swedish Support Slumps By 30%
A new opinion poll carried out on support for the European Union in Sweden has produced some shock findings as a massive turnround among Swedish voters probably due to mass immigration and migrant related crime waves in cities. From being one of the most solidly pro-EU member states, Sweden now has a substantial majority against membership of the EU.
A Closer Look At No – Go Zones For Europeans In EU's Notorious Migrant Districts
In the wake of the latest terror attacks in a European city, (Brussels this time) it seems everybody in the EU except for the politicians and senior bureaucrats whose ineptitude and arrogance caused this mess, is now aware of the scale of problems for European socities emanating from the Islamic enclaves that have been allowed to develop by authorities more interested in being politically correct that serving the people who pay them.
Immigrant criminals and Swedish criminals are viewed differently in the eyes of Swedish law.
We ask why it is, in Sweden, that when a Swede kills two immigrants it is an act of terrorism that shames the nation, but when an African immigrant kills a Swedish mother and her young child, in the eyes of the government it is somehow the victim's fault? The big concern is that, given the desperation of our Conservtive and Labour party leaders to make us more European, such politically correct insanity will be inflicted in Britain next
Starting Pistol Fired In Race To Succeed Merkel
While the odds of Merkel being deposed by a putsch in her own party may seem slim, they have been improved vastly by her party's monumental failure in German state elections on Sunday, with her migration policy as the rationale for huge numbers of voters abandoning the CDU for the anti – integration, anti – immigration AfD party.
Senior German Government Figure Calls For Mandatory Pork Ban In School, Government Canteens
The gulf in attitudes between the political ,business and academic elites and reality is growing wider at an accelerating rate. While ordinary people hold onto the values and traditions of Europe's 5000 year old civilisation, the elites seeme determined to sell our contintent from under our feet to immigrants who have contributed little but want to impose their religion and customs on us. Here's an example …
Germans Cheer As Refugee Center Burns
After a remarkable degree of restraint and tolerance was demonstrated by residents of EU cities where the refugees are being dumped in hostels, fed, clothed and given spending money, all funded by European taxes, the attacks that left 130 people dead in Paris in November and the string of sexual assaults that swept Cologne, Germany on New Year's Eve have been the straw that has broken the camels back.
Germans Demand Impeachment Of Hausfrau – Volksfuhrer Merkel
It has taken an example of lawlwss behaviour by recenltly arrived immigrants as gross as the mass rape and sexual assault riot in Cologne at New Year, 2016, to awake German anger at what their government, led by arch globalist Angela Merkel, is doing to the ancient cultures of the federal states that make up modern Germany.
GermanSocialist Idiot Minister: Criticism Of Migrant Rapes Are As Bad As Rapists Themselves
Public hostility to Muslim migrants who raped and sexually assautled German women and attacked German nationals on New Year's Eve increased sharply after a socialist regional politician in the North Rhine – Westphalia federal state appeared to blame Germans for the orgies of violence that took place in Cologne and other German cities as people celebrated the New Year.
Google, Facebook and Twitter Yield to German Govt Demand to Censor Anti-Migrant 'Hate Speech' (aka Free Speech)
Over the past couple of days we, and many other New Media outlets reported the horrific incident in Cologne, Germany at New Year, in which a crowd on male, recently arrived immigrants, all of Arab or North African appearance according to witnesses carried out a mass attack on German women who were simply trying to use the railway station.
Mass protests against Merkel and immigration are spreading through Germany
Angela Merkel may be holding on to power in Germany by her fingernails as she stuggles to form a working coalition, six months after the incolclusive election last September, but the political cisis in not over, while Merkel's standing in the country goes from bad to worse. Germans are intensifying their protests against Merkel's open …
German Politician Predicts White Germans Will Be A Minority. Faces Calls to Quit.
Erika Steinbach, human rights spokesperson for Angela Merkel's CDU party, has been criticized after she posted a picture that appears to predict that in 14 years' time, white people will be in a minority in Germany. Steinbach faces criticism after she tweeted a picture with the caption 'Germany 2030' that depicts a crowd of dark-skinned people curiously asking a single white child where she is from.
Germany Unleashes New 'Ministry Of Truth' To Combat Populist Movement
It seems any accusation of being "populist" is now 'verboten' in the nation primarily (but wrongly) identified with populism. In the best example to date of resurgent German Fascism, Hausfrau – Volksfuher merkel's government is moving to abolish the right to free speech and suppress dissent (just as Hitler's Nazis did) in a bit to …
Migrants Mass At Greek Border Waiting To Cross Into Europe
An estimated 6,500 undocumented travellers (i.e. no passports, no ID, no visas etc.) were assembled at the Idomeni camp on Greece's northern border with Macedonia on Saturday according to news feeds, after four Balkan countries announced a daily cap on migrant arrivals. The log jam began after Macedonia began refusing entry to Afghans and imposed stricter document controls on Syrians and Iraqis, slowing the passage of migrants and refugees to a trickle.
Will Merkel's Migrant Disaster Drive Germany's AfD Into Power?
Results from local elections held in Germany last weekend indicate that German Chancellor Angela Merkel is in deep trouble. Her party, the Christian Democrats is losing votes to opponents from the right and left, largely because of the illegal immigrant crisis brought on by Merkel's crazy 'open doors' immigration policy which ahas resulted in Germany …
Germans Cheer As Refugee Center Burns
After a remarkable degree of restraint and tolerance was demonstrated by residents of EU cities where the refugees are being dumped in hostels, fed, clothed and given spending money, all funded by European taxes, the attacks that left 130 people dead in Paris in November and the string of sexual assaults that swept Cologne, Germany on New Year's Eve have been the straw that has broken the camels back.
Germany and The Incompatibility Of Cultures.
As tensions between immigrant groups and German nationalists continue to increase following the mass sex attacks in Cologne at New Year and revelation that have come to light since them that the German authorities have for years been covering up the appalling rate of sex crimes committed by Muslim immigrants on German and European women …
Watch two Finnish shopgirls out a couple of male Muslim shoplifters.
Arthur's introduction (in his usual inimitable style) to this video from Finland might offend some people, but the attitude of Muslim immigrants that they can just walk into shops and take what they want, force themselves on women whenever they please, molest young children and tel us how to run our countries in Europe needs to be challenged.
Islamification Of Germany: Regensburg City Council Considers 'Women-Only' Transportation
Public segregation of men and women, women only buses, segregated sessions at the swimming pool. European politicians have betrayed the people of Europe and are giving away our traditional freedoms in order to appease bestial Muslim immigrants.