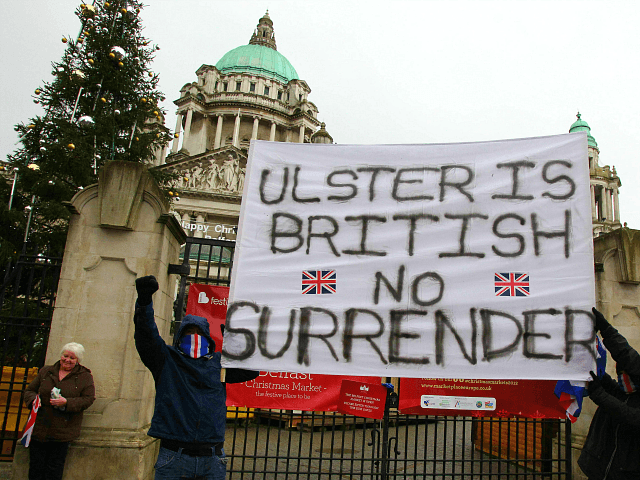 Picture source: AFP / Getty
A report in the Sunday Times is accurate, May has assembled a detailed "secret" Brexit plan that, among other details, would kill off the controversial Northern Ireland "backstop" that had become the main obstacle to further negotiations.
Working in secret, May has reportedly developed a detailed, 50-page plan for a Brexit treaty that will allow the entire UK to remain within the EU customs union – that is, until a final deal can be hammered out during the transitionary period, which Brexiteers fear could mean "forever".
As part of the new "secret" deal, May has effectively scrapped most of her controversial four-page "Chequers plan", and replaced most provisions governing the single market and customs union with an agreement to hash out a "Future Economic Partnership" – essentially an open-ended agreement to continue negotiations that leaves open the possibility of reaching a free trade deal like the one enjoyed by Canada, a provision that is bound to appease at least some of the Brexiteers.
However, the Democratic Unionist Party (DUP) a Brexit-supporting Northern Irish party currently propping up Theresa May's minority government has rejected concessions to the European Union (EU) which could have left Britisg citizens in the province subject to EU judges for years.
The Prime Minister had reportedly persuaded EU bosses to drop their insistence on splitting up the United Kingdom and separating Northern Ireland from the rest of Britain's Home Nations with customs checks in a so-called "customs compromise".
Northern Ireland's Democratic Unionists Party (DUP) had threatened to vote down the budget if the UK was divided in this way. Mrs May proposed to keep the entire UK tied to the EU's Customs Union as a compromise, while Brussels was pressing for Northern Ireland to be subject to Single Market regulations as well.
Throwing this "compromise" out, the DUP's Westminster leader Nigel Dodds said: "If Northern Ireland is subject to EU Single Market regulations, then it will also be subject to the European Court of Justice in some form as the arbiter of those regulations.
"This position leaves Northern Ireland a rule taker from Brussels. We're confident we can get a good deal, good for all four corners of the United Kingdom."
May has been despoerately trying to keep Britain tied to the EU by stealth ever since the process began, though she never committed herself in the brexit campaign, (she's always been the kind of politicians that in public goes the way the wind is blowing, has revealed by her actions she is privately a rabid remainer and a globalist.
EU "Sounds Alarm" Over New US Sanctions On Russia; Germany Threatens Retaliation
Late on Friday (21/07/17), Congressional negotiators agreed to advance a cross – party bill that would punish Russia for its (alleged) interference in the 2016 election according to the Wall Street Journal. And while it seems improbable that President Trump would sign the bill if it reaches his desk, the loudest complaint about the bill to date has emerged not from the Oval Office, but from US allies in NATO and the European Union …
Rebellion Against EU Authoritarianism Escalates As 8th Member Nation Threatens Referendum
Brussels went too far, they crossed the line in moving from an economic union to a political pan – European political empire. In the end it was a race as to which member state would quit first, Britain, Natherlands, Denmark or Italy. In the event it is Britain.
Is Brexit A Harbinger Of Doom For The 'Experts'
The Brexit vote, the decision by a democratic majority in Britain to leave the European Union has sent shockwaves around the world. Not only does the EU now face a tsunami of departures, the usurpation of democracy by 'experts' ( technocrats ) has been challenged and exposed as a sham.
BREXIT vs. GREXIT – The Truth About The European Union And How It Treats Members
Unless the testicularly deficient politicians stand up for their nations he only thing that will halt the European Union's push beyond Europe's geographical borders to incorporate Asian, middle eastern and north African nations is war. Power is addictive and the bean counters of Brussels have ambitions far beyond Europe.
The Hypocrisy and Snobbery Of The Remain Campaign And The Antidote

When I had to defriend a Facebook contact because she was arguing in favour of the EU, it was not simply because I support Brexit that I had become pissed of with her, it was the snobbish and condescending way she dismissed supporters of LEAVE and their case. People are entitled to their opinion on the European Union, but they should check the 'facts' they post in support of their arguments.
French, Belgians, Dutch, Italians Follow Britain in Euroskepticism
Europeans want us British to lead them out of Europe. Don't be fooled by project fear, the European Union (aka the Euronazi Federal Superstate) is falling apart. There will not be chaos if we leave, there will be chaos if we stay.
Head Of European Institute: Brexit 'Better' For Everyone
Brexit would be the best result of Britain's in / out referendum for both Britain and the EU i a Belgian professor who heads up the European Institute at the London School of Economics (LSE) has said.
Johnson's article lines up his reasons why Britain must exit on June 23rd. It's time to be brave
OK, I know a lot of you think Boris is most accurately described by a word many people find offensive, but he's put together a very good argument here on why we must leave the EU. Published in part here under 'fair use' terms and conditions, in the public interest …
Cameron Plays Deal Or No Deal In Europe
David Cameron, who was apparently up all night trying to make other European leaders understand why his country needs a better deal in order to poersuade the prople it is a good idea stay in the EU. Unless Cameron gets what will enable him to sell the idea of surrendering national sovereignty to a Federal European Superstate ruled by a committee of unelected bureaucrats in to the British public he will not campaign for the UK to remain in the bloc
EU Refuses to Block Eurozone Integration to Reach Agreement With UK
Austrian Chancellor Werner Faymann said at the E?U summit on British membership terms that the European Union wants to reach an agreement with the United Kingdom, but it is not prepared to compromise the banking union (financial integration) or the further integration of monetary union (UK being forced to abandon the pound join the Euro?) to achieve this goal.
Cameron's EU Deal Worthless. It Can Be Vetoed In European Parliament?
Opinion polls show Britain is evenly divided on the question of whether to leave or remain in the EU, though it has been suggested up to 10 million other voters, many of them women, have yet to make a decision. How they cast their vote will shape the future of the world's fifth largest economy and the EU itself. But what is really at stake is more important than economics …
Obama's intervention in UK politics triggers angry backlash
Angry Britons have launched a petition calling for U.S. President Barack Obama to be prevented from speaking in the UK parliament on Britain's forthcoming referendum on European Union (EU) membership.