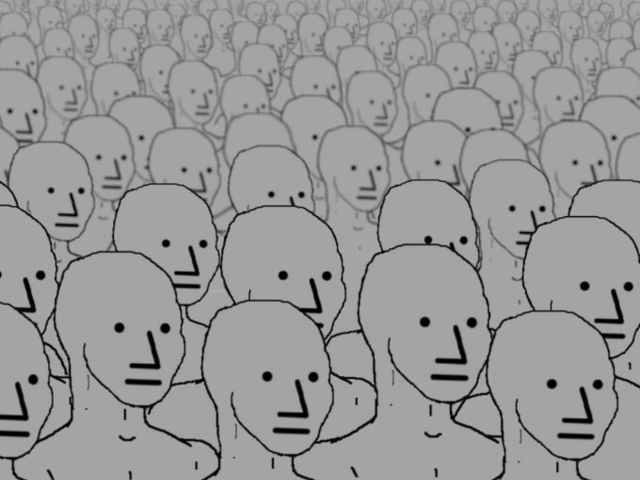 NPC meme – satirising the 'leftie intellectuals' who celebrate diversity by all parroting the same left wing propaganda
A few weeks ago The Bank of England announced it will be issuing a new £50 note. The new note will be coated in plastic like our current £5, £10 and £20 notes, for better durability and, it is claimed, lower money laundering opportunities (although this in nonsense, it is no different in that respect to the current paper note, and of course electronic money is a far safer bet for money launderers if they are a bit tech savvy.) The current £50 note features Matthew Boulton and James Watt, industrial revolution figures who developed a commercially viable steam engine in the 1700s (they didn't actually invent the first steam engine, that was Thomas Newcomen in 1712 but his design was por and inefficient,) and engineered many machines that used steam power in industrial processes.
Suggestions of who will feature on the new £50 will be put forward by the public. What could possibly go wrong? Anyone remember when the public were asked to name a new polar exploration research ship and the most popular suggestion was Boaty McBoatface? So who should go on the new £50 note? Cue the suggestions of unheard of Black scientists, Muslim doctors and Shamanistic Animist mathematicians. The University brainwashed NPCs will go for any name the leftist propaganda machine throws up.
And why not? The boatloads of scientists and entrepreneurs that wash up on our our shores on a weekly basis hoping to culturally enrich undr age girls and take up professions related to the science of claiming banefits have help us enormously in our efforts to advance science and technology. Of course, the British Government could never make such a suggestion themselves, but if they pass it over to the public to decide, well hey, we chose it ourselves, right?
It took mainstream media just one day to jump on the bandwagon, promoting the claims of compete nonentities on the basis of skin colour and religious affiliation rather than metic.
The Daily Mail, who many oddly label as a "right wing extremist newspaper", promoted the idea of having Noor Inayat Khan on the note. Khan was a female, Indian, Muslim Nazi fighter. The only thing that surprises me at this stage is that she didn't have a previous lesbian, pansexual relationship too. The Independent promoted the suggestion of Mary Seacole; a mixed-race woman from Jamaica who was a nurse and businesswoman during the Crimean War. Labour MP, Wes Streeting, suggested Nelson Mandela. The fact that none of these people are British seems a completely overlooked fact.
Would any of these been suggested had they been born white? They may have but pigs might fly too. Why does it matter? Those of us who find the whole thing stupid and point out there is no good reason why the current occupants should not remain on the note. we will no doubt be assailed by "gammon"-shouting NPCs claiming we can't stand the thought of that eminent scientist ummm* being on a banknote because we don't like the look of brown people. Their myopic way of inventing a race issue is belief that who is on the £50 note is the actual issue here. The £50 note is almost irrelevant, how many of us know without looking it up who is on any banknote (apart from The Queen.) While these people see a single, harmless matter and easily categorise any criticism of it as racism, we see the bigger picture. We understand why this is being done, we understand who is doing it, and we understand where this is heading.
Official figures show that Britain was 87% "White British" at the time of our last census in 2011, there are huge tracts of the country away from the big cities where brown faces are still a rarity. This, according to those who demand absolute equality in all things means, apparently, that we should have around 13% of people in government, on TV, in the professions and in every walk of life to be non-White too. If calls for racial equality are anything more than political guilt tripping, the results must reflect the true demographics of our country. The British are expected to become a minority in our own country by the year 2066, and then Parliament and our TV shows will have to be 51% non-White to continue reflecting the demographics of our country.
But even if that happens, it still would not mean somebody who camaigners claim was "The first black chemistry teacher at Manchester Grammar School" has stronger claims to be put on the £50 note that, for example, Joseph Priestly, Michael Farrady, Alan Turing, Ernest Rutherford, Frank Whittle or Francis Crick (whose DNA discoveries were made in collaboration with an American biologist. This determination among the university brainwashed supporters of cultural Marxism, to big up the minor achievements of people who can claim minority status is purely political and is intended to disrupt and divide society.
*I looked for prominent black or Asian British scientists but had never heard of any that appeared in the search results and also discovered of those listed, the main achievement claimed for them usually began with the words, "The first black person to …" or "The first British Asian to …"
EU Parliament Passes Resolution On Ban Of 'Neo-Fascist' Groups, Lists Identitarian Movement
The most undemocratic democratically elected body in the world, The European Union Parliament this week passed a resolution demanding that member-states ban 'neo-fascist' parties and groups and co-operate with 'anti-racism' NGOs […] The motion, which was introduced at the request of Italian MEP Eleonora Forenza, was passed by a vote of 355 MEPs. Many MEPs were not present in the 751-seat chamber for the vote.
Lord' Sugar Sugar called 'racist' for Senegal World Cup team tweet (but it was funny)
Alan Sugar (one of Blair's dodgy 'lords' and front man of the UK version of 'The Apprentice' TV show, has come in for a shitstorm of criticism online after tweeting a typical market traders gag about the Senegal World Cup team. Sugar posted a photoshopped image of the Senegal players standing over a row fake designer sunglasses and handbags and gave it the caption "I recognise some of these guys …"
White Privilege Now Inculdes The Privilege Of Being Fired For being White
Its should be obvious by now that the politically correct left, insaniac sociopaths that they are, have only one emotion at their disposal; hate. Bizarrely the hatered of these predominantly white, middle class people, while of themselves, is mostly racist in nature but directed at members of their own race.
Ten Truths You Can't Tell In Britain Without Being Accused Of Racism.
by Arthur Foxake The screenshot below is from an article written by Trevor Phillips, former head of the Equalities and Human Rights commission for The Daily Mail (or Mail On Sunday) Trevor Philips home truths on racism. Image source Finally, we?re having that open and honest debate about immigration and race everyone has been calling … Continue reading
White Girl Is Burned Alive, 17 Black Gang Members Arrested. Mainstream Media Blanks The Story
Remember how the Social Justice Warriors of the politically correct 'left' screamed when a young black man named Trayvon Martin was shot by Hispanic George Zimmerman, because it was assumed someone named Zimmerman would be white? Remember how they wailed and stirred up civil unrest when a black man was shot by white cops in Ferguson, Missouri, automatically assuming the the killing was racially motivated. more >>>
Politician Blasts Conviction For Speaking The Truth On Anti-Semitism In Europe
A Danish politician has been reprimanded for posting comments on Twitter about the resurgence of anti semitism in Europe. Apparently while hand wringing and breast beating about violent attacks on Jewish people is fine, stating the obvious by linking the Europe migrant crisis to this new wave of anti Semitism is a criminal offence …
15 More Men of South Asian Descent Charged With Child Sex Offences
West Yorkshire Police have charged 14 men and a 16-year-old boy with sex offences including the rape of a girl under the age of 16 in Keighley, a small town in the old Woollen Industry distict of the county. The offences centre on one female victim, with one allegation involving a second who was also under 16 at the time.
Racist Student Union Officer says 'I Can't be Racist'
We have often made points about the hypocroisy of the left, but a Student Union diversity officer from London beats all comers. Having tweeted 'kill all white men' she justifies herself by saying that as an ethnic minority woman she cannot be racist or bigoted.
Multi-Cultural England: Are You Feeling The Progressive Diversity That's Enriching Your Life
Visit some parts of most British cities with large immigrant populations and you will be hard pressed to recognize it, certainly my granparents would struggle to recognize the towns they knew. Appeasement of foreigners has destroyed the character of our communities but as usual the political left advise solving the problem by doing over again the things that caused it.
US Soldiers Forced To Sit Through P C 'White Privilege Presentation. Not Happy Bunnies
The U.S. Army is investigating an unauthorized diversity training presentation on "white privilege" shown to hundreds of Georgia soldiers, USA Today reported, citing an Army spokeswoman. The Equal Opportunity training presentation was shown to about 400 soldiers of the 67th Signal Battalion at Fort Gordon on Thursday, according to Captain Lindsay Roman.
If a black person acts like a twat is it racist to say he's a twat.
Examples of US rapper Kayne West behaving in ways that show what a cupid stunt he is occur to frequently for mainstream media to report them any more it seems. Or maybe it's just that because Kayne is an African American those mainstream journos were afraid of being called racist if they report his latest fuckwittery.
The British Jihad, Islamism And The Curse Of Multiculturalism.
As the world recoils in horror at images posted on the internet of an American journalist being cruelly and brutally beheaded by an (allegedly) British terrorist fighting for the extremists of the Islamic State in northern Iraq, we ask is the left wing folly of multiculturalism coming home to roost.
Shock; horror. Human Barbie Doll has her own opinions
The human Barbie girl Valeria Lukyanova has become something of an online phenomenon and is regarded as a sex symbol by many young men of the kind who have more computers than friends. Personally I find her apearance bizarre and about as sexually alluring as cold porridge. Still each to there own, where would we be without diversity of opinion.
Immigration – the elephant in the political debating chamber
'White Racism'
For too long the neo – Fascist left have been allowed to get away with dividing all of humanity into two racial groups, black and white. This has allowed those extremists who support the idea of an authoritarian, global government to dub white people generally as racist, because we have (again generally)been more successful throughout … Continue reading
Even Left Wing News Sites Are Turning On The Bigots Who Screech Racism
The backlash had to come. With the leftie screechers getting so ridiculous in the way they tried to find 'waycism' in every utterance of white conservatives, non aligned voters and non voters, anyone who did not have 'I love blacks, gays and rapists so long as they are foreigners' tattooed across their forehead' even the … Continue reading
Mass Immigration Marginalises White Working Class Says Soros Think Tank
Here's How Working Class Organisations Out Of Which the Labour Movement Grew Were Hijacked By Elitist Control Freaks
The International Elite's Contempt For National Sovereignty
Ersatz Culture Created By World View Theorists To Undermine Western Values