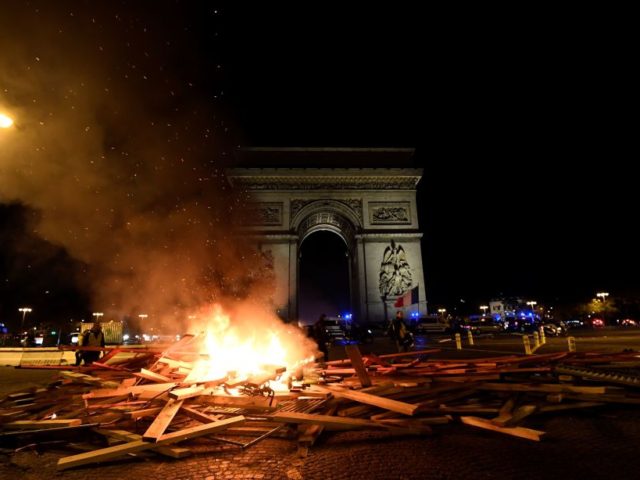 A gilets – jaunes (yellow jackets) protest in Paris
French writer and political philosopher Renaud Camus, who found fame (or notoriety perhaps,) as the first academic to propose the theory of the "Great Replacement (link goes to French language video)," aired his thoughts to news reporters about the wave of riots and civil unrest that has rocked France over the past two months, giving his opinion that the recent "Yellow Vest" protests are a grassroots reaction against the Davos elite who view working people as worthless "human Nutella." (i.e. cheap, low grade products.)
Mr Camus warned there might be more substance to the Gilets Jaunes (Yellow Vests) movement, which organised the protests and, according to polls, is supported by 77 per cent of French people , than just dissatisfaction over a rise in fuel taxes, saying it was really about a "lack of respect by governments for the prople,  being treated by managerial politics like an object, a simple product.
"A product, a producer, and a consumer all at once, a thing, a number, not a human being," Camus said.
Excoriating the globalist elites, whom Camus refers to as the "Davocracy," an allusion to the annual World Economic Forum meetings in the Swiss town of Davos, where the rich and powerful arrive in their private jets to meet, enjoy fine foods, rare wines and high class prostitutes and make decisions like the one that is leading to the replacement of educated, intelligent Europeans who ask difficult questions with uneducated, illiterate third world immigrants who can easily be bought with free stuff, Camus claimed the global elites were advocates of the "Great Replacement" saying they supported "the change of people and civilisation for the sake of the industry of man, the economic system which produces the Undifferentiated Human Matter, the human Nutella, spreadable at will."
Harsh words, but they contain more than a grain of truth one suspects.
The theory of the Great Replacement, which Camus extends not only to mass migration but to the easy and efficient interchangeability of goods as well as peoples (aka the throwaway society,) has been referred to by several prominent French figures including the Mayor of Béziers Robert Ménard, the Archbishop of Strasbourg Luc Ravel, and conservative politician Nicolas Dupont-Aignan.
Hungarian Prime Minister Viktor Orban has also made numerous references to a replacement of European people through migration, and has been widely attacked for his views by Cultural Marxist leaders leaders such as Barack Obama, Angela Merkel and Emmanuel Macron.
More recently, the French department of Mayotte, an island off the coast of Africa, highlighted the "replacement" of their indigenous peoples due to wave upon wave of illegal migrants in recent years.
It is happening in mainland France, Germany, Britain, Sweden, Netherlands, Belgium, and Spain. Only Italy, Hungary, Austria and Poland have so far shown and will to resist.
RELATED POSTS:
https://www.breitbart.com/europe/2018/11/28/author-explains-paris-protests-deplorables-reacting-against-davocracy-elite/
Germany Sees Fourfold Rise in Terrorism-Related Cases
According to a report in the Welt am Sonntag, Germany has experienced a huge rise in the number of terror-related cases in just one year, with prosecutors having dealt with more than 900 cases so far in 2017, compared with 250 cases initiated throughout 2016. Around 700 Islamic extremists now living in Germany have been identified by the Federal Criminal Police Office (BKA) as posing a potential terror threat.
A Week Before Election 30% Of German Voters Still Undecided
Polling companies in Germany are indicating that support for Chancellor Angela Merkel's conservative Christian Democratic Party is still slipping with the election only one week away. More disturbingly perhaps for Hausfrau – Volkfuhere Merkel is the news that over a third of Germans are still unsure how they will vote. An opinion poll published today (15 September) on Friday showing the number of undecideds was not coming down fueled uncertainty about the kind of coalition that will emerge from an election on September 24.
Merkel Faces Crisis As German Ruling Coalition Collapses
German Chancellor Angela Merkel faces a crisis in her ruling coalition after Bavarian Premier Horst Seehofer demanded she take steps to halt the tide of illegal immigrants entering the country. To have any chance of surviving, the government must present new initiatives for controlling illegal immigration, deal with the critical situation on the Austrian border …
New German Coalition in Peril as Potential Partners Clash over 200,000 Annual Migrant Limit
Reports that German Chancellor Angela Merkel has agreed a proposal from coalition partner and leader of the Christian Social Union (CSU) Horst Seehofer to limit the number of asylum seekers in Germany to 200,000 per year to secure a ruling coalition may be somewhat premature. Other coalition partners are not as positive on the policy.
Merkel Calls for Beginning of Coalition Talks With Greens, Free Democratic Party
German Chancellor Angela Merkel officially announced on Saturday for the first time that her conservative bloc of the Christian Democratic Union (CDU) and its Bavarian sister party Christian Social Union (CSU) will seek to form a coalition government with the centre right Free Democratic Party (FDP) and left wing loony Greens.
Elections take place in Germany this Sunday, September 24, for the federal assembly (Bundestag) and the presidency (Chancellor). While Angela Merkel looks set to win a fourth term as Chancellor and the most likely outcome of the election is another "Grand Coalition" between Christian Democrats and Social Democrats that coalition will be a much-weakened if late polls are to be believed.
More news from September 2017
The EU can go and F*** itself!' Italian Politician's Outburst Rallies Support In Italy
The leader of the Lega party, formerly known as Lega Nord, Matteo Salvini claimed the European Union should stop interfering with Italian politics as the measures taken by the bloc have crippled the Italian economy for the past 15 years. Mr Salvini is the frontrunner in the upcoming Italian general election as Italy's next Prime …
European sovereign debt crisis could cause Eurozone implosion – ex-BoE chief
Are government economists and mainstream media finally catching up with what The Daily Stirrer and Boggart Blog's finance expert Phil T Looker has said since we started publishing? Former Bank of England chief Mervyn King has written an article warning that Eurozone deabt problems pose a bigger threat to the EU than a British OUT vote in the referendum
Cameron's EU Package: Not A Deal But A Few Turns In The Spin Machine
As we and almost everybody else predicted, David Cameron's deal to improve Britain's relationship with the EU is worthless. It changes nmothing, and can be vetoed once we have voted to stay in.
Cameron's Hopes For EU Membership Reforms For UK Torpedoed By Tusk
David Cameron's hopes of winning serious concessions on sovereignty, border controls, contributions, trade agreements, human rights and labour laws so he could claim to have won a better deal for Britain by the time the in / out referendum starts next year European Union suffered an early blow when European Council President Donald Tusk warned that reaching a deal would be "very tough" …
Italian Town 'Taken Over' By Nigerian Migrant Gangs
The former seaside resort town of Castel Volturno, to the north of Naples, has reportedly been taken over by Nigerian gangs who run drug and prostitution rings. The town has a total population of around 30,000 people, of which an estimated 20,000 are migrants, many of them in Italy illegallly, French news magazine L'Obs reports.