France prepares for another weekend of violence and disruption. As revolutionary group The Gilets Jaunes (yellow vests) organise for another weekend of protests against the government of former Goldman Sachs office boy Emmanuel Macron, members of the French National Assembly are set to launch a No Confidence vote against the President and his government, which has has become plagued by plummeting popularity, rising costs of living, unpopular taxes and nationwide civil unrest.
The popularity ratings of Macron and Prime Minister Edouard Philippe are at unprecedented lows after three weeks of the Yellow Vests protests that kicked off November 17 over proposed fuel tax hikes. The protests quickly became a broader rebuke of the French President and his government's policies, but similar Yellow Vests movements have sprung up in The Netherlands and Belgium to protest about immigration and the associated lawlessness in areas with large migrant communities, rising living costs, high taxes and EU meddling in domestic politics.

Picture credit: Fox News
According to polls, satisfaction with Macron hit 23 percent in November, down six percentage points from the previous month and matching the lows recorded by his socialist predecessor François Hollande in 2013. The irony there is that French voters were conned when Macron, an unelected official in Hollande's government formed a new party less than a year before the election, campaigning on a promise to heal social divisions and solve France's economic problems. In order to ensure Marine Le Pen's nationalist Front National did not gain power, France's socialist and Gaullist (conservative) establishment parties advised their supporters to vote for Marcon's upstart party. All they have got in return is more of the failed policies 'recommended' by the EU and pursued by Hollande and the president before him, Sarkozy. In other words the election was not a free, democratic election but an establishment stitch up.
Now it has spawned the Yellow Vests movement.
With more Yellow Vests protests approaching this weekend the Elysee Palace (France's official President's residence,) is worried about a possible coup attempt. Calls have been made to attack parliamentarians and police forces, French newspaper Le Figaro reports.
Even though the French government has abandoned the planned fuel tax hike, which Marcon tried to sell as needed to fund 'green projects' because of  the protests, the movement is calling for its follower to regroup on December 8. "The Act IV" will be held under the motto "we stay on our course." The Facebook event has already counted 6,000 people who wish to participate and 22,000 others who are "interested."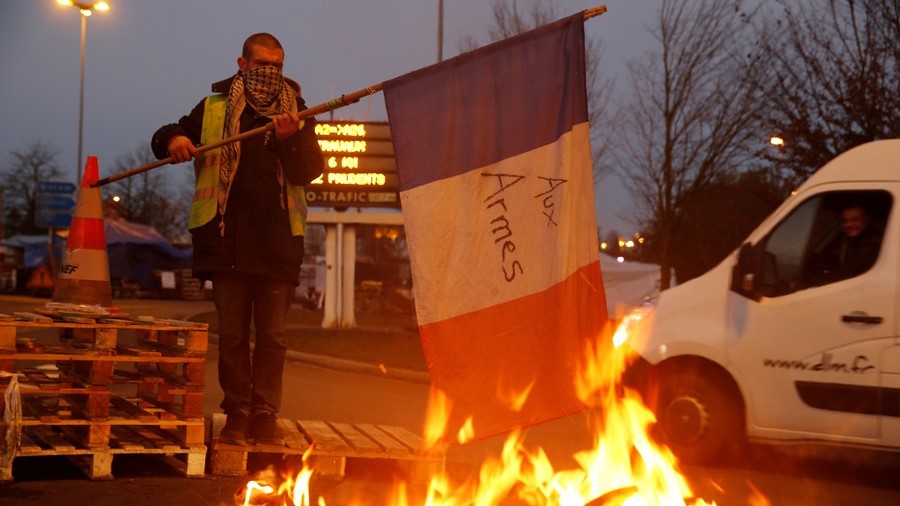 Picture credit: Pascal Rossignol, Reuters
Government intelligence services reported to the Elysee Palace that there have been "calls to kill" and "carry arms to attack" parliamentarians, government officials and police officers, Le Figaro said on Thursday.
"They are putschists. [There is] a coup attempt," a government source claimed although that is probably an alarmist view. The interior ministry has instructed to forbid its staff and ministers from working this weekend. Security forces also warn that Saturday's demonstrations could be hit by unprecedented violence caused by both "radicalized…extreme right and extreme left," Le Figaro added.
Yellow Vest protests, named after high-visibility jackets all drivers in France must carry in their vehicles, are now in their third week and the weekend's planned disorder will herald the start of a fourth. Having begun as impromptu demonstrations against Marcon's green tax proposal as a result of social media activity they have evolved into a wider expression of dissatisfaction with the president who, on being elected, ptomised he would rule in the style of a Roman god. The movement has quickly become one of the biggest challenges to the French establishment in recent decades.
The government had to concede to the protesters' demands and abandon the fuel tax project – at least for the 2019 budget. Prime Minister Edouard Philippe when breaking the news, did not clarify whether the tax might be revived in a budget update later in 2019.
France's real problem lies much deeper than public anger at an unfair tax that will hit the poor hardest and hardly be felt by the rich. As in so many nation states in the world,  the government, the ruling elite, the establishment, call them what you will,  has lost touch with its people, Yellow Vest protesters recently told RT online & television news. The government has to "put humane attitude first, and not the money," one demonstrator said. Another added that they "would prefer to be at work, than to find [themselves] on the streets shouting, hoping for nothing."
According French author and political pundit Jean Bricmont, the protests owe more to  "incompetent," EU-dependent government policy than the rising fuel prices. "The revolt is not just about the gas prices, it's a general revolt against the policy of the government," he told RT.
The vote confidence will stem from left-wing opposition parties, such as the French Socialist Party, far-left Defiant France, and the Communist Party, who have all agreed to cooperate to bring down Macron. It is not clear as yet if Le Pen's supporters or the Gaullists will support the move or if Macron's party will rebel.

"We've decided to work together to file a no-confidence vote [to the government] next Monday," First Secretary of the Socialist Party Olivier Faure said of the matter, according to Express UK.
"During the coming days, we will seek to increase the number of signatories. We have to show that other ways are possible."
The assembly would hold a no-confidence motion within 48 hours of the request.
Under article 49 of the French constitution, a successful vote of no-confidence is a means for the National Assembly, on its own initiative, to force the government to resign. Macron's centrist Republic on the Move party has a strong majority in the 577-seat house, putting the no-confidence effort in an uphill battle for now. but if the civil unrest continues to escalated things may change very quickly.