by Arthur Foxake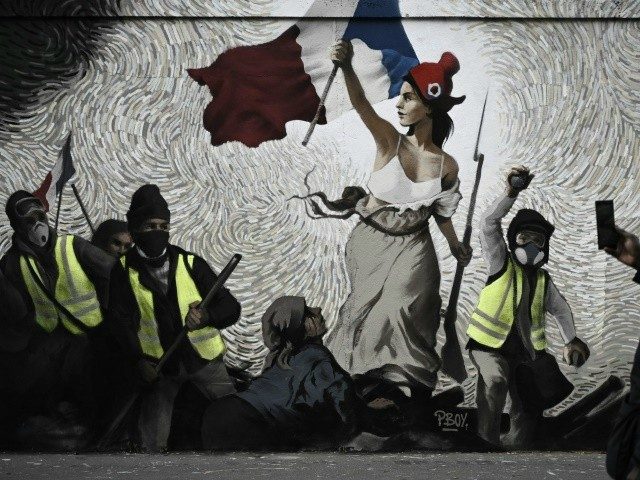 Picture: Yellow vests protest – chalk on concrete by French street artist Pascal Boyart (via Breitbart Europe)
France's yellow vest protesters hit the streets again last weekend, we're a bit behind this week so excuse the lateness of this report please. Our editor was abroad covering the World Economic Forum in Davos Switzerland (actually he and his wife are visiting their daughter in the French Alps, but it's only a couple of hours drive away.) It's reported that numbers were up again, not only in Paris but also in many provincial centres where protests took place. This keeps pressure on President Emmanuel Macron, who can only rant about internal divisions in the movement as if they are an organised political force rather than a spontaneous expression of disillusionment with the establishment by random groups of citizens.
Multiple protests took place on Saturday around Paris and other cities, the 11th straight weekend of action prompted by Macron policies seen as favoring the rich. Also Macron's recent treaty with The European Union's other leading globalist, which moves towards politically integrating France and Germany has angered many citizens to whom the thought of becoming even more entangled with the Germans is anathema (German voters aren't impressed either, there have been protests in Germany too.)
Globalisation has ensured the rich get richer, mostly by outsourcing labour to Asia, and again by driving down wages by importing cheap Labour. The result has been the gap between rich and poor in the West has increased.
And up till now working class voters have been bough off with generous state benefits and have continued to vote for establishment parties. However the end result of these policies which increase taxation of the lower groups in society while driving down earnings, and the debts incurred by bloated and inefficient state sector organisations has meant those benefits are now having to be cut.
A leader of the Gilets Jaunes (Yellow Vest) movement has called for an "uprising" at next Saturday's protest, following the severe injury of one of its major figures over the weekend.
The protest last weekend, dubbed "Act XI," saw 69,000 participants across France, with 4,000 in the capital of Paris. One of the major incidents involved prominent figure Jerome Rodrigues who was shot at by riot police with "flashball" rounds which resulted in the activist being seriously injured, facing the prospect of losing one of his eyes, Le Figaro reports.
RELATED POSTS: