After several weeks of largely peaceful protests, with no reports of significant violence during weekend 13, 14 and 15, France's Yellow Vests are back in full swing on weekend 16, following the end of President Macron's unsuccessful 'great debate' – during which thousands of local meetings were conducted over a two-month period in the hopes of solving national issues through citizen debates.  Unfortunately the tone of the meetings was patronising and condescending to people who attended, with officials taking the line that ordinary people were not well enough informed on matters of economics and international relations to understand President Macron's programme for transforming France.
Unfortunately after Macron signed the treaty of Aachen with Germany's Angela Merkel, a committment to further integrate the two nations economically and politically, some people suggested, a tad unkindly perhaps, that Macron was simply rebooting Vichy France, the government of collaborator Marshal Petain during the Nazi occupation from 1939 to 1944.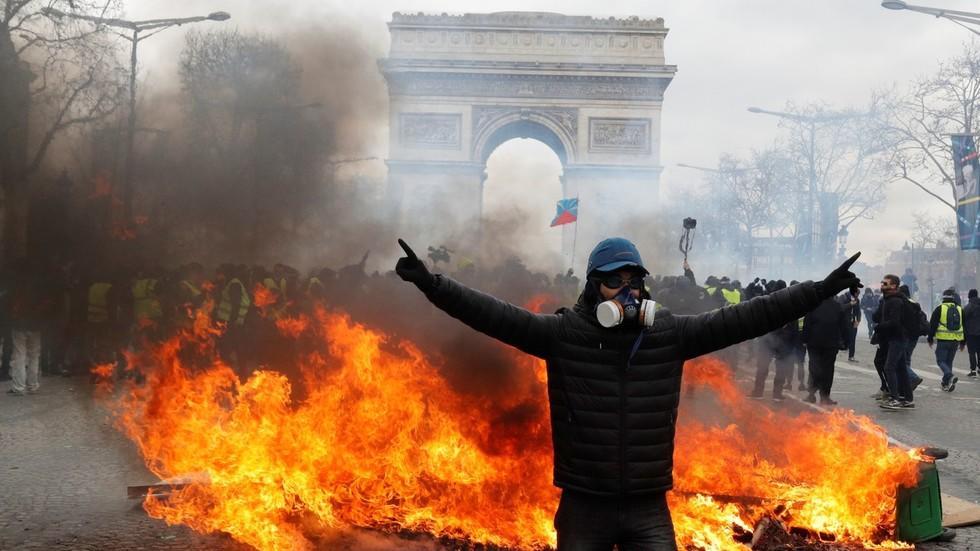 Up to half-a-million people participated in 10,000 meetings across the country to discuss social issues ranging from taxes – which the French pay the most of any OECD country in the world, to immigration, surrender of national sovereignty to the EU, the state of French democracy and climate change.
"We have been patient but now we want results," Yellow Vest Laurent Casanova told press agency AFP.
With no meaningful changes yet apparent or on offer after twelve weeks of nationwide cathartic venting which began in November 2018, the Yellow Vests are now back to angry demonstrations as the protests kick off their 16th week with an 'ultimatum' rally – marked by lootings, fires, and mayhem that organizers maintain are due to a radical minority.
Some protesters attempted to erect barricades to block streets around Place Charles de Gaulle – prompting the police to respond with water cannon, tear gas and other riot control techniques.
Vehicles were set on fire according to AP as the demonstration turned into yet another riot, and the lootings began. Shop windows were mashed and furniture broken. Around 200 people were arrested according to BFM TV, while about 80 shops near the Champs Elysees had been damaged and/or looted according to AFP, citing Champs Elysees committee president Jean-Noel Reinhardt.
Wooden boards nailed over the windows of iconic stores such as Boss and Lacoste in the most fashionable street in Paris were ripped off and thrown onto burning heaps as looters emerged, arms laden with stolen clothes, some of which were used to fuel the flames.
Cafe tables and chairs also ended up on the fire and the famous Fouquet's brasserie — favorite locale of the rich and famous, including ex-president Nicolas Sarkozy who controversially used it to celebrate his 2007 election — was also sacked in an orgy of anti-capitalist destruction.
"It's unfortunate but this is the only way we can make ourselves heard," a yellow vested protestor who traveled from the southeastern Bourgogne region for the protest, billed as an "ultimatum" to Macron, said as he looked on.
The police, having erected a ring of steel around the Arc de Triomphe, battled for over seven hours to disperse the protesters, using copious amounts of tear gas, stun grenades, and water cannon.
But for most of the day the protesters, who waved French as well as regional flags and chanted "Macron resign", held the famous avenue which was shrouded in smoke and teargas.
"It's the apocalypse!," one demonstrator shouted with glee.
French Prime Minister Edouard Philippe vowed to "severely punish" the radicals responsible for rioting and setting fires around one of France's richest neighbourhoods.
Philippe visited the Champs-Elysees on Saturday to show his support for riot police and firefighters struggling to get the unrest under control after it broke out amid yellow vest protests.
He estimated up to a few thousand troublemakers were responsible for Saturday's "unacceptable" violence. Speaking to reporters, he praised firefighters who saved people trapped in a building set fire by protesters.
Saturday's riots were so severe that President Macron had to cut short a vacation at the La Mongie ski resort in the Hautes-Pyrénées following a three-day tour of East Africa which took him to Djibouti, Ethiopia and Kenya.
Macron skied on Friday, telling La Depeche du Midi "I'm going to spend two-three days here to relax, to find landscapes and friendly faces," adding "I'm happy to see the Pyrenees like that, radiant, although I know it was more difficult at Christmas" referring to the lack of snow in December.
In response to Saturday's violence, Macron said over Twitter that "strong decisions" were coming to prevent more violence.
Macron said some individuals — dubbed "black blocs" by French police forces — were taking advantage of the protests by the Yellow Vest grassroots movement to "damage the Republic, to break, to destroy." Prime Minister Edouard Philippe said on Twitter that those who excused or encouraged such violence were complicit in it. –Bloomberg
In December, Macron attempted to assuage angry protesters with 10 billion ($11.2 billion) in tax cuts and other benefits for low-wage pensioners, but nobody believed he intended to turn promises into action.