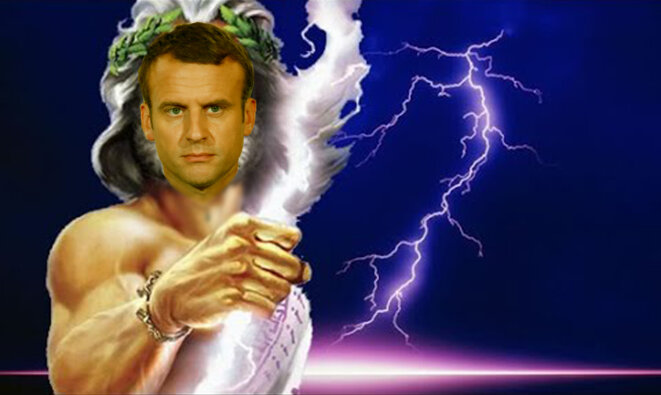 On being elected President of France, Emmanuel Macron said he would rule in the style of Roman God Jupiter
On top of the yellow Vests debacle, which is now destabilising France as the anti – government protests continue, a string of high profile resignations from the tottering government of President Emmanuel Macron has prompted Gérard Larcher, leader of the French Senate to warn Macron that his authoritarian tendencies were partly to blame for the civil unrest crisis and political instability that have weakened his presidency.
Mr Macron's office announced this week that government spokesman Benjamin Griveaux and Digital Affairs Minister Mounir Mahjoubi were leaving the administration, along with European Affairs Minister Nathalie Loiseau. Monsieurs Griveaux and Mahjoubi are said to be planning to launch rival bids for next year's mayoral election in Paris. The current mayor, Anne Hidalgo, a socialist is seeking re-election.
Mrs Loiseau, was a key player in communicating the French government's stance on Brexit throughout the unsuccessful negotiations, she will move to head up Mr Macron's pro-Europe La République en Marche (LREM) party in the May 26 European parliamentary elections.
Mr Griveaux has been government spokesman since November 2017, while Mr Mahjoubi was named digital minister in May 2017. Mrs Loiseau, a career diplomat, joined the Macron government in June 2017. A reshuffle is expected by Monday, the date of the next cabinet meeting, but could be announced early to avoid being bumped down the news bulletins by the coming weekend's Yellow Vest protests.
In the last eight months, Mr Macron has waved goodbye to his popular ecology minister Nicolas Hulot, ally and interior minister Gérard Collomb, and close advisor Ismaël Emelien.
The latest batch of resignations have further eroded the ceredibility of Macron's leadership, already undermined by easily supportable claims that he is a president for the rich and the global corporations (The Davosocracy,) and his policies are putting further pressure on low paid and middle income groups in what is now known to be the most highly taxed nation on the planet. The three ministers who quit the government on Wednesday were all assumed to be close allies of Macron. These latest resignations bring the number of cabinet members who have quit since the boy president took office in May 2017 to ten.
"Maybe the [resignations] are a reflection of Mr Macron's vertical governing style … maybe they reflect the head of state's growing isolation," Mr Larcher told Europe 1 radio shortly after the departures were confirmed in an emailed statement.
The spate of ministerial resignations, along with rising living costs, tax increases, immigration and Macron's push to integrate France more closely politically and economically with germany have all contributed to the discontent that triggered the Yelloiw Vest movement and now has Marcon's with his political opponents depicting him as an increasingly solitary figure with diminishing popularity and an aura of cluelessness.
The idealistic hope that mass protests and civil disobedience could trigger real social change met with some success in the nineteenth and early twentieth centuries but looked to have died after the USA's 1960s civil rights movement and anti – war protests. The recent mass demonstrations of Frane's gilets jaunes (yellow vests) movement in 2018, a movement … Continue reading
---
---
5 January, 2019
Violence has erupted across France once again, days after French authorities arrested a key organizer of the Gilets Jaunes (Yellow Vest) movement. After today's protests began peacefully the Paris police once again used riot busting tactics, attacking the yellow vested demonstraters with teargas and batons as protesters began to get noisy during the so-called 'Act VIII" … Continue reading
Since the first incarnation of the EU an The Common Market, FRANCE has always been considered one of the bastions of European stability and a poster state for financial and political integration among European Union countries. But former Goldman Sachs banker Emmanuel Macron has thrown both France's position as Germany's chief sidekick and the dream … Continue reading
BRITAIN has teamed up with the Netherlands, Belgium and Spain to block electrical and electronic engineering giants Alstom and Siemens from creating a mega Franco-German corporation to dominate European tech industry. Siemens and Alstom agreed last year to merge certain operations, creating a company with £13.5million (€15billion euros) in revenue and a workforce of 62,000. … Continue reading
Reuters reports French "yellow vest" protesters wreaked havoc with road transport on Tuesday by occupying autoroute toll booths and even torching some of them. France's biggest toll road operator, Vinci Autoroutes , said there were demonstrations at 40 of its sites and that several highway intersections had been heavily damaged, mainly in southern of France. … Continue reading
Macron fiddles with himself while Frsnce burns (Picture: express) Travellers in France, mainly around Paris, have been hit by delays at airports as French police slowed down passport controls in a protest over overtime pay. As we predicted last weekend, the Yellow Vests protestors are now being supported by the police service. The first action … Continue reading More