With governments and academics seemingly set on persuading us all to switch to electric cars very soon, electric cars themselves, and those made by Tesla in particular, seem intent on proving they are not only ridiculously expensive, hopelessly inefficiant and unarguably not fit for purpose. As more Teslas are sold and delivered, increasingly the model range of appear to be spontaneously combusting more regularly than Spinal Tap drummers as a result of shoddy production, careless quality control or a reckless disregard of safety considerations in the quest to make the cars get further than the end of your street you live in before the batteries need to be rechrged.
from Zero Hedge
In the latest embarrassing spontaneous combustion incident, a Tesla caught fire in a San Francisco garage last night, prompting an investigation from authorities, according to the local KRON 4 TV station.
The San Francisco Fire Department responded to a reported car fire just after midnight at a home on the 1300 block of 26th Avenue near Irving Street. The crews saw "smoke near the rear right tire of a Tesla Model S" that was not plugged in at the time and put out the fire.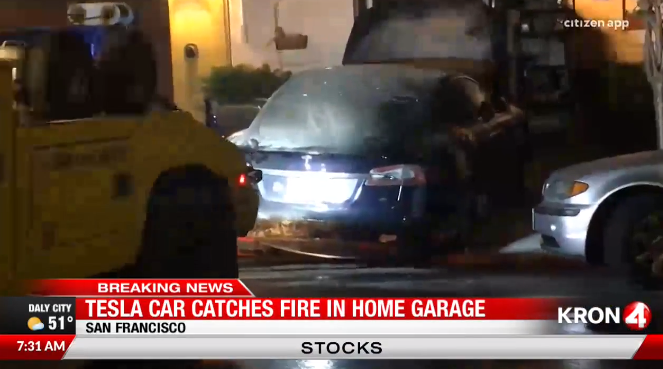 The Tesla was then towed from the garage by the fire department. There were no reported injuries at press time.
This was the second incident in which a Tesla reportedly caught fire after smoke started to spontaneously emerge from beneath the car in as many weeks.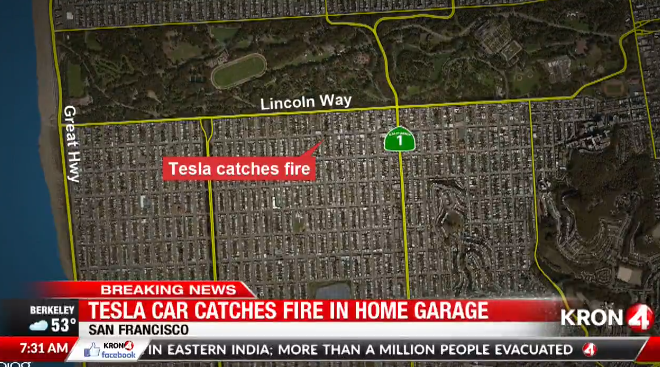 Two weeks ago we were first to report on a stunning video that showed a Tesla catching fire and exploding while parked, in China. Similar to the event in San Francisco, smoke can be seen billowing out from underneath the vehicle before it burst into flames.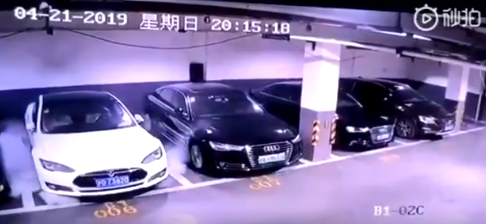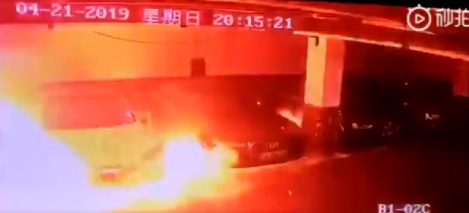 Luckily, nobody was in the vehicle at the time of the Chinese "incident" which Tesla said it is investigating.
Given this latest incident, the question remains: how long will US regulators allow these cars to continue bursting into flames on their own, without probing into the reasons for the recurring incidents or demanding a recall? How long will they allow this game of flaming Russian roulette continue? And unfortunately, we also have to ask: the next time a car catches fire on its own, will there be passengers in it?
At the least, it certainly makes you think twice about whistleblower Martin Tripp's allegation that Tesla was letting defective battery cells make their way into vehicles rolling off the line. We will be updating this story as more details become available.
MORE on Tesla: