Some ironies are just too precious to pass by.
The 2016 US presidential elections gave us Donald Trump, a reality TV star whose famous tag line from his show "The Apprentice" was "You are fired!" Focus on this tag line; it is all that is important to this story. Some Trump Derangement Disorder sufferers might disagree. This is because they are laboring under certain misapprehensions: that the US is a democracy; or that it matters who is president. It isn't and it doesn't. By this point, the choice of president matters as much as the choice of conductor for the band that plays aboard a ship as it vanishes beneath the waves.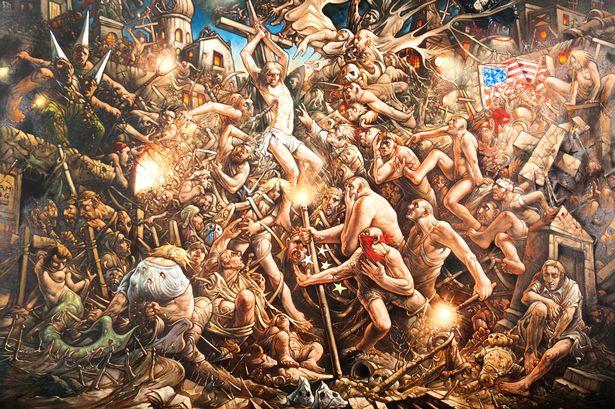 I have made these points continuously since before Trump got into office. Whether or not you think that Trump was actually elected, he did get in somehow, and there are reasons to believe that this had something to do with his wonderfully refreshing "You are fired!" tag line. It's a fair guess that what motivated people to vote for him was their ardent wish that somebody would come along and fire all of the miscreants that infest Washington, DC and surrounding areas. Alas, that he couldn't do. Figurehead leaders are never granted the authority to dismantle the political establishments that install them. But that is not to say that it can't be done at all.
What happened instead was that the political establishment spent two years thrashing about in search of a reason to say "You are fired!" to Trump but has been unable to find one, and so Trump remains in office, although to say that he "remains in power" would be to invite sardonic laughter from anyone who knows what real political power smells like. Trump is but a prisoner in the White House, just like his predecessor was. Ironically, the quest for Trump's impeachment has been fruitless as far as firing him, but most fruitful in terms of enhancing his ability to not only fire lots of establishment figures but perhaps even send them to jail—with the help of the Justice Department—and his character traits of extreme rancor, spitefulness and vindictiveness should be most conducive toward that end, making for a fun spectacle. His numerous enemies and detractors may yet look back wistfully on the halcyon days when they could lambaste him with impunity.
The quest to stop Trump started well before the election, with Obama and the Clintons collaborating on misusing federal resources to dig up dirt on Trump; specifically, evidence of "Russian collusion"… and they couldn't find any. They did manage to find some "Russian meddling" (in the form of Facebook clickbait ads) but the evidence they dug up was too ridiculous to show in court. Too bad they didn't look for Ukrainian collusion and meddling, or Israeli collusion and meddling, or Saudi collusion and meddling, because then they would have found plenty—enough to not only knock Hillary Clinton out of the running but also to lock her up … READ ALL >>>