Belgian Yellow Vest protesters and other groups protesting EU mass immigration and Federalisation policies clashed with police and left wing activists protesting against the protestors in Brussels on Sunday, the final day of voting in the Europe wide elections to the EU Parliament.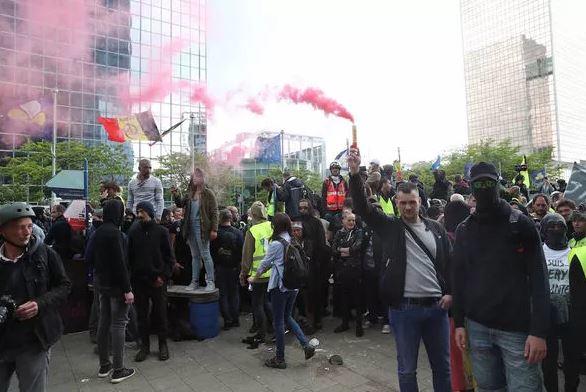 Videos taken by protestors and onlookers show multiple fights between protesters and riot police, prompting the deployment of riot squads aremed with tear gas and batons. Protesters at Brussels Nord Station chanted "everyone hates the police," as a helicopter hovered overhead. The protestors also clashed with police outside the headquarters of the European Union in the heart of the city.
The rioters then moved on to the headquarters of Belgium's domestic Socialist Party (PS), where they were reported to have attacked the building with paint bombs.
Police continued to hit back at rioters with tear gas and water cannons as they struggled to keep up with them." –Express
Though results for the election cannot be released until after voting is completein all member states, and at the time of writing it is still going on in some EU nations, a leak from the Netherlands, which like the UK and Ireland voted on Thursday, suggests that the party of Prime Minister and leading Europhile Mark Rutte, the People's Party for Freedom and Democracy (VVD) have been beaten into second place by the right-wing Forum for Democracy alliance (FvD).
Forum for Democracy – a relatively new conservative party, which is known for its Euroscepticism and sympathy for a grass roots Nexit (Netherlands exit) movement built around the idea of Holland leaving the EU, was formed in 2016 and has become a big winner in the Netherlands during the provincial elections two months ago, securing 86 seats spread across the country's 12 provinces. In three provinces, including the capital region of South Holland it became the largest party.
Matteo Salvini, the deputy prime minister of Italy and leader of the nationalist League Movement, which is expected to strengthen its position as largest party in Italy called for a "Trump-style" revolution in his cash-strapped country and across Europe to halt the growth of the EU's bureaucratic empire.
Salvini has clashed many times with Brussels over Italy's budget proposals and has also enraged European Union bosses with his hardline stance on immigration. He has even talked of Italy leaving the EU (Quitaly,) and has stood up to EU bullying since the unelected bureaucrats in brussels tried to overturn the result of the democratic election that voted his party into power by refusing to accept a Eurosceptic leader of an EU member state. And his proposals for tax reforms inspired by those passed introduced in the US by Mr Trump's White House administration are sure to ruffle more feathers in Europe.
"I want a Trump-style revolution for Italy. The only way to reduce public debt is by growing and cutting taxes. That's why a Trump-like revolution is dear to my heart.I won't compromise on taxes. The whole government team must believe in this, he is reported to have said."
Salvini while officially the internal affairs minister in the Italian government is the de facto leader and is set on a course of confrontation with the Brussels bureaucracy, which he feels serves German interests to the dfetriment of other EU members.
The deputy Italian PM increased his popularity at home and infuriated globalist leaders like France's boy presodent Emmanuel Macron and Germany's Hausfrau – Volksfuhrer Angela Merkel by implementing a clampdown on migrants trying to enter Italy illegally via the Mediterranean.
"I reduced the landings by 90 percent. There were 11,000 last year, today they are 1,100. I don't need to do anything else, the landings have been reduced and the expulsions are twice the amount of arrivals. I don't need new ideas and what I'm doing I'm doing it without Europe, alone and with this government."
Salvini's move to close Italian ports to ships operated by 'refugee' support charities which cruise the Mediterranean picking up undocumented migrants abandoned at sea by African human trafficking gangs.
Italy goes to the polls on Sunday in the European elections with League expected to win easily, but Mr Salvini would not be drawn on predictions.
Other EU member states which are likely to provide interesting results are Germany where the Eurosceptic opponents of mass migration the AfD are expected to make significant gains at the expense of ruling coalition partners the Social Democrats and Christian Democrats whose leader, Chancellor Angela Merkel kicked off the immigration crisis by declaring Germany's doors open to all comers and then tried to force other EU members to take the flood of uneducated, unskilled, illiterate, unemployable third world religious fanatics who flooded Germany's cities.
RELATED POSTS:

Little Donny Tusk The Polish Has-Been Tells Britain How To Vote.

Donald Tusk, who is the President of the European Council and was the centre-right Europhile Prime Minister of Poland from 2007 to 2014 made the remarks in support of his former Deputy Prime Minister, Anglo-Pole Jan-Vincent Rostowski who is standing as a Change UK candidate in London for Thursday's election.
EU Dictatorship: German MEP says process of choosing Juncker successor a hoax as European elections near
The process of selecting the person who will succeed Jean-Cluade Juncker as European Commission President is a deeply flawed "hoax" dreamed up by "Eurofanatics" who want to create a United States of Europe, a German MEP said today. Hans-Olaf Henkel made his remarks as the prospective candidates – known as Spitzenkandidaten, in Germany, jockeyed for position.
Europe's Nationalists Unite Behind Salvini Ahead Of EU Elections
With the EU elections due in May this year expected to deliver another body blow to the dream of a Federal European superstate, Europe's more conservative nationalist parties have today announced an alliance that is aiming to become the strongest group in the European Parliament, with a view to forcing to radical reform on the EU bureaucracy in Brussels, which dictates policy on security, migration, family and the environment, according to Euro News.
Harold MacMillan's EU warning revealed
Harold MacMillan, British Prime Minister from 1957 to 1963 gave us a chilling warning about the EEC – (European Economic Community) – before Britain joined the bloc, claiming that Germany had planned on using the trading bloc, as an instrument to assert its supremacy across the continent once more. On Wednesday, 3 April, 2019 The House of Commons voted in favour of legislation which forces the Government to request another extension for 'Brexit', giving our current Prime Minister Theresa May more time to show us the comtempt the ruling elite have for the principles of democracy.
Leaked Document Reveals Unacceptable Demands Made By EU Ahead Of Final Talks Before Brexit Deadline
A Secret document has revealed concession the EU is demanding before beginning fresh talks on Brexit ahead of the 12 april dealine. According to a memo seen by the Sunday Times, Brussels is demanding the UK must continue to pay its share of the EU budget, must implement new measures on citizens' rights, and sign a legally binding agreement to arrangements to avoid a hard border between Northern Ireland and The Republic.

Merkel: EU Members Must Cede control Of Their Border To Brussels
German Chanellor Angela Merkel sparked outrage today and pushed the EU cloers to its final disintegration when she stated that EU Member states would be forced to surrender on of their most important sovereign powers, control of their borders, to Brussels in order that the unelected bureaucrats of the European commission could 'manage' immigration (i.e. open the border crossings and let any criminally inclined bunch of fanatics enter Europe.
Spanish Socialist Budget Fails As Budget Rejected; New Elections Expected

We predicted last year when the socialist leader Pedto Sancjez usurped the Spanish government after the collapse of the minority government led by Mariano Rajoy collapsed, could not last. In a widely expected but destabilizing development, Spanish conservatives and pro-independence Catalonians voted to back a slate of amendments to a government budget on Wednesday by a wide margin of 191 votes out of 350,

EU Stitch Up To Promote Euronazi Selmayr's Is Typical Of The EU's Contempt For Democracy
#
The former Prime Minister of little Luxembourg Jean-Claude Juncker to ensure his chief of staff was installed as the new Secretary-General of the European Commission, in what one senior Eurocrat has called "an impeccably prepared and audacious power-grab" at the top of the European Union.
EU "Sounds Alarm" Over New US Sanctions On Russia; Germany Threatens Retaliation
Late on Friday (21/07/17), Congressional negotiators agreed to advance a cross – party bill that would punish Russia for its (alleged) interference in the 2016 election according to the Wall Street Journal. And while it seems improbable that President Trump would sign the bill if it reaches his desk, the loudest complaint about the bill to date has emerged not from the Oval Office, but from US allies in NATO and the European Union …
Fears Over Threat To Sovereignty Could Wreck EU European Army Plan
No they're not Star Wars Imperial Stormtroopers, they are German soldiers assigned to an international peacekeeping force, showing how like Imperial Stormtroopers a pan European army might look (Image source)
Germany Threatens Sanctions Against Poland Over 'Lack of Western Values' (for Western read German)
Last year, Poland's conservative nationalist Law and Justice party (PiS), led by former Prime Minister Jaroslaw Kaczynski, captured both the presidency and parliament at elections in May and November. Since taking office, the party's lawmakers have used their parliamentary majority to initiate a series of controversial legal reforms, causing concerns both at home and abroad, specifically in Brussels and in Berlin.