It's unlikely that regular readers of this blog or The Daily Stirrer will have failed to notice one of our favourite games is revealing the true nature of the fascistic corporate entities that have been handed control of the internet by inept, virtue signalling, rent seeking politicians whose corruptibility is on a par with their technological illiteracy.
Yesterday we exposed the extent to which Facebook's top management were aware of the extent their platform was being used to illegally obtain personal information from web users who don't even have a Facebook account, today we move on to Google. We reported several years ago that the Search and Advertising giant, known for its rabid enthusiasm for all far left causes, had established such a cosy relationship with The Obama Administration that Google executives were regularly sitting in on government meeting in |The Oval Office.
It has often been said tht if voting changed anything they'd abolish it, and those who hoped things might change under Donald Trump will be disappointed to learn that while the US president is making noises about curbing the power wielded in Washington DC by representatives of Silicon Valley high tech corporations, those companies are so deeply embedded in government departments that little has changed in terms of the influence the tech corporations have on government policy, so much so in fact that buying favourable treatment from government is no longer a significant expense.
Google has recently severed links with six of the largest lobbying firms it had employed, in an apparent attempt to overhaul its global government affairs and policy operations amid greater government scrutiny of its business, according to a Wall Street Journal report. Over the last few months, the company has tried to give the appearance of lowering its profile in the capital, as well as scaling down its Washington policy team, and releasing two senior executives who helped develop its "influence operation" into one of the largest in the U.S. capital. The influence operation had been spending about $20 million a year on lobbying politicians and government officials, reducing the number of lobbying firms firms contracted to push Google interests which between them consumed about half of that cost seems to suggest a scaling back of political activity. But where Google is concerned things are seldom what they seem to be.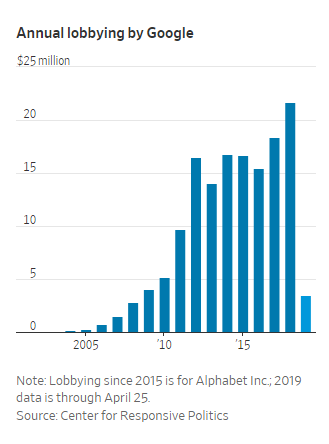 The change of direction is explained as part of a "continuing modernization" of Google's influence operation." Coming at a time when Google and other high tech giants such as Facebook, Microsoft, Apple and Amazon are facing heightened government scrutiny of the shadier areas of their business is surely a factor in the change of direction.
It is worth noting too that while those of us who have highlighted the level of influence over government and social policy handed to high tech companies have routinely been dismissed as 'conspiracy theorists,' technophobes, and enemies of progress, that the fact that a company like Google (and others, they're not alone,) has set up a department whose function is to influence government, this reveals the very unhealthy state of democracy in the developed world. Google sells advertising and tech services, it does not put up candidates for election so its executives should not be put on a par with our elected representatives. We cannot vote them into or out of power so in effect they have achieved the wet – dream of all tyrants and bureaucrats, power without accountability.
Fortunately Donald Trump and his advisers, no matter what the liberal chatterati say about them, are aware of this and are reportedly trying to address it. The task will not be easy, there are a lot of influential people riding onm Google's gravy train, and a lot of political hopefuls who know their best chance of high office lies in benefitting from the claimed ability of Google and other to influence public opinion.
The tide seems to be turning however.
The Department of  Justice is widely reported to be preparing an antitrust investigation into the company alleged unfair and unconstitutional business practices while both houses of Congress and state attorneys general in various states are also reviewing its methods, particularly those which violate users' right to privacy. Some politicians are even calling for the company to be broken up into smaller, independent businesses.
Faced with this threat it looks as if Google is planning to reallocate the paltry $20 million per year that it has been using to control the government and spend it on … you guessed, trying to control the government in slightly more subtle ways.
Among the firms and consultants who are no longer working for Google are "Charlie Black, a longtime Republican strategist, and firms that have relationships with senior Republicans and Democrats on Capitol Hill, including Off Hill Strategies LLC, which has links to financially conservative Republicans."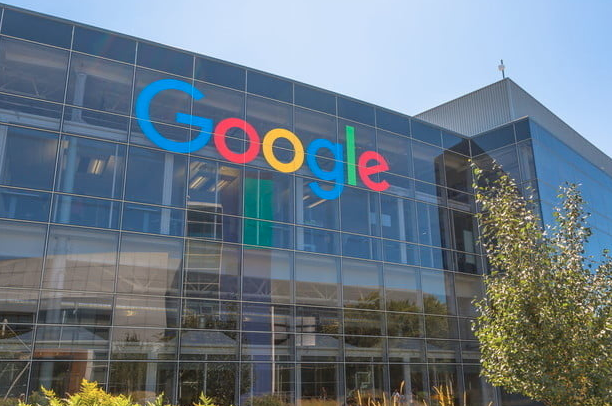 People who claim to be in the know about the restructuring plan say the aim is to focus the company's global reach in order to help it deal with regulators and lawmakers across regions and markets.  That certainly sounds convincing in view of the monster fines levied by the European Union and various national governments, fines so large and so numerous they must have stung despite the size of google's annual revenue. The moves are also being spun as a shake up of interfaces with government by Google's new head of policy and government relations, Karan Bhatia.
Bhatia was recruited in the summer of 2018 as Google's VP of Policy and Government Relations and tasked with reviewing the company's lobbying needs. Susan Molinari, a former Republican congresswoman, stepped down as Google's head of Washington operations last year and the company has yet to name a successor.
It is worth noting that in 2006, Google was spending about $800,000 on lobbying and had four firms on retainer. By 2018, the company was retaining 100 lobbyists from 30 ifferent firms at an annual cost of $21.7 million to lobby Washington politicians and top civil servants and was the largest spender on lobbying among US corporations, despite the relatively small dollar amount for the massive tech giant.
The company also makes donations running into $milliond to think tanks, political research units, universities and media consultancies that help Google shape the debate into its business practices.
Meanwhile, Google employees (under no pressure from management of course, after all seeing colleagues sacked for questioning liberal dogma would not make anyone feel coerced into joining the orgies of virtue singnalling,) helped the company become one of the largest sources of donations to the Democratic Party and its candidates, including Hillary Clinton and Barack Obama.  Records show that Google employees donated a total of $1.6 million to Clinton's 2016 campaign and after Obama, whose campaign was backed by Google took office in 2012, Google and its lobbying team enjoyed an incredible run of successes in Washington, including having the FTC drop a planned anti-trust case. The company also benefitted from favorable FTC net neutrality rulings (which decreed that favouring the websites of its own busineses and its biggest advertisers in search result listings was not unfair to competitors,)  and secured favorable legislation on self driving vehicles.
But over the last few years the company has continued to hit headwinds from both sides of the aisle while its public image has taken a beating over privacy concerns and critics claiming that its political bias influences which content is censored.
Google is an enemy and must be broken up, or freedom dies.
The Google empire is anything but a force for good, As we have reported the corporation enjoys an unhealthily cosy relationship with governments and security agencies, with only the European Union, China and Russia having proved capable of standing up to it …
Google Now Has Access To Millions Of Patient's Health Records
A controversial deal between tech giant Google and the National Health Service (NHS) will allow artificial intelligence units access to 1.6 million confidential medical records. Since 2014, Google has partnered with several scientists in an attempt to understand human health, but a new report reveals the data gathering goes far beyond what was originally anticipated – well now there's a surprise.
US-EU Privacy Shield Data-Sharing Agreement Blasted as Inadequate
The issue arises from the strict EU laws — enshrined in the Charter of Fundamental Rights of the European Union — to the privacy of citizens personal data. As we all know thanks to the material leaked by Ed Snowden and others the United States National Security Agency (NSA) does not regard anything as private,
Apple Hypocrisy On Users Privacy Sets Standard For Silicon Valley
When I searched for images depicting the spy-in-your-pocket nature of a certiain rather fruity technology firms products, I was amazed (not) to find all had been blocked. still, a quick hack, a screWhen I searched for images depicting the spy-in-your-pocket nature of a certiain rather fruity technology firms products, I found that strangely all had been blocked. No worries, a screen grab of an old image gave me this.n grab and we got the picture.
Going To War Against The Evil Empire
Matt Drudge, and love him or hate him, nobody can seriously suggest he has been an influential figure since the early days of the world wide web, recently claimed he had been told by a US Supreme Court judge that new copyright laws currently being pushed through the United States legislative system will finish …
Who Runs America? US Federal Trade Commission Takes Orders From Google
Barak Obama runs America surely, you might well be thinking. We would argue that no US President since Eisenhower has truly run the USA. But the latest revelation of how cosy the Obama Administration has become with corporate business, to the extent that government departments are taking instruction from Google will shock even the most cynical Americans
Google Meets White House Officials Every Week, Why?
We have been very suspicious for ten years of the way Google with such apparent ease achieved a dominant position in web search. How did it happen, did Google do something evil, did they invoke the powers of darkness in their meteoric rise. Or were there even darker forces at work, powering Google to a position in which their internet technologies could dominate global information flows? Here's something cynics should read.
EU taking on Google – Well One German Publisher Is
Those New World Order fanatics at The Guardian, bless them, seldom miss a trick when it comes to promoting the single European Superstate and the globalist agenda. Their latest misrepresentation is to try and make us feel the European Union is somehow protecting our freedoms even as the bureau rats of Brussels are taking them away.
Pissed Off With Government/Microsoft/Google Online Spying? Be Completely Anonymous Online
Not so long ago our biggest worry online was malware, virus software, trojans and worms plagued the internet cost many people a lot of time and worry. Since about a year ago everything has changed, protecting our digital privacy is the issue and the enemy is no longer spotty little nerds hunched over computers in dimly lit basements, but governments and major technology corporations.
Artificial Intelligence: Will It Kill Human Society?
The media, the so called 'experts' and politicians hail every technological advance as if it will btransport us from reality to a utopian paradise. but does Artificial Intelligence and related internet and computer technology pose theats to human society that far outweigh any possible advantages? Whateve, Google plan to put machines in our place on top of the food chain.
Reasons To keep Google Away From your Credit Card Information
I did not use Gmail a lot because although the mail got through, I started to be bombarded with targeted ads related to keywords used in my mail exchanges (they weren't keywords as far as I was concerned, just conversation. That did not worry me much but the idea that Google were sharing my email content with the bastards throwing these ads at me did.
You Will Be Told Biometric Identification Is For Your Security, But When You Can't Do business without It, It Becomes An Assault On your Privacy
Latest plans to extend biometric security, allegedly for our safety and protection but really we suspect to extend the powers of surveillance enjoyed by central authority, ought to be the straw that breaks the camel's back and triggers wholesale resistance to the march of technology. Are you ready to start defending your freedom?
Don't be Evil, Google Will Do It For You
Google have abandoned their "Don't Be Evil motto. Good thing really, they are becoming more evil every day. The latest plans to integrate our brains with their servers may seem like a science fiction freaks wet dream, but these creepy nerds are serious …
Don't Be Evil, That's Our Job Is Google's Real Motto
Don't Be Evil said Google's web page. But the search engine giant is the most evil of all the technology companies (though the rest can make Satan, Beelzebub, Belial, Azazel and the other Biblical demons look like choirboys. Read of Google's latest step in advancing their evil agenda to take over our lives and make us all slaves of their technology.
A collection of articles by Ian R Thorpe and his Daily Stirrer colleagues on the unethical and dishonest ways Google has gained an unhealthy degree of influence over the internet.
How will you know who is tracking your internet enabled sex toys