While Trump's handshake with an insignificant little fat man, the pro – democracy protests in Hong Kong, the latest exchanges in the US / China trade war and Boris Johnson's bid to replace the hapless Theresa May as the next UK Prime Minister have dominated mainstream news over the past few days, another story which did not attract anywhere near as much attention could perhaps have far more long term significance. The profression of the 'European Project' from a free trade association of friendly and culturally similar nations to a federal superstate suffered its most serious setback to date as the first cracks appeared in the facade of neo – liberal unity presented by the centre – right / centre – left, globalist consensus bloc that has dominated the Union for decades, appeared as German Chancellor Angela Merkel's 's anointed candate to succeed Jean – Clauder Juncker as the president of the European Commission was rejected by other EU leaders.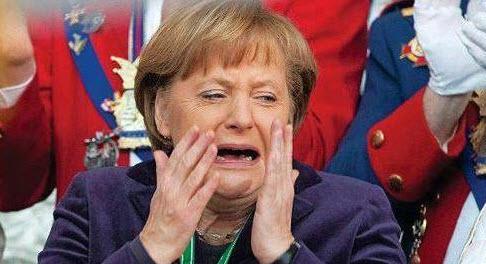 Merkel feels her power slipping away (Source: Bloomberg)
In May, this year Europe's ascendant populist parties scored their biggest sucesses yet in elections of representatives to the EU Parliament, a result that shifted the power base in the EU away from the Federalist / Globalist consensus parties to parties strong on sovereignty and national cultural values, though many people who rely on left-leaning outlets like the BBC, CNN, or state controlled French and German TV channels for their information. Britain's far – left newspaper The Guardian tried to spin the results as a critical victory in as far as the mainstream parties did not do as badly as many pundits feared they would.
Though the center-right coalition known as the EPP (European People's Party)  and center-left coalition S&D (Progressive Alliance of Socialists and Democrats,)  lost their combined majority in the Parliament, they retained a plurality of votes, while populist parties like Nigel Farage's Brexit Party and Italy's League made strong gains. This blow to the establishment's coalition has made selecting the replacements for Juncker, ECB President Mario Draghi, and other senior bloc-level positions (most of which are filled via backroom horse trading or pork barrel politics democratic process) much more difficult. Smaller nations have always sold their support, now with a realistic challenger to the consensus parties, they find they can demand higher prices.
As of today the new parliament has not yet been sworn in but Merkel, for so long a dominant figure in EU politics, has been exposed as a lame duck after her latest attempt at "un-retirement" was ridiculed in Germany. Her inability to gain support for the coronation of her coalition's picks for top EU positions is seen as a weakness that can be exploited.
One EU official quoted by Bloomberg called the unexpected resistance to Merkel's agenda- which came both from her coalition partners as well as 'smaller countries' who angered by their were exclusion from a deal cooked up mainly between Germany and France with officials from ther United Nations, the IMF and other supra national bureaucracies at the G20 meeting in Osaka – a "rebellion of rabbits." Here's a snippet:
If there was one thing Angela Merkel didn't factor into her plan to make Socialist Frans Timmermans the European Union's next chief executive, it was what one official in the room called the "rebellion of rabbits."

As she flew back from the G-20 in Japan, the German chancellor and veteran of many an EU marathon summit was fairly confident that the 58-year-old Dutchman would be accepted by the rest of the leaders gathering in Brussels to decide who to put forward as the next head of the European Commission.

Sure, it was going to be a long night, but she's faced down worse. As the sun rose, there was no deal and shortly after noon it was decided to reconvene on Tuesday at 11 a.m. after almost 19 hours of going around in circles. It was something almost without precedent.

What became clear was that Merkel had miscalculated the degree of opposition on two fronts: from her own center-right political family that felt betrayed she gave away the top prize. And also the smaller countries that often feel unseen and bared their teeth at the what felt like a stitch-up cooked up in Osaka.
As Monday morning's deadline approached, Merkel was forced to meet one-on-one with national leaders in a bid to cobble together enough support for her lap – dog bureaucrats through bipartisan deals to get them accepted. And still, no deal materialized. Here's how Bloomberg explained it.
For starters, the stage hadn't been properly set. Deals and assurances weren't put in place. Young powers smelled blood and growing intolerance for backroom deals – especially in an increasingly fragmented political landscape following May's EU elections.
For Merkel, one year ago, this type of snub would have been unthinkable. But now that she has stepped down as party leader and set an end date for her historic chancellorship, the new blood in Europe is trying to make its voice heard. Guiseppe Conte, Italy's Parime Minister, though nationalist firebrand Matteo Salvini, who had to accept a lesser official title is the de facto leader of the Italian government after the EU showed its comtempt for democracy by refusing to accept a Eurosceptic national leader, objected to the package of nominations presented on the grounds that it was put together with the help of people outside the EU political framework and without consultation with all EU members.
Merkel was isolated. Even usually reliable allies like Emmanuel Macron (who really fancies himself as the saviour of the European project, having reduced France from political chaoseto near failed – state political dysfunction in just two years refused to support her . As Bloomberg put it:
And French President Emmanuel Macron was not coming to her rescue – their relationship has been showing signs of strain. "In the long run we must draw consequences of such a failure," he said at the end of day two. "Our credibility is deeply stained by these endless meetings that lead to nothing. We're giving an image of Europe that is not serious."
he PrimeT Minister of unconsidered Bulgaria summed up the frustration of the EPP's smaller parties: "Nobody has the right to negotiate on our behalf, from EPP, whatever post they have."
Another described Merkel's plan to anoint Timmermans as "half baked".
"Merkel is leader of the CDU, not the EPP," Bulgarian Prime Minister Boyko Borissov told reporters. "Well many other things came from Osaka as well. But nobody has the right to negotiate on our behalf, from EPP, whatever post they have."
Such open defiance to Merkel from the leader of one of the EU's economic basket cases would have been unthinkable even a year ago.
RELATED POSTS:
After Triggering Mass Migration Crisis, Germany Bribing Foreigners To Leave
Though Angela Merkel clings to power the effects of her 'open doors' immigration policy damage Germany. It may amuse nationalists to observe as, with one face the pledges support for a United Nations initiative to open all national borders, while with the other she tries to persuade German voters she has listened to public opinion and understands her mass immigration policy is abhorred by a majority of voters …
German Election: Will Another Term For Merkel destroy German Economy

According to the latest round of opinion polling ahead of the German elections, Angela Merkel looks set to become the joint longest-serving modern German chancellor, that's despite having been accused of "putting problems on the back burner, and staved off several attempts to indict her on treason charges for her role in the immigrant crisis. Business organisations have also raised doubts about the economic consequences of re-electing her, warning that her new term may bring "stagnation" for Germany.
Merkel Faces Crisis As German Ruling Coalition Collapses

German Chancellor Angela Merkel faces a crisis in her ruling coalition after Bavarian Premier Horst Seehofer demanded she take steps to halt the tide of illegal immigrants entering the country. To have any chance of surviving, the government must present new initiatives for controlling illegal immigration, deal with the critical situation on the Austrian border …
New German Coalition in Peril as Potential Partners Clash over 200,000 Annual Migrant Limit
Reports that German Chancellor Angela Merkel has agreed a proposal from coalition partner and leader of the Christian Social Union (CSU) Horst Seehofer to limit the number of asylum seekers in Germany to 200,000 per year to secure a ruling coalition may be somewhat premature. Other coalition partners are not as positive on the policy.
Merkel Calls for Beginning of Coalition Talks With Greens, Free Democratic Party
German Chancellor Angela Merkel officially announced on Saturday for the first time that her conservative bloc of the Christian Democratic Union (CDU) and its Bavarian sister party Christian Social Union (CSU) will seek to form a coalition government with the centre right Free Democratic Party (FDP) and left wing loony Greens.
Controlled Media Blacks out German Mass Opposition to Nonwhite Invasion
Watershed Moment In US – EU Relations, Merkel Says Europe Can No Longer Rely On America
Only hours after Donald Trump infuriated Angela Merkel and the rest of his G-7 peers by refusing to endorse the Paris climate treaty, the US President has done it again. Hausfrau Volksfuhrer Merkel has now decided Europe can no longer rely on the USA to commit military support to EU nations that do not pay their NATO subs, should they come under attack.
Brexit: Is Germany Dictating to Britain How We Will Trade With The World After-Brexit?
Germany offering Britain post-BREXIT access to the European market for an annual "fee"! Who do these sausage scoffers think they are? The German government might like to pretend otherwise but there are twenty six other EU member states involved in negotiating any post – Brexit trade agreement with the UK, and Germany is not overly popular with many of them.
Left Wing Hate Mob Protesting At G20 Turn Hamburg Into An Inferno.
Militant anarchists staged a second day of violent protests in Hamburg as the G20 summit in the city held its first sessions. According to local reports, at least 45 people have been detained and 159 police officers have been wounded in clashes. For the second day, police had to resort to water cannon to disperse protesters from various neo – fascist groups (OK, we know they call themselves anti – fascist but the pathetic little university dumbed down idiots do not understand was fascism is,) while buildings and dozens of cars were set on fire in the suburb of Altona.
French Prime Minister says: "Europe Is Falling Apart"
After years of blythely ignoring years of economic stagnation, social deterioration, and an unemployment rate which stubbornly refuses to fall below double-digits for countries like Greece, Spain and Italy, Europe appears to have finally been shocked into recognising the reality of its situation by Brexit and the Trump election in the USA. Bureaucrats have responded with their usual tactic, scaremongering.
Greenteeth Elsewhere:
[ The Original Boggart Blog] … [ Writerbeat ] … [ Daily Stirrer.shtml ]…[Little Nicky Machiavelli]… [ Ian's Authorsden Pages ]… [Greenteeth & Daily Stirrer on YouTube ] … [ It's Bollocks My Dears, All Bollocks ] … [ Minds ] … [ <a href=https://medium.com/@greenboggartIan on Medium ] … [Scribd]…[Wikinut] … [ Boggart Abroad] … [ Grenteeth Bites ] … [ Latest Posts ] … [Ian Thorpe at Flickr ] … [Latest Posts] … [ Tumblr ] … [ Authorsden blog ] … [Daily Stirrer News Roundup]
… [ Boggart Network News ]