Let's be realistic, when news broke that convicted paedophile and serial sex offender Jeffrey Epstain had been found dead in his prison cell having committed suicide while awaiting trial on further charges of having sex with and procuring for sex girls and boys under the legal age of consent, and trafficking under age people around the world for the purpose of prostitution, we all thought the "suicide" bit was FAKE NEWS.
When you consider that among Epstein's known associates who had travelled on his "Lolita Express," the private jet that ferried the rich and famous to Epstein's private island in The Caribbean for "house parties," included former U.S. President Bill Clinton, the second son of Queen Elizabeth of England, Prince Andrew, top civil rights lawyer Alan Dershowitz, former U.S. Treasury Secretary Larry Summers, actor Kevin Spacey and a host of wealthy and prominent figures from politics, business, law, entertainment and media, there were a lot of people who stood to lose both money and resputation if their names came out in a court case involving sexual misdemeanours. Now do you still believe the official narrative about Epstein hanging himself in prison?
Apparently Epstein's defense team, the lawyers who would have tried to argue his case don't buy the suicide narrative either. Reports are circulating that one of the lead lawyers voiced deep skepticism that Epstein hanged himself, while addressing a final hearing in a Manhattan US District Court on Tuesday, which was held to formally dismiss the charges as is typical in U.S. law when the accused is deceased, but also to still allow the testimony of crime victims to be heard in public.
Defense lawyer Reid Weingarten told Judge Richard Berman during the hearing that Epstein's injuries were "far more consistent with assault" than suicide, especially the broken bones in his neck discovered during the autopsy after he was found dead in his jail cell on Aug. 10. It was previously revealed that Epstein's defense attorneys had successfully lobbied for him to be taken off suicide watch on July 29, about a week before he was found dead in his cell, according to ABC News.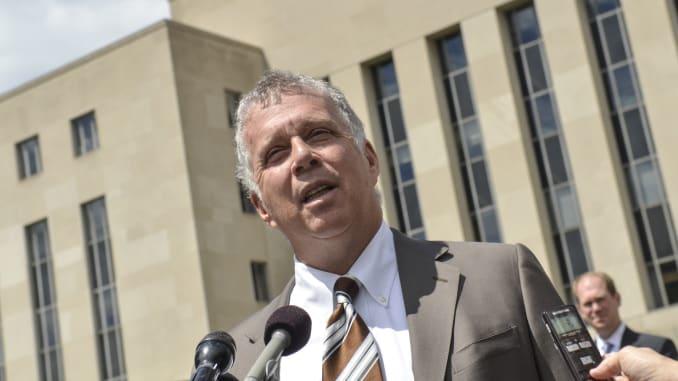 "Weingarten cited the defense's own medical sources. Broken bones were found in Epstein's neck during an autopsy after he died Aug. 10," reports CNBC. "Such fractures are more common in cases of strangulation than in hanging."
Weingarten told the court that Epstein didn't appear suicidal during discussions with his lawyers and interactions the evening before his apparent early morning hours death. "We did not see a despairing, despondent, suicidal person," the lawyer said.
Tuesday's hearing was held to allow about 20 female witnesses, many choosing to remain anonymous, to tell the court and the world what happened to them at the hands of the wealthy sex predator and human trafficker.
Judge Berman wrote of the hearing, "The Court believes that where, as here, a defendant has died before any judgment has been entered against him, the public may still have an informational interest in the process by which the prosecutor seeks dismissal of an indictment."
It would also appear, to Boggart Blog and The Daily Stirrer contributors that material seized from Epstein's properties while he was held on remand contains, if reports are accurate, sufficient evidence to open investigations leading to the prosecution of several high profile Epstein associates. Ironically, this week's District Court hearing marked the close of the federal criminal case and provide an excuse the sweep the whole sordid affair under the carpet, given Epstein's "conveniently-timed" death.
RELATED POSTS:

Court Documents Expose Jeffrey Epstein's Perverted Escapades With 'Over 100 Young Girls'
You Don't Have To Be A Conspiracy Theorist For The 'Suicide' Of Jeffrey Epstein To Stretch Your Credulity

Greenteeth Digital Publishing
The Daily Stirrer