We've been saying it since this blog began in 2005 and before, the Climate Change scare is part of a power grab by the global elites who, unterstanding that Marxism is the most elitist political philosophy since the Patricians ruled The Roman Empire, have embraced Cultural Marxism and want to enslave us all in a global, bureaucratic dictatorship.
Well OK, that's maybe a bit extreme, but we all like to attract traffic to our blogs and sensationalism is as god a way as any. The basic premise holds true though: the unanimity of opinion on climate change, its effects and causes is not just exaggerated, not even a myth, it's a fairy story as this report demonstrates …
500 Scientists Write U.N.: 'There Is No Climate Emergency'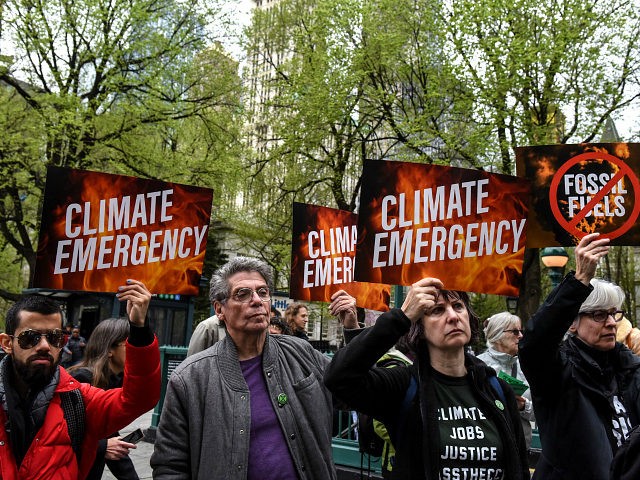 Picture: Getty images via Breitbart.com
authored by Thomas D Williams PhD for Breitbart.com
More than 500 scientists and professionals in climate and related fields have sent a "European Climate Declaration" to the Secretary-General of the United Nations asking for a long-overdue, high-level, open debate on climate change.
Just as 16-year-old Swedish climate activist Greta Thunberg addressed the U.N. Climate Action Summit in New York accusing world leaders of robbing her of her future, scientists were begging the United Nations to keep hysteria from obscuring facts.
"Climate science should be less political, while climate policies should be more scientific," the declaration states. "Scientists should openly address the uncertainties and exaggerations in their predictions of global warming, while politicians should dispassionately count the real benefits as well as the imagined costs of adaptation to global warming, and the real costs as well as the imagined benefits of mitigation."
The scientists underscored the importance of not rushing into enormously expensive climate action before fully ascertaining the facts.
"There is no statistical evidence that global warming is intensifying hurricanes, floods, droughts and suchlike natural disasters, or making them more frequent," they declared. "However, CO2-mitigation measures are as damaging as they are costly. For instance, wind turbines kill birds and bats, and palm-oil plantations destroy the biodiversity of the rainforests."
The signatories of the declaration also insist that public policy must respect scientific and economic realities and not just reflect the most fashionable frenzy of the day.
RELATED POSTS:
Macron Threatens G20 On Climate Then Backs Off
France's boy president and current climate scaremonger in chief and leading European federalist Emmanuel Macron arrived in Japan for the G-20 summit full of sound and fury, which like the stuff of Macbeth's soliloquy in Shakespeare's play turned out to signify nothing.France's boy president and current climate scaremonger in chief and leading European federalist Emmanuel Macron arrived in Japan for the G-20 summit full of sound and fury, which like the stuff of Macbeth's soliloquy in Shakespeare's play turned out to signify nothing.
The Inconvenient Truth About Greta Thunberg
by March, millions had joined her, and she was nominated for the Nobel Peace Prize. In September, she addressed the UN Climate Action Summit, telling world leaders in a tearful and passionate speech: "You have stolen my dreams and my childhood with your empty words."
German Scientist Confirms Climate Change Ia A Politically Motivated Scam
Even as the inbred idiot Prince Charles was babbling to a hand picked audience about the skid marks in his underpants being caused by Climate Change, a somewhat more scientifically literate person, Dr. Friedrich Karl Ewert, a retired geologist and data computation expert, has confirmed what those of us dubbed 'climate deniers' have been telling you for years …
Nobel Laureate Smashes the Global Warming Hoax VIDEO
Nobel laureate Ivar Giaever's speech at the Nobel Laureates meeting 1st July 2015. Ivar points out the mistakes which Obama makes in his speeches about global warming, and shares other not-well known facts about the state of the climate.
Are Humans Causing Global Warming
When questions like this are posted on question – and – answer site Quora.com they are usually an invitation for Warmageddonists who spend a lot of time tyring to shout down any dissent from the creed of their pseudo – scientific 'faith'. This looed as if it was going to be no exception, but a look down the thread shows that the deification of Greta Thunberg has galvanised climate change sceptics to oppose the narrative.
War and Politics Behind Mass Displacement in Africa, Not Climate Change – UCL
A report from a new study conducted by University College London's may cause a stir in the climate scaremongering industry. The report challenges the academic establishment's standard narrative of mass displacement in Africa being principally responsible for the creation of refugees in Africa and casts doubt on a number of other assumptions about global problems.
Hurricane Harvey Climate Catastrophe Man Made?As we reported last week the Hurricane Harvey disaster which has hit the U.S. states of Texas and Louisiana has shown characteristics never before observed in any hurricane or tropical storm since records began. Meteorological depressions (because that is what hurricanes, typhoons and other intense storms are,) move and once over land quickly weaken as air pressures become normalised. Harvey has stayed in the same area, dumping massive amounts of rain on the heavily populated coastal strip and causing $$$billionsworth of damage through flooding and high winds.
Trump Announces US To Quit The Paris Climate Accord
Fulfilling another campaign pledge, US President Donald Trump yesterday announced the U.S. would withdraw from the Paris climate pact and that he will work to renegotiate the international agreement in a way that treats American workers better. "So we are getting out, but we will start to negotiate and we will see if we can …
Obama's Climate Change Hypocrisy – The Arrogance Of The New Patricians
It is customary for US Presidents, when they leave office either having served two terms, been defeated in an election, or of their own volition, to fade quietly into the background. This is largely good manners, for an ex President to appear to be trying to intervene on political issues and influence events or public …
Big Business Joins Climate Change Scaremongers
The Paris summit on climate change approasches, which means the tree hugging fascist tendency are turning up the volume to eleven again. Trouble is they cannot produce a shed of evidence to back up their wild claims of imminent catastrophe because global warming only exists in their mathematical models, in the real world it is not happening/
Confusion Reigns As Paris Climate Conference Draws Near
The carbon dioxide driven climate change scam is back on the agenda as yet another monstrously expensive and fossil fuel gobbling jolly for politicians, scientists, freeloaders and general wankers gather to eat, drink, talk a lot and do nothing about a problem that exists in mathematical models but not in the real world.
Volkswagen Emissions Scandal – Is It The Tip Of The Iceberg?
The real problem here is that, driven by the hysterical warnings of self interested pseudo-scientists, politicians have set unachievable targets for reducing emissions while demanding that national economies keep growing.
Climate Denial Finally Pays Off
This blog has always been sceptical of the scientific case for climate change. And we admit that NO we are not climate scientists, NO we have not published research papers in 'peer reviewed' science journals. Of the three main contributors (all retired or semi retired) one is an engineer who still lectures in engineering and …
Charlotte Church blames Syria's brutal civil war on CLIMATE CHANGE (not ISIS, Assad or Obama)
Last Nights QT: Stephen Kinnock, Leanne Woor (obscured) Charles Moore, David Dimbleby (host) Charlotte, Stephen Crabbe (Image source) Classical singer turned left wing fuckwit showed exactly what is wrong with the left on Question Time last night Climate change played a role in Syria's conflict, according to Charlotte Church. Speaking as part of the panel …