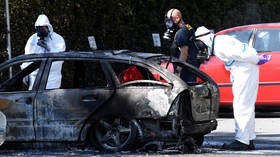 SOCOs inspect the scene of one of Stockholm's recent explosions
Sweden is heading towards civil war due to uncontrolled mass immigration.The former CEO of truck maker Scania has warned that unless mass immigration is curbed and the far left government stops pussyfooting around the nation's migrant related problems, Sweden could be in a state of civil war within a few years and lawless elements in migrant communities become more daring in showing their contempt for Swedish law and values and for the country's people.
In an interview with Swebbtv, businessman Leif Östling argued that the rapid influx of new migrants from parts of the world where backward, patriarchal, theocratic cultures are the norm and women often have lower status than animals, and who have not attempted or even shown any interest in trying to integrate into Swedish society is creating violent unrest as increasingly unhappy Swedes turn to nationalist and far – right extremist movements in the hope that somebody can redress the balance after years of government's favouring immigrants over ethnic Swedes.
"We've taken in far too many people from outside. And those who come from the Middle East and Africa live in a society that we left almost a hundred years ago," Ostling said.
As well as 'no go zones' for police and other emergency services sprining up in many Swedish towns and cities, as rival gangs from various ethnic groups vie for control of the drug, contraband and sex trades. Gun fights and grenade attacks have rocketed in many cities, notably Gothenborg and Malmo, with much of the unrest being linked to migrant gangs. Sexual assaults and violent crime is also on the rise throughout Sweden.
Grenade attacks and fatal shootings in Sweden are now described as a "national emergency" according to a report. Not long ago reports of migrant related crime problems including gang wars, organised crime, violence and sex crimes derided as a a 'far right' conspiracy theory by mainstream media media, but now there is deathly silence from the politically correct, liberal and 'progressive' publications that dominate western media as denials become increasingly incredible.
Stockholm was shaken by three explosions in a single night last week, but these criminal outrages did not even make the front pages or main news bulletin. With violence rising, the country's government seems more concerned with downplaying the problem and trying to maintain its image as a tolerant, liberal, socialist utopia rather than admitting there are problems and dealing with them.
Three explosions in one night ought to be front page news in any first-world national capital. But when Stockholm reverberated to the multiple blasts in the same night, national broadcaster SVT's nightly main news broadcast made no mention of the incidents, relegating the news to its online news page instead. One of the targets, a Syriac Christian church, had already been bombed twice in the past year.
In Sweden, such terrorism is no longer news, so long as they are suspected to be the work of migrant groups that are not so much above suspicion as above the law. In 2018 there were 162 bombings reported to police, and 93 reported in the first five months of this year. The level of attacks is "extreme in a country that is not at war," Crime Commissioner Gunnar Appelgren told SVT last year.
Östling underscored problems with integration by highlighting his own experience running Scania, where around 90 out of a hundred Somali migrants hired to work for the company were fired or left because they were unable to arrive on time or work in teams. Other Swedish companies have experienced problems with migrant workers refusing to work with women or non – Muslims, insisting on stopping production lines for prayers or refusing to lean Swedish. And those are the small minority of new migrants that condescend to work.
Östling believes the assimilation process needed before migrants are ready to live as members of Swedish society might take a generation to accomplish. The businessman said he hoped that the country's problems could be fixed within 10 years, otherwise civil war could ensue, necessitating that the military be called out to deal with violent unrest in migrant areas. The far left socialist government's refusal to abandon it's 'open doors' immigration policy suggests the problem can only get worse over the next ten years.
In an article entitled It's Time for Sweden to Admit Explosions Are a National Emergency, Quillette's Paulina Neuding goes into detail;
"Sweden has experienced a sharp rise in explosions in recent years, predominantly related to conflicts between warring criminal gangs. The use of explosives in the Nordic country is now at a level that is unique in the world for a state not at war, according to police. In response, the government issued a first-ever "amnesty for explosives" in the fall of 2018, allowing people in possession of such weapons to hand them over to police with immunity. But this didn't stem the tide: some 50 explosions were reported in the first three months of 2019 alone—an average of more than one every other day and an increase over the same period in 2018, a year that saw a record number of more than three blasts per week."
Deadly shootings in Sweden have also risen by a factor of 10 in one generation, exacerbated by witness intimidation and "a code of silence in the country's socio-economically weak immigrant areas," according to Neuding.
Pepper Spray Sales In Sweden Have "Exploded" After Spate Of Rape Attacks
Sweden dystopia omnibusSwedish Communist Party: The Left Has Abandoned the Working Class For Migrants & LGBT issues
Are the left getting it at last? Is the message sinking in that the grass roots movements have been infiltrated and hijacked by middle class intellectuals. Are they starting to realise that the obsession with identity politics has supplanted income inequality, housing availability, jobs and the cost of living … ?
Swedish Man Who Insulted Muslim For Threat to "Take Over Your Fucking Country" Charged With Hate Crime

The Daily Stirrer
Greenteeth Digital Publishing
Basil Hallward at Minds