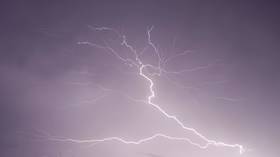 photo © Horst Sollinger / imageBROKER.com / GlobalLookPress.com
Peter Andrews is an Irish science journalist and writer, based in London. He has a background in the life sciences, and graduated from the University of Glasgow with a degree in Genetics
American physicists believe that they have discovered a strange state of matter entirely new to science – and they did it all completely by accident.
Famously, many of the greatest scientific discoveries have been accidental. Alexander Fleming let bread go moldy and discovered penicillin. Archimedes splashing about in the bath stumbled upon how to measure the volume of a solid.
It's perhaps an indictment of the modern world's overly-regimented and bureaucratic scientific community that such unintentional breakthroughs never seem to happen anymore. Western university-industrial complexes are burdened with never-ending paperwork, and huge resources devoted to ethical and health and safety requirements. These modern innovations have their benefits, of course, but they do have a major downside, in that they completely smother the more spontaneous side of the scientific method.
But now, a team of scientists at Northeastern University in Boston, Massachusetts, have made an exciting and accidental discovery in the often-overlooked field of materials science. This team has previously made several leaps forward in the world of materials science by stacking ultra-thin 2D layers on top of each other to form new structures. These sheets are only a couple of atoms thick – so thin, in fact, that the electrons within them are restricted to movement in just two dimensions (hence their name '2D materials')… Continue reading

 
FROM our Science & Technology catalogue
Time is NOT real: Physicists show EVERYTHING happens at the same time
The concept of time is simply an illusion made up of human memories, everything that has ever been and ever will be is happening RIGHT NOW. That is the theory according to a group of esteemed physicists who aim to solve one of the universe's mysteries.
Most people do not even consider the concept of time but there is nothing in the laws of physics to state that it should move in the forward direction that we know. The laws of physics are symmetric ultimately meaning that time could have easily moved in a backward direction as it does forward. Indeed some adherents to the 'big crunch' theory say time WILL run backwards when the universe stops expanding and starts contracting back in on itself.
Worst polluting coal and wood fires banned in fight to cut emissions
Domestic coal and certain types of wood are to be banned from sale from next year in a bid to cut air pollution, ministers will announce on Friday.
To Boldly Go – The Infinte Insanity Of The 'Progressive Left'
As the world celebrates fifty years since the moon landings, and the conspiracy theorists celebrate the biggest hoax ever (before climate change,) the progressive left in the USA have found cause to take offence at one of humanity's greatest achievements / one of the deep state's biggest psyops (delete as appropriate) …Left attacks sexist, racist moon landings.
The Logical Failure Of Science Fans
Thus in essence is the basis on which many science fans argue in internet comment threads.
A question posted on Quora involved me in a discussion with a typical member of this group, he's besotted with science and argues from the perspective of a religious believer rather that somebody who questions things objectively.
May 'under incredible pressure' from colleagues to blame Russia in ex-spy poisoning
In a scathing tirade, British Prime Minister Theresa May came as close as possible to blaming Russia for the murder of former double agent Sergei Skripal and the poisoning of the spy's daughter Yulia as possible without actually declaring war. The astounding attack is believed to have been a result of intense pressure put on her by members of her government and the political opposition eager to find a scapegoat and mainstream media hungry for sensation.
Relationships between Light & Electricity.
When we open our eyes and view our surroundings this is possible because of a phenomenon we term "light." What is the origin and cause of this "light" so necessary for optical perception of the objective world? Battles have raged over this question. It has been claimed to have been answered many times over the centuries, but has it truly been answered? Is light a particle, a wave, a Janus-headed aberration mixing the two and confusing the mind, or is the expression of a cosmic force which the gravity-bound viewpoint of modern science is unable to understand …
The Demise Of Nate Silver's Infallibility And Data-Driven Journalism
In 2012 some little statistics nerd named Nate Silver was elevated to the pantheon of Technological Gods, when he correctly predicted, having modelled the outcome of the vote on his meta – analysis of opinion polls, that Barack Obama would win a second term as US President. That was the election in which Obama's opponent Mitt Romney famously threw the fat lady off the stage long before she had even done her warm up scales
Chinese Lunar Rover Finds No Evidence of American Moon Landings
As the 'Science Squad' (Brian Cox, Dara O'Briain and assorted Star Wars fans) get hyper over Major Tim Peake 'going into space' I call for scepticism. He hasn't gone into 'space', the space station is in a fixed orbit 250 miles above the earth and that is within the earth's atmosphere, in the layer known as The Thermosphere, which is not even the outermost sphere of the atmosphere.
Inferno at 63-story luxury hotel in Dubai, So Why Did It Not Collapse Like The Twin Towers?
'Address Downtown' a 5-star hotel in Dubai was engulfed in flames on New Year's Eve as the city authorities firework display lit up the sky. It was not initially clear what caused the fire, which damaged about 20 stories of the building. Burning debris fell from the structure as firefighters struggled to contain the blaze.
Chinese Lunar Rover Finds No Evidence of American Moon Landings
As the 'Science Squad' (Brian Cox, Dara O'Briain and assorted Star Wars fans) get hyper over Major Tim Peake 'going into space' I call for scepticism. He hasn't gone into 'space', the space station is in a fixed orbit 250 miles above the earth and that is within the earth's atmosphere, in the layer known as The Thermosphere, which is not even the outermost sphere of the atmosphere.
How Neo – Con and Neo – liberal Globalism Freaks Are Destabilizing Europe According To Plan
A study by our owner/ editor of how the USA led global markets project has destsbilised the middle easdt and why that outcome looks as if it was the long term plan all along. Libya, Syria, Ukraine, Yemen, Afghanistan, Iraq and now Europe … all are strategically important and all were potential obstacles to Washington's world domination ambitions.
Red Meat Causes Cancer Says World Health Org. Scientists. They Are Lying Of Course
Science was ever fascism's whore; it has become a catchphrase of The Daily Stirrer over the years as week after week we report instances of scientists whoring themselves for research grants, produce results that serve the vested inerests of the organisations which provide their funding.
Anti-Science – The Church Of Scienceology's Latest Pejorative Term For People Who Think And Question.
We are not the only web site to take exception to accusations of being anti – science and all the other pejorative terms used by the Church Of Scienceology disciples to deflect criticism from independent minded people who are smart anough to ask Cui Bono? Which corporate business benefits.
TThe Idea Of An Infinite Universe Is Fashionable Again
The now little discussed (due to the witch hunt tactics employed by the scientific consensus gangsters) idea of an infinite, eternal, self renewing universe makes a lot more sense than a point at which everything suddenly materialises out of nothing.
Eugenics by any other name: Scientists call for ban on editing human genome.
Mention eugenics and the idiotic screechers of the left will start going on about Naziism, although the science of Eugenics would not be a bad idea if scientists, businesses and politicians could be trusted with such power. Power however always tempts the holder to abuse it, and the power to create a master raceby genetic modification of human DNA cannot be entristed to three professions that have always been deficient in ethical awareness.
Could 'DNA editing' lead to designer babies?
Designer babies, human / animal hybrids, these things have been in wet dream territory for scientists for a long time. But now due to techniques such as DNA editing, they are getting worryingly close to reality. And as has been demonstrated many times, scientists have zero uderstanding of where the ethical boundaries lie.
Earth's CO2 Levels Pass Global Warming 'Milestone', Nothing Happens – Daily Caller.
After two decades of panic stricken scientists and screeching lefties wailing about the catatrophe that would ensue once the concentration of carbon dioxide (CO2) in the atmosphere passed 400 parts per million, that figure was reached in December 2014.
The Robotification Of Human Society Is being Implemented

Are you ready to surrender your humanity to science, accept having computer chips implanted in your skull that will link your brain to the internet (via a Google server) and let your life be controlled by machines? That's what The Controllers are planning for you …
Arrogance, Intolerance, Snobbishness and Corrupt, Self Interested Practices. It's modern science.
The world sems to be waking up the the fact that while in the past scientists tended to be rather detached, slightly obsessive people not driven by material goals, the modern science academy has been very largely corrupted by political patronage and corporate money. The academic field of climate science it especially notable for this.