Determined to destroy what little credibility they had left in the eyes of the public the
Schutzstaffel
division of the UK police, who you may remember, were conspicuous by their invisibility when reports of knife gangs and acid attacks topped the news everyday, are suddenly swarming all over us, as they arrest middle aged men for walking their dogs, little old ladies for buying "non essential items at the supermarket, and families for enjoying picnics in the countryside on a sunny day.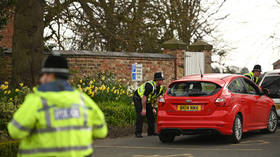 Yes, the thick, sweaty coppers are in their element as they harass ordinary people for doing completely inoffensive things.
Bedfordshire police triggered an avalanche of contemptuous mockery after warning residents that their country picnics would be raided by jackbooted bully – boys tasked with enforcing the authoritarian, fascistic measures introduced ostensibly to slow the spread of Covid-19.
The police force propaganda department tried to defend themselves on Twitter,  announcing that they would be on the prowl for unruly locals trying to enjoy the nice weather outside. This only made the pompous Plod look more ridiculous
"If you think that by going for a picnic in a rural location no one will find you, don't be surprised if an officer appears from the shadows! We are covering the whole county," they wrote, including a photograph illustrating the discreet nature of their personnel.
The disturbing announcement from Old Bill didn't go down well with the public who, after years of being compliant are showing signs that they have been pushed too far by the authoritarian attitudes of Deep State agencies.
"Fascism always lurks in the shadows. We must be vigilant,"replied popular bitcoin enthusiast and entrepreneur Samson Mow.
"The UK is dead,"lamented Joel Lambert, a television host and former Navy SEAL.
Jordan Schachtel, a specialist in national security issues, joked that the tweet seemed to suggest that Nazi Germany had won World War II.
I thought we won WWII. Apparently not?

— Jordan Schachtel (@JordanSchachtel) April 13, 2020
The force issued a clarification following the barrage of negative comments, insisting that their message was "well intentioned." They said the patrols were necessary because picnics "aren't essential" and that the stay-at-home order was in place to save lives.
We can only say that the road to tyranny is paved with good intentions mixed with bad judgement
MORE Posts on the COVID 19 pandemic