8 June 2020, Ian R Thorpe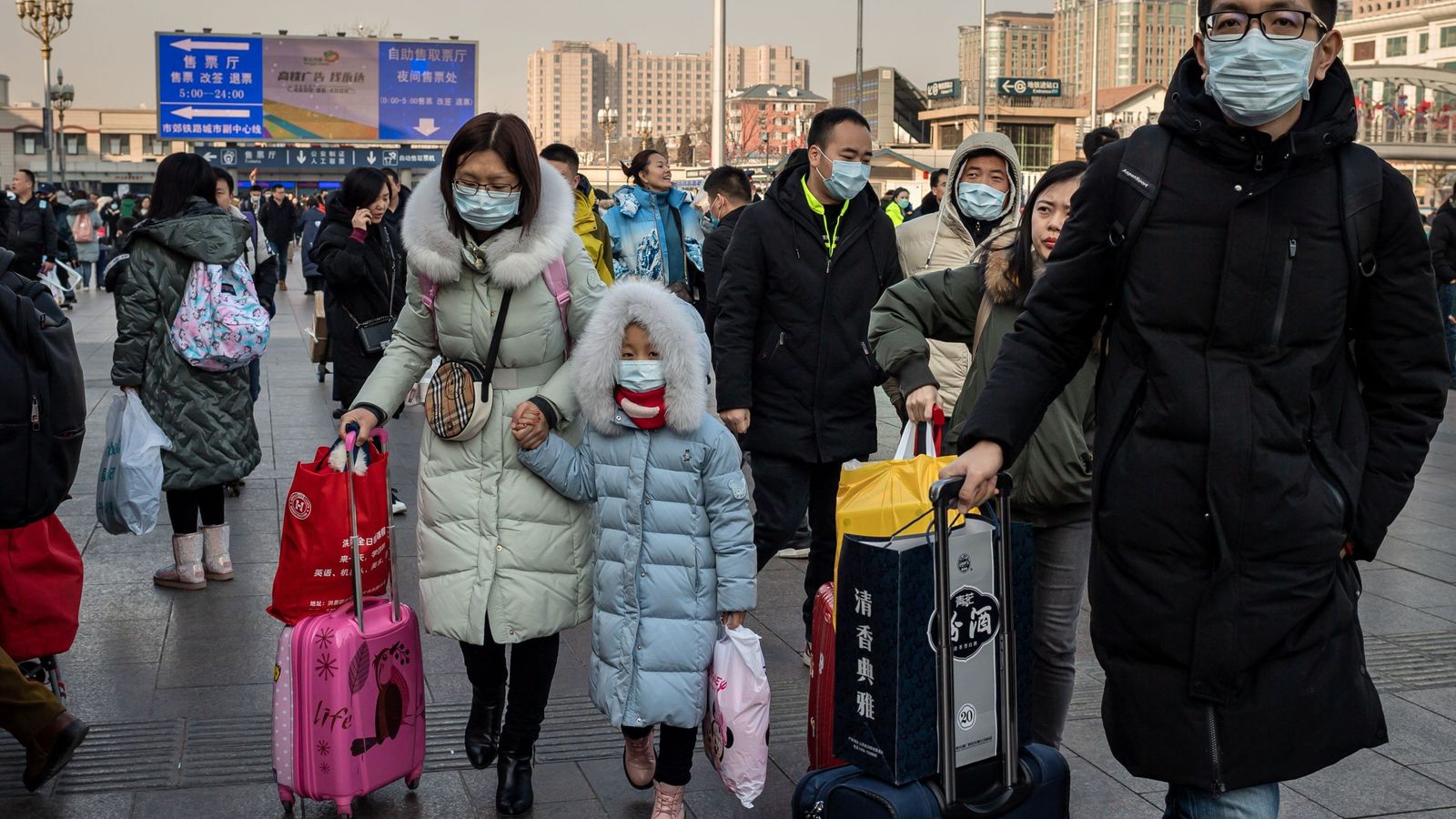 Facemasks: Even if they worked they wouldn't be any use (Picture: SkyNews)
Yesterday the World Health Organization (W.H.O.) which has since the beginning of February been at the forefront of the fear and panic campaign stunned the world when it was reveled in an announcement reported by CNBC that the coronavirus is not being spread by asymptomatic carriers.
This means that the lockdown, social distancing and all the rest of the pandemic measures were based on errors and misunderstandings (or what us cynics might call a pack of lies.)
"From the data we have, it still seems to be rare that an asymptomatic person actually transmits onward to a secondary individual," said Dr. Maria Van Kerkhove, head of the W.H.O.'s emerging diseases and zoonosis unit. "It's very rare."
In point of fact, a W.H.O. fact sheet states that "to date, there has been no documented asymptomatic transmission." Earlier reports that people had caught the virus from people with no symptoms were eventually debunked, as reported here in Science magazine but the public continued believing that asymptomatic contagion was likely.
And the fuss about face masks was even more idiotic because a virus, the smallest biological entity currently known at an estimated 30 microns, may easily be blasted through the fabric of a face mask.
The widespread belief that people could be infecting others without knowing it was the primary justification used to convince people that they should be wearing face masks. Even if you have no fear for yourself — it was said — at least wear a mask and practice social distancing for the sake of other people you could be infecting.
News that this is not the case will surely lead to a further breakdown in confidence in health experts, whose advice has led to the largest containment of healthy populations in the history of the world.
Unless of course the whole lockdown was always a ruse to distract us from a particularly nasty political agenda that is being implemented by subterfuge. Call me a conspiracy theorist if you like, but before you do, take time to examine the evidence.
Among the evidence you should examine, along with those insanely overstated figures for projected deaths (500,000 in the case of the UK,) is the vanishingly low incidence of death or even serious illness in people who were infected with COVID – 19 but were under 60 and otherwise in good heath. In the UK, as in France, Italy and Spain, the 4 European nations hardest hit, it has been stated by official sources many times that the overwhelming majority of deaths occurred in people over the age of 65 who had long term health problems or conditions such as cardio – vascular ailments or diabetes. I understand this is also the case in the U.S.A. and Canada though I do not have figures.
Yet when I reported this I was called a conspiracy theorist, a far right nutcase,  one zealous sheep even tried to warn me that by sticking with my "bring it on" attitude rather than living in isolation or getting vaccinated was "volunteering for death." It completely escaped him, as he quaked in fear of a fake news story that there was and is no vaccine and if we all lived in total isolation we would probably starve within a couple of weeks. but the terminally fearful weren't going to admit that they didn't give a stuff about the ones who had to grow and pack and deliver our food, keep water and sewerage systems running and maintain the electricity generating and distribution systems. But enough of my sarcasm, let's look at the science, as those terminally fearful people have also told us we should trust "the scientists." Should we?
Around 150 years ago, medical; researchers began to move to the idea that a particular pathogen is related to each illness and set about proving  whether a particular microbe causes of a specific illness or is just a coincidental to the ailment. One of those researcher, a German doctor named Robert Koch proposed a set of four criteria with a specific pathogen must meet in order to be universally accepted as the cause of an illness. Those criteria, known as The Koch Postulates are:
A specific microorganism is always associated with a given disease.

The microorganism can be isolated from the diseased animal and grown in

pure culture

in the laboratory.

The cultured microbe will cause disease when transferred to a healthy animal.
Like most human endeavours, the Koch postulates were the product of collaboration. First, Jakob Henle developed the underlying concepts, and then Robert Koch and Friedrich Loeffler spent decades refining them until they were published in 1890.
The Silicon Valley funded scientists (i.e. mathematical modellers,) who have been fuelling fear and panic with data from their mathematical models that predict global catastrophe have been among those rubbishing The Koch Postulates and it is fair to say they are an oversimplification, but in general terms they still hold true though the principles have been refined  by various researchers over the ensuing century and a half. But the changes concomitantly watered down the postulates. That's why they're still used today by most researchers seeking to robustly prove or disprove the existence of a pathogen and its relationship with a specific disease.
From the available information, the Wuhan coronavirus does not appear to meet any, never mind all, of these four criteria. But in the course of thois pandemic we, those of us who were paying attention, have learned things about viral illnesses and their causes that have eroded our trust in academics, the medical professions and the institutions of state (our trust in politicians and the media was already at zero when the whole thing kicked off. A virus is a sub microscopic organism, which means that at 30 micons they are too small to be seen with an optical microscope, so the only evidence of their existence is electro – magnetic emissions recorder on super sensitive radio – microscopes, and the presence of certain antibodies in the blood or tissue of infected bodies. Nobody has ever seen a coronavirus, those spiky balls are computer generated simulations.
What we know are that the same antibodies are created by infected bodies in response to many strains of coronavirus.
There's an urgent need for scientists to step up and carry out this exercise to prove conclusively with COVID-19, to prove primarily that it actually exists and we have not simply had several simultaneous pandemics of different diseases. But, strangely, the torrent of scientific papers on the virus have all started from the assumption that information provided by the tyrannical regime in The People's Repiblic Of China is unquestionably accurate. Few, if any of the research projects have fucused on the tremendously question of whether COVID – 19 Coronaviris is what it says on the box.
A very straightforward and inexpensive experiment is all that's needed to prove that the first postulate has been met. Test the blood samples of a large sample of infected people using a test that's been proven by several non-conflicted third parties to be accurate – the difficulty here is none of the available tests have been proved accurate.
Then, if all the people who are diagnosed with COVID-19 are the same ones who tested positive for antibodies associated with the virus, that would prove the virus causes COVID-19. Here the difficulty is that COVID-19 diagnosis would have to be based on a well-defined set of symptoms. The current diagnostic criteria – such as pneumonia, or the combination of fever and cough does not met this requirement, because those are typical symptomd in many other respiratory conditions.)
But such testing project has not yet been done, or if it has, the results have not been made public and there could only be one reason why such information would not be published.
The real kicker, though, is that the third postulate – isolating and sequencing the virus and then showing it causes the disease in other organisms – has not been fulfilled either and the fourth is dependent on the other three.
So in fact we have seen economies trashed, lives ruined and the world plunged into chaos, and as yet we do not even know if the alleged threat used to justify this existed or not.
RELATED:
Coronavirus fear and panic
New World Order
Government fake news ministry