Below is my column in The Hill on the ongoing destruction of memorials and statues. After this column ran, I learned that one of the iconic busts of George Washington University had been toppled on my own campus. I did not learn that from our university, which was conspicuously silent about this destructive act at the very center of our campus.  There is something eerily familiar in the scenes of bonfires with police watching passively as public art is destroyed.  Such acts are akin to book burning as mobs unilaterally destroyed images that they do not want others to see.  There are valid issues to address on the removal of some public art but there is no room or time for debate in the midst of this spreading destruction.  The media has largely downplayed this violence, including little comparative coverage of an attack on the Democratic state senator who simply tried to videotape the destruction of a statue to a man who actually gave his life fighting against slavery in the Civil War.  As discussed earlier, history has shown that yielding to such mob rule will do little to satiate the demand for unilateral and at times violent action. People of good faith must step forward to demand a return to the rule of law and civility in our ongoing discourse over racism and reform.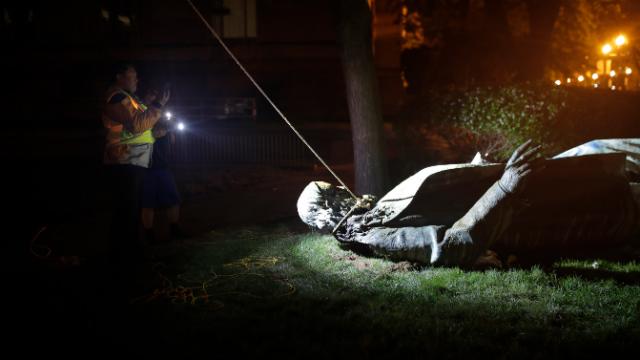 The scenes have played out nightly on our television screens. In Portland, a flag was wrapped around the head of a statue of George Washington and burned. As the statue was pulled down, a mob cheered. Across the country, statues of Christopher Columbus, Francis Scott Key, Thomas Jefferson, and Ulysses Grant have been toppled down as the police and the public watch from the edges. We have seen scenes like this through history, including the form of mob expression through book burning.
Alarmingly, this destruction of public art coincides with a crackdown on academics and writers who criticize any aspects of the protests today. We are experiencing one of the greatest threats to free speech in our history and it is coming, not from the government, but from the public. For free speech advocates, there is an eerie candescence in these scenes, flames illuminating faces of utter rage and even ecstasy in destroying public art. Protesters are tearing down history that is no longer acceptable to them. Some of this anger is understandable, even if the destruction is not. There are statues still standing to figures best known for their racist legacies.
Two decades ago, I wrote a column calling for the Georgia legislature to take down its statue of Tom Watson, a white supremacist publisher and politician who fueled racist and antisemitic movements. Watson was best known for his hateful writings, including his opposition to save Leo Frank, a Jewish factory manager accused of raping and murdering a girl. Frank was taken from a jail and lynched by a mob enraged by such writings, including the declaration of Watson that "Frank belongs to the Jewish aristocracy, and it was determined by the rich Jews that no aristocrat of their race should die for the death of a working class Gentile."
Yet today there is no room or time for such reasoned discourse, just destruction that often transcends any rationalization of history ... Continue reading >>>
MORE  on race and racist issues >>>
RELATED:

Soros Sponsored "Democracy Spring" Launches Program Of Civil Disobedience
So there you have it, the 'radical left' are sponsored by one of the nastiest, greediest corporate capitalists ever, a shameless advocate of global totalitarian government proposed by theelistist socialist group The Fabian society over a hundred years ago and towards which these supporters of 'oligarchical collectivism' have been working ever since.
Social Science Degrees Make Great Leaders? More Junk Science.
We've had junk science on climate change, genetically modified seeds, many types of medicines and social engineering. The junkiest of junk science however is always commissioned by public service organisations and is aimed at convincing the public that our public servants are doing a good job. Fortunately the public are not as gullible as our leaders suppose.
Protesters Gather Around Europe To Demonstrate Against Undemocratic Secret Agreement With USA
Virtual ID has arrived – why you should resist taking it up
We told you some years ago when our publication appeared under a different name that the then Labour Government's plan for compulsory electronic ID cards was the step that would take us over the line from a seblance of liberal democracy into oligarchic fascism. Labour's plan was derailed by public opposition but now it has been rehashed and is presented with fluffy window dressing. A vote for Labour, Conservative Or Liberal Democrat is a vote for fascism. You have been warned.

How the fall of France could accelerate the rise of UKIP
Don't hold French stocks says former broker Farage as our Gallic neighbour sinks deeper into the Euroshite
The faltering French economy continues to stall under President Francois Hollande, which is boosting anti-EU sentiment across Europe particularly in Germany, where the efficiency worshipping taxpayers increasingly resent having to bail out their impecunious Eurozone partners.

Riots against police brutality in France after police put down protests against dictatorial Hollande
Another anti-police brutality protest turned violent in the French city of Rennes, with masked youths and police engaging in running street battles. The unrest follows the death of a young environmental activist earlier this week. Not long ago we were reporting riots in Spain as police were overly physical in dispersing peaceful protests against the government's economic policies.
The Importance Of Free Speech And Freedom Of Information
The threat to free speech
The plan to silence discussion
Our New Unhappy Lords
Corporate bosses want to be beyond the law
The corporate media is murdering democracy
If you don't conform its because you are insane
If you disagree they certify you insane. Is this democracy
European Union becoming a bureaucratic dictatorship
The tyranny of human rights law
Genocide of ideas as Though Police go on rampage
Don't call me a conspiracy theorist
The birth of a Euronazi superstate
The Gods of copy book endings can save us
The Hate And Prejudice The Bourgeois Left Find Acceptable
Human Rights – A Straitjacket On Civil Liberty and individualism.
Why Are The Political Left So Sure They Have A Monopoly On Goodness And Truth
Progressive Liberalism is the new Fascism, Dare WEe Challenge Their Illiberal Code?
Politically correct index
Nanny State index