Authored by Steven Mosher via LifeSiteNews.com,
It will not be possible for the Dr. Fauci's of the world to dismiss Professor Giuseppe Tritto as a crank.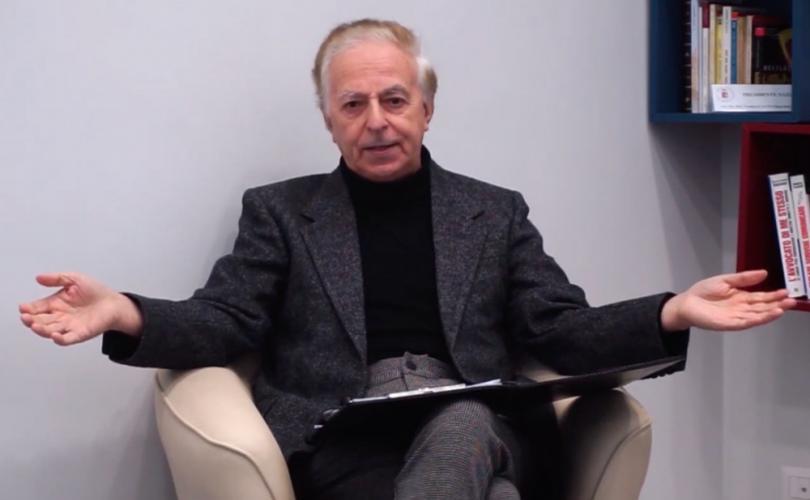 Not only is he an internationally known expert in biotechnology and nanotechnology who has had a stellar academic career, but he is also the president of the World Academy of Biomedical Sciences and Technologies (WABT), an institution founded under the aegis of UNESCO in 1997.
In other words, he is a man of considerable stature in the global scientific community.  Equally important, one of the goals of WABT is to analyze the effect of biotechnologies – like genetic engineering – on humanity.
In his new book, this world-class scientist does exactly that.  And what he says is that the China Virus definitely wasn't a freak of nature that happened to cross the species barrier from bat to man.  It was genetically engineered in the Wuhan Institute of Virology's P4 (high-containment) lab in a program supervised by the Chinese military.
Prof. Tritto's book, which at present is available only in Italian, is called Cina COVID 19: La Chimera che ha cambiato il Mondo (China COVID 19: The chimera that changed the world).  It was published on August 4 by a major Italian press, Edizioni Cantagalli, which coincidentally also published the Italian edition of one of my books, Population Control (Controllo Demografico in Italian) several years ago.
What sets Prof. Tritto's book apart is the fact that it demonstrates – conclusively, in my view – the pathway by which a PLA-owned coronavirus was genetically modified to become the China Virus now ravaging the world.  His account leaves no doubt that it is a "chimera", an organism created in a lab.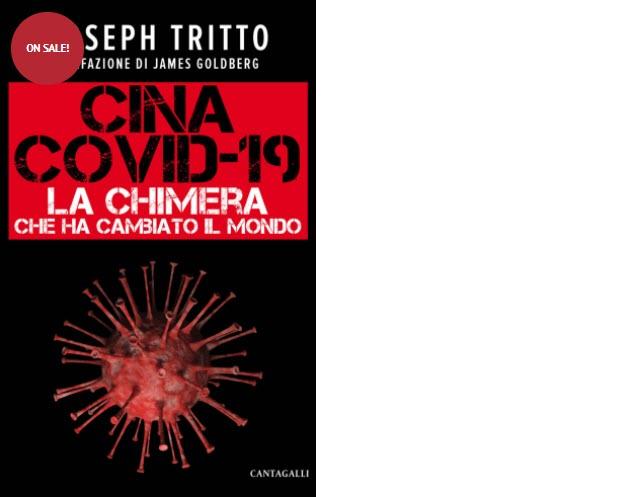 He also connects the dots linking the Wuhan lab to France and the United States, showing how both countries provided financial and scientific help to the Chinese as they began to conduct ever more dangerous bioengineering experiments.  Although neither American nor French virologists are responsible for the end result—a highly infectious coronavirus and a global pandemic—their early involvement may explain why so many insist that the "chimera" must have come from nature.  The last thing they want to admit is that they might have had a hand in it.
Those of us who, early on, argued for a laboratory origin were dismissed as conspiracy theorists. Our articles were censored as "fake news," often by American virologists who knew perfectly well what the truth was, but preferred to protect China, and themselves, from scrutiny lest they themselves be implicated.
Dr. Tritto's 272 pages of names, dates, places, and facts leaves such apologists with no place to hide.
The story begins following the SARS epidemic of 2003, as the Chinese attempt to develop vaccines to combat the deadly disease.  Dr. Shi Zhengli, about whom I have previously written, was in charge of the program at the Wuhan Institute of Virology.
In vaccine development, reverse genetics is used to create viral strains that have reduced pathogenicity but to which the immune system responds by creating antibodies against the virus. But reverse genetics can also be used to create viral strains that have increased pathogenicity.  That is what Dr. Shi, encouraged by PLA bioweapons experts, began increasingly to focus her research on, according to Prof. Tritto.
Dr. Shi first solicited help from the French government, which built the P4 lab, and from the country's Pasteur institute, which showed her how to manipulate HIV genomes. The gene insertion method used is called "reverse genetics system 2."  Using this method, she inserted an HIV segment into a coronavirus discovered in horseshoe bats to make it more infectious and lethal.
The U.S. was involved as well, particularly Prof Ralph S. Baric, of the University of North Carolina, who was on the receiving end of major grants from the National Institute of Allergy and Infectious Disease.  This is, of course, Dr. Anthony Fauci's shop.  Fauci was a big proponent of "gain of function" research, and when this was prohibited at Baric's lab because it was considered to be too dangerous, the research was shifted to China.
Prof. Tritto believes that, while Dr. Shi's research began as an effort to develop a vaccine against SARS, it gradually morphed into an effort to use "reverse genetics" to build lethal biological weapons.  This was the reason that the Wuhan lab became China's leading center for virology research in recent years, attracting major funding and support from the central government.
I would add that the rule in Communist-controlled China is "let the civilian support the military," which means that as soon as Dr. Shi's research showed any potential military uses the PLA would have begun exercising control of the research.  This came out in the open with the outbreak, when China's leading expert on bioweapons, People's Liberation Army Major General Chen Wei, was immediately placed in charge of the Wuhan Institute of Virology. As for Dr. Shi Zheng-Li, she seems to have disappeared.
As Dr. Tritto explained in an interview with Italian media:
In 2005, after the SARS epidemic, the Wuhan Institute of Virology was born, headed by Dr. Shi Zheng-Li, who collects coronaviruses from certain bat species and recombines them with other viral components in order to create vaccines. In 2010 she came into contact with American researchers led by Prof. Ralph Baric, who in turn works on recombinant viruses based on coronaviruses. Thanks to the matrix viruses provided by Shi, Baric created in 2015 a mouse Sars-virus chimera, which has a pathogenic effect on human cells analyzed in vitro.

At that point, the China-US collaboration becomes competition. Shi wants to work on a more powerful virus to make a more powerful vaccine: it combines a bat virus with a pangolin virus in vitro and in 2017 publishes the results of this research in some scientific articles.

Her research attracts the interest of the Chinese military and medical-biological sector which deals with biological weapons used as a deterrent for defensive and offensive purposes. Thus Shi is joined by doctors and biologists who belong to the political-military sphere, such as Guo Deyin, a scholar of anti-AIDS and anti-viral hepatitis vaccines and expert in genetic recombination techniques. The introduction of the new engineered inserts into the virus genome is the result of the collaboration between the Shi team and that of Guo Deyin. The realization of this new chimera, from a scientific point of view, is a success. So much so that, once the epidemic has broken out, the two researchers ask WHO to register it as a new virus, H-nCoV-19 (Human new Covid 19), and not as another virus derived from SARS. It is reasonable to think that Shi acted only from the point of view of scientific prestige, without however taking into account the risks in terms of security and the political-military interests that her research would have aroused.
When asked why China has refused to provide the complete genome of the China Virus to the WHO or to other countries, Dr. Tritto explained that "providing the matrix virus would have meant admitting that SARS-CoV-2 [China Virus] was created in the laboratory. In fact, the incomplete genome made available by China lacks some inserts of AIDS amino acids, which itself is a smoking gun." 
The key question, for those of us who are living through the pandemic, concerns the development of a vaccine.  On this score, Prof. Tritto is not optimistic:
Given the many mutations of SARS-CoV-2, it is extremely unlikely that a single vaccine that blocks the virus will be found. At the moment 11 different strains have been identified: the A2a genetic line which developed in Europe and the B1 genetic line which took root in North America are more contagious than the 0 strain originating in Wuhan. I therefore believe that, at the most, a multivalent vaccine can be found effective on 4-5 strains and thus able to cover 70-75% of the world's population.
In other words, by withholding from the world the original genetic code of the China Virus that it created, the Chinese Communist Party is ensuring that no completely effective vaccine will ever be developed by the West.
In other words, China continues to lie, and people continue to die. 
RELATED POSTS:
For every 3 COVID19 deaths lockdown may have caused 2 more – Official
The 4 month lockdown imposed by government on the advice of "scientists" while realists in the medical profession said poses almost zero risk to healthy people under the age of seventy, may have indirectly caused 16,000 excess deaths in two months, according to government analysts. This is what those medical realists, predicted at the outset.
Loughborough, Sheffield Universities shows 'COVID deaths' fraud
A new study by academics at the School of Business and Economics and The University of Sheffield, and economic consultants at Economic Insight, seeks to provide a more statistically robust approach to the question: "How many deaths in England and Wales are due to COVID-19?". Currently COVID-associated deaths or excess deaths are … Continue reading
Red Flags Soar As Big Pharma Given Exemption From COVID-19 Vaccine Liability Claims
Last week we warned readers to be cautious about new COVID-19 vaccines, highlighting how key parts of the clinical trials are being skipped as big pharma will not be held accountable for adverse side effects for administering the experimental drugs. A senior executive from AstraZeneca, Britain's second-largest drugmaker, told Reuters that his company was just granted protection from … Continue reading
Latest COVID Scam move a step too far?
The scam goes on with the latest move to keep the coronavirus fear and panic conspiracy afloat being a rumour that the government will ask over 50s in Britain to"shield" (i.e. place themselves under house arrest,) throughout the winter. But it may be the tipping point, public rteaction has been totally negative.
Coronavirus Pandemic: The Scam Continues
Just when we thought it was safe to go out in the fresh air …… the government and their "scientific advisers have thought of a way to extend the scam. It seems that as we have been saying since March, trashing the economy and destroying the fabric of society is less impoortant to them than advancing their plan for a global, authoritarian government …Continue reading
As the Coronavirus rolls on with every trumpeted breakthrough fizzling out into a great big nothing, political leaders and media 'influencers' keep telling us we must follow the science. Yet with so much contradictory and conflicting evidence, perhaps it's time we learned that "following the science" is the worst thing we can do? The Daily Stirrer has been telling you since the start of the farrago that scientist is a synonym of wanker,
Covid 19: Statistics, Lies and the Corruption Of Science.As the COVID — 19 pandemic continues to dominate the news and defy the efforts of researchers to understand its many mysteries, including its origins and why it affects people who contract the virus in wildly different ways, one thing we have learned for certain so far is the extent to which the Pharmaceuticals manufacturers cartel (colloquially Big Pharma,) exercise a pernicious influence over medical research and healthcare.
COVID19 PCR Tests are Scientifically MeaninglessPoliticians and "experts" scream and shout about testing and isolation being the way to halt the COVID 19 pandemic to a halt, but everything else they hsve told us about the disease has been absolute bollocks, why should this be any different?
Well surprise, surprise, it isn't any different. The idea that testing everybody ten times a day (OK I might be exaggerating for effect,) will do any good is just another diversionary tactic …
Critics Batter The Fake Science Used To Justify The Lockdown As Boris Waffles
Regular readers may recall this blog was among the first to expose the fact that the pandemic model predicting 500,000 COVID – 19 deaths if the entire nation was not placed under indefinite house arrest was based on a deeply flawed mathematical model of the pandemic built by a "scientist" at Imperial College, London, a college heavily reliant on funding from the Bill and Melinda Gates foundation. You may also recall we have reported on the determination of psychopathic megalomaniac Gates to insert himself into this phoney crisis
Coronavirus: Fear and Panic and a Globalist Power Grab
World Leaders Insist 'Economic Lockdowns Ravage the Very Fabric of Societies'
An impressive array of more than 500 prominent world leaders, academics, and Nobel Laureates have written "A Call to Defend Democracy" in the face of a worldwide rise in government authoritarianism during the Wuhan coronavirus pandemic. The June 25 text declares that beyond health concerns the COVID-19 pandemic is "a political crisis that threatens the future of liberal democracy."
Oxford Covid Vaccine Fails But Big Pharma Will Sell It Anyway
Many highly – placed members of the lockdown forever cult, Bill Gates among them, have been spreading the idea that lockdown must continue until a vaccine for COVID – 19 is available because only a vaccine can save us. More level headed types (i.e. those of us routinely dismissed as conspiracy theorists, have warned that as the virus affects the upper respiratory tract and nasal passages, where there can be no antibody response it is unlikely there will ever be an effective vaccine …
Greenteeth and Daily Stirrer posts on Coronavirus. Is it a real, existential threat to humanity, is it an exercise in generating fear and panic in response to the nationalist pushback against globalism, or is it a deep state power grab. We don't know, but we will report and examine aspects of the story mainstream media will not inform you of.
The Coronavirus Response Is The Biggest Assault On Freedom Since World War 2
Things have gone so far beyond what can be considered a rational response to an outbreak of a highly contagious but for most people relatively minor illness that I am starting to believe even the conspiracy theories I know I made up myself. Boggart Bloggers predicted weeks ago the current outbreak of coronavirus would see a massive hyping of the threat level leading up to an assault on our freedoms …
Scientist who convinced Boris lockdown was the only way to beat coronavirus criticised many times for flawed research
The scientist whose mathematical models of how the coronavirus would spread in the UK and the wildly exaggerated estimates of how many deaths might result from the epidemic reportedly led to the decision to implement a countrywide lockdown and trash the economy has been criticised in the past for flawed research.
Has The World Health Organisation Been Helping Chinese Coronavirus Cover Up
Many people suspected as far back as January, when stories about an epidemic of a new virus began to leak out of China that we were not and would not be told the whole story. The virus infecting thousands of Chinese in the large inland city of Wuhan was, we learned, a strain of corona virus, the genre that infects us with the common cold, influenza and a host of other infections of varying seriousness.
Coronavirus deaths: Are The Authorities Deceiving Us?Yesterday we reported that a Canadian outfit had carried out an analysis of China's response to Coronavirus and concluded that while politicians and academics (aka "scientists" or "experts") are heaping praise on the way the regime in Beijing has contained and controlled its epidemic, the Chinese have actually been lying, the epidemc is still raging and numbers of infections and deaths from COVID – 19 are far higher than reported,
Is This The Smoking Gun That Proves China Has Lied About The Coronavirus Outbreak
With the number of confirmed cases of, and deaths from coronavirus in Italy, a nation of 63 million people having now surpassed the number of infections officially admitted by the government of China, a nation of 1.4 billion and the nation where the news strain of coronavirus, COVID – 19 was first observed, it was obvious to the realists among us that the Chinese government's claims to have contained the virus were deeply suspect and further claims that the outbreak were under control were as reliable as reported sightings of The Tooth Fairy …
As We Predicted The Coronavirus bill Is The Biggest Assault On Freedom Since World War 2
Things have gone so far beyond what can be considered a rational response to an outbreak of a highly contagious but for most people relatively minor illness that I am starting to believe even the conspiracy theories I know I made up myself. Along with my fellow Boggart Bloggers I predicted weeks ago the current outbreak of the so – called coronavirus would see a massive hyping of the threat level leading up to an assault on our freedoms. And that is exactly what we have seen happening over the past week.
UK To Ask Citizens Over 70 To Self – Isolatate For 4 MONTHS As Coronavirus Fails To Kill Zillions
UK Health Secretary Matt Hancock today confirmed the government plans to ask people aged over 70 to isolate themselves for up to four months amid a coronavirus pandemic. The goal is to protect them.
It's quite obvious to us, experienced bloggers that we are, that the government, civil service, law encorgement and national security agencies and all the assorted experts and talking heads have forgotten the lesson our generation learned from The Hitch Hiker's Guide To The Galaxy …