An aspect of the COVID pandemic and the inept, often idiotic responses of governments to this globalist sponsored hoax, has been the way propagandists, politicians and mainstream media have ignored the damage done by measures imposed with the aim of eradicating the virus. These measures have included lockdowns, travel restrictions, delayes to vital medical treatments, the ruination of peoples' lives and livelihoods and limitations on our individual freedoms that amount to wholesale abuses of human rights.
This blog and other alt_news sites have tried to keep readers informed but one important topic that has eluded us simply because information was not being made available, is the increase in domestic violence and killings due to the stresses of lockdown, isolation and uncertainty. But as last information is leaking out …
15 Nov, 2020 13:42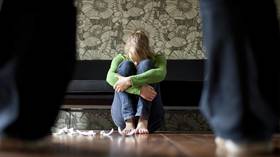 PHOTO. © Global Look Press via RT
With England little over a week into its second lockdown, shocking new statistics have revealed that calls to domestic abuse helplines are surging, and the first lockdown saw nearly 50 suspected domestic killings.
The charity Refuge has raised the alarm about rising reports of domestic violence, saying it is "very concerned" about a spike in demand for the National Domestic Abuse helpline, which it operates.
Refuge said that perpetrators of domestic violence have proven to be adept at using coronavirus restrictions to abuse and intimidate. It added that abusers were increasingly using smart door locks, webcams, and social media, or sharing revenge porn, to target their victims … Continue reading >>>