3 Feb, 2021 22:28 / Updated 11 hours agoGet short URL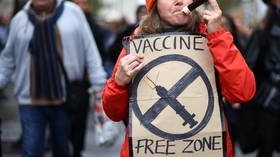 FILE PHOTO: An anti-lockdown protester holding a sign in London, Britain. © REUTERS/Henry Nicholls A British woman questioning the Covid-19 crisis in the UK has been banned from visiting any hospital across the country save for emergency, after she repeatedly filmed and shared videos of what she claimed were "empty wards."
Serial lockdown breaker and prominent coronavirus denier Hannah Dean, 30, has been banned from all the hospitals across the country following her new endeavors over the weekend. On Saturday, she entered the Royal Bournemouth Hospital, roaming it for about 10 minutes before getting caught by a nurse and being kicked out. The following day, she visited Queen Alexandra Hospital in Portsmouth.
Footage posted by Dean on Facebook shows her trying to approach the hospital, only to be confronted by a security guard who immediately recognized her.https://www.facebook.com/plugins/video.php?height=476&href=https%3A%2F%2Fwww.facebook.com%2F776704386%2Fvideos%2F10158204548994387%2F&show_text=false&width=261
"What are you doing here, Hannah?" the guard asked. Dean tried to flatly deny it was her, but had to back off after a brief verbal spat.
The ill-fated hospital visit came hours after Dean was issued a warning, Sussex police have said. As she violated the warning on the same day it was given, the woman received a stricter notice, prohibiting her from visiting any hospitals and from encouraging others to breach Covid-19 guidelines.