"Power Bills To The Moon": Chaos, Shock As Electricity Prices Across US Explode
from
Zero Hedge
On Thursday, when we reported that nat gas prices across the plains states had soared to never before seen levels as a result of a brutal polar vortex blast…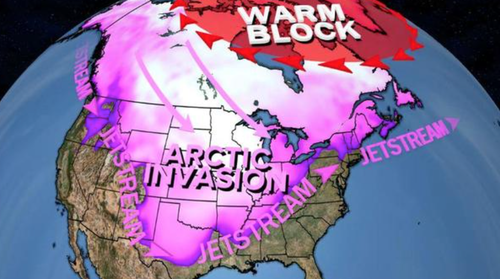 … which literally froze off nattie supply as wellheads freeze-offs, cutting production receipts just when they're most needed by customers' demand for heating, we said that since the winter blast is expected to last for the duration of the week, it is likely that nattie prices across the plains states could hit GME batshit levels.
One day later that's exactly what happened because as frigid temperatures caused equipment failures, temporarily shutdowns and flaring in at least four nat gas processing plants …
Targa Resources' Benedum Gas Plant in Upton County affected for 7 hours overnight, co. said in a filing
Occidental Petroleum's Bennett Ranch Unit RCF Facility in Yoakum County, which is used for EOR, was affected for 9 hours Thursday: filing
DCP Midstream's Goldsmith Gas Plant in Ector County affected for 1 hour Thursday: filing
Occidental's nearby gas plant, another EOR facility, was affected by DCP Midstream incident: filing
… we hit the proverbial offerless market where any natgas that was available would be purchased at virtually any price, which is why midcontinent prices such as the Oneok OGT nat gas spot exploded from $3.46 one week ago, to $9 on Wednesday, $60.28 on Thursday and an insane $377.13 on Friday, up 32,000% in a few days. This is one of those places where having a limit up circuit breaker could actually be useful, even though there simply is nowhere near enough product to satisfy demand at any price hence the explosive move.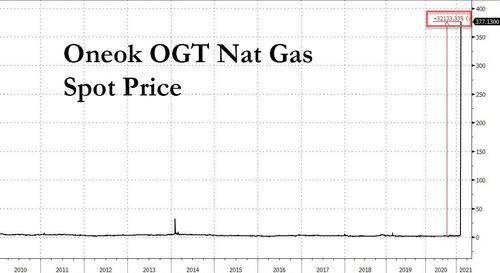 Hubs across the Midcontinent led the surge in prices again Feb. 12 as weather forecasts predicted the coldest temperatures in more than a decade would hit the region over the upcoming holiday weekend. Platts reported that at locations across Kansas, Oklahoma and Eastern Arkansas, hub prices were trading at single-day record highs around $200 to $300/MMBtu. Regional hubs, which typically service only limited local demand, saw fierce competition among shippers, utilities and end-users looking to meet weekend requirements.
RELATED:
<Extinction Rebellion Wants To Destroy Civilization, Not Just Fossil Fuels
Readers may find it hard to believe but while our attention has been focused on the coronavirus pandemic, other things have been happening. Recently the eco – crusties of EkSTIMKtion Rebellion have elbowed their way back into out consciousness and now, with Antifa and Black Lives Matter, form an unholy trinity of Marxist seditionist groups intent not only on destroying capitalism but destroying civilisation …
Worst polluting coal and wood fires banned in fight to cut emissions
Domestic coal and certain types of wood are to be banned from sale from next year in a bid to cut air pollution, ministers will announce on Friday.
Is Hatred Of Greta Thunberg Justified?
As the backlash against the Greta Thunberg cult gathers momentum a lot of lefties are asking why the little Climate Warriorette is so hated by so many people. As usual with the left, they are asking the wrong question. Just as they asked, "Why can't you believe the scientists, when in fact not only is it always legitimate (and scientific,) to question and challenge scientific theory, so it is perfectly rational and logical to challenge the Cult of Saint Greta ….
Ruling Elites support Extinction Rebellion plan for Marxist world to 'fight climate change'
Climate change: Electrical industry's 'dirty secret' boosts warming
Scaremongering IPCC Pushes Climate Hysteria with New Doomsday Report
Billionaire Investor Erik Prince Launches Fund For Electric Car Metals
Why Are The World Government Schemes, Agenda 21 and Agends 30 blanked by big media?
Since the early days on the old blog.co.uk platform we have from time to time raised the issues of Agenda 21 and Agenda 30, The New World Order, and the push for a global, authoritarian, socialist government. Any mention of these things in online forums is certain to get the author accused of being a conspiracy theorist, a right wing extremist, a nutcase, a young earth creationist and much worse.
---
Greta Thunberg Slams Australia for Coal Industry, Expands List of Climate Demands
Little Greta Thunberg, who was elected by nobody apparently now speaks for us all on matters relating to climate change. The Swedish climate change hustler who is making a fortune for her handlers from donations to her campaign, again castigated Australia for continuing to mine and export coal despite her previous complaints, adding a call for an end worldwide to the actibity to her list of climate demands to be delivered at the upcoming World Economic Forum in Davos …