from News Target, 6 April 2021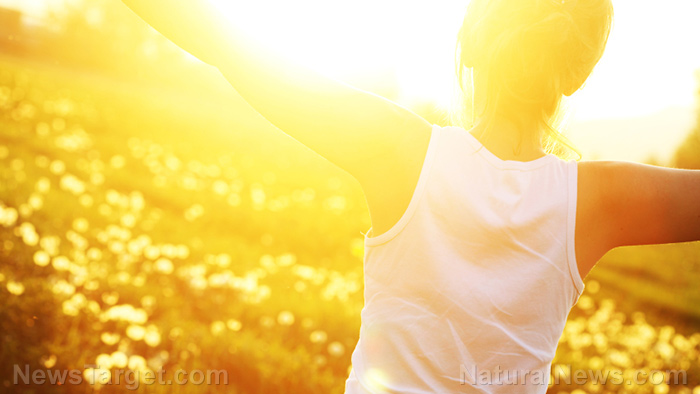 The U.S. Food and Drug Administration (FDA) and the Center for Science in the Public Interest (CSPI) are on a witch hunt against Dr. Joseph Mercola, who was threatened to stop writing about the health benefits of vitamin D in warding off respiratory illnesses like the Wuhan coronavirus (Covid-19).
Last summer, CSPI launched a social media campaign that aimed to put an immediate end to Mercola.com, the longtime health information website of Dr. Mercola. Not long after, the FDA issued Dr. Mercola a warning letter "to stop writing about nutritional products that can lower your risk of respiratory infections such as COVID-19."
CSPI, in case you are unfamiliar with it, is a so-called "consumer advocacy group" bankrolled by the likes of Bill and Melinda Gates, the Rockefeller Foundation, the Rockefeller Family Fund, Bloomberg Philanthropies, and other deep state organizations advancing a global eugenics agenda.
CSPI is also partnered with Monsanto. Several years back, Gregory Jaffe, the group's director of biotechnology, issued a statement declaring that mandatory labeling of genetically modified organisms (GMOs) should not happen because it would be "confusing" and "misleading" for consumers.
"CSPI rails against published science demonstrating certain nutrients can boost your immune function and help lower your risk of severe infection, saying it discourages mask-wearing, which has no published scientific evidence to back its universal use," Dr. Mercola further explains.
"CSPI has a history of promoting industry science and propaganda, having supported artificial sweeteners, trans fats, GMOs, fake meat and the low-fat myth. They've also actively undermined transparency in labeling efforts."
Being the fighter that he is, Dr. Mercola did not back down in the face of FDA aggression. In fact, he told the FDA off while asserting his First Amendment right to free speech, which he has been exercising for decades in the interest of promoting human health and longevity. … Continue reading at News Target >>>
MORE on Health Tyranny
Evil Labour Government Helped Private Companies Profit From NHS
If you live in Heywood and Middleton and were thinking of voting for the greedy, paedophile loving, elitists' party, Labour because you have been taken in by the lies peddled at the Labour conference that the wicked Tories plan to privatize the NHS, think again.
The science of saturated fat: A big fat surprise about nutrition?
After years of being told saturated fat is a killer and we should avoid it in favour of Big Food products that are the nearest modern chemistry can get to packaging arterial plaque, yet another scientific meta analysis shows the sat fat scare was based of fraudulent science and there is no evidence your steak is harming you.
CDC Admits as Many as 30 Million Americans Could be at Risk for Cancer Due to Polio Vaccine
Vaccine, that great profit driver for the pharmaceutical corporations, are under the spotlight again. This time it is a link between polio vaccine and cancer which makers and medical science has denied for fifty years that has finally been admitted by the US Centre for Disease control. How ironic they have owned up just weelks after the Obama administration granted Pharma corporations immunity from legal actions.
Statins? Our Welfare Or Corporate Profits, Which Side Is Medical Science On?
The propaganda aimed at convincing us that if we throw enough money at medical science the boffins can provide drugs to prevent death is not about the greatest good of the greatest number, it is about corporate profit and political power. The latest scam is to swing public opinion into accepting mass medication with drugs most do not need. It is just a scam to sell a drug the scientists and manufacturers know is no good.
Another Pompous, Arrogant Bigot Slags Off Homeopathy. What Do They Hope To Gain
The argument about homeopathy is raging again. An article in a leading newspapers says oponents of homeopathic medicine must never tire of explaining that it doesn't work. But when these science fanboys come up against an articulate defender of homeopathy, they rapidly descent to trying to shout down any opinion that differs from theirs
Swine Flu Scam Exposed: Useless Drugs And Vaccines – Lying Science Whores
The propaganda aimed at convincing us medical science can provide a vaccine to immunise us against death is not about the greatest good of the greatest number, it is about corporate profit and political power. Five years after the even the lies and fraud that created the swine flu 'pandemic' of 2009 are exposed. It was just a scam to sell a drug the scientists and manufacturers knew was no good.
Health Authorities Now Admit Severe Side Effects Of Vaccines

A few years ago anybody who questioned vaccines, whether the notorious MMR jab, swine flu vaccine, the HPV jab or the government's plans to make vaccination compulsory by law was subjected to a witch hunt. Recently U.S. courts and courts in Europe have awareded multi million dollar / pound settlements to those damaged by the MMR vaccine. Now we learn that several governments have admitted vaccines can have very serious side effects.
Everything They Said Is Bad For You Is Good For You.

Just when you thought it was safe to go back into the pleasuredome Nanny State's Politically Correct Thought Police are now using CAll Me Dave's Dave's nudger try to nudge us towards being better citizens, eating more shite and refusing things we like, drinking less booze, smoking less ciggies, avoiding dangerous sports like bowls and tiddleywinks, driving less miles in a less cavalier fashion and being less idle (unless of course being idle is the alternative to driving, boozing, eating or enjoying yourself by doing things the Thought Police do not like.
Government Spending Cuts Hit NHS

Government spending cuts will stretch the NHS and social care services in England to the limit, according to a report by the Commons Health Select Committee. The committe of MPs say the plans assume efficiency savings on a scale never before seen in the NHS, or in other countries. Steven Dorrell, chair of the committee, said the NHS had to save 4% per annum for four years – a "huge target".
UK To Ask Citizens Over 70 To Self – Isolatate For 4 MONTHS As Coronavirus Fails To Kill Zillions UK Health Secretary Matt Hancock today confirmed the government plans to ask people aged over 70 to isolate themselves for up to four months amid a coronavirus pandemic. The goal is to protect them. It's quite obvious to us, experienced bloggers that we are, that the government, civil service, law encorgement and national security agencies and all the assorted experts and talking heads have forgotten the lesson our generation learned from The Hitch Hiker's Guide To The Galaxy …
EU States Rebel Against Brussels As Van Leyen Demands Borders Stay Open
The cracks in European solidarity are growing deeper by the day as the coronavirus crisis threatens to split the bloc. The response of European leaders has varied from panic, as several member-states have takeen unilateral action including severe border closures, to a laissez – fair attidude, notably from France's idiot president Emmanuel Macron who favours total inaction, having said complacently that viruses don't recognise borders.
US John Hopkins University Prof Says Don't Believe Corona Virus Numbers
The number of confirmed cases outside of China roughly tripled once again this week, and if this outbreak continues to escalate at this pace there will be more than a million confirmed cases in less than a month. But as bad as the official numbers are, the truth is that there are a whole lot more people walking around out there that have caught the virus but have not been tested.
University free speech society told free speech a 'red risk', external speakers must be vetted
Sheffield University's recently formed Free Speech Society has been warned that free speech is a "red risk" and all external speakers at events it organises will have to be vetted by the University Thought Police squad and the topics they intend to talk about shown to be in line with ideas and opinions the titty – sucking babies who run the Student Union are not frightened by. Coninue Reading
A deadly sickness is sweeping across Ethiopia – and no one knows how or why it came to be
For most of this month the news has been full of the coronavirus outbreak in China, and the possibility this will turn into a pandemic like the Spanish flu' outbreak in 1919 which killed millions of people worldwide. First we need to allay freas spread by scaremongering propaganda aimed at diverting public scrutiny for several very unpleasant and undemocratic agendas currently being implemented by the ruling elites …
Simple Tips for Boosting Immunity Everyone Should be Doing To Improve Resistance Against Diseases Like Cancer.
While medical science, funded by research grants from Big Pharma and corporate health care pushes to find ever more costly (i.e. profitable) therapies for the diseses that threaten us, the body is its own best doctor, as our ancestors knew. All we need do in many cases is give it the right support.
Labour planned to privatise 40% of NHS as hypocrite Corbyn takes aim at Johnson
One quickly tires of Labour Party candidates and their supporters claiming the "The Wicked Conservatiovs plan to sell the NHS to private enterprise. They've been at it again throughout the current election cycle, and of course there is no more truth in the claims than there ever was before. But the lefties forget, as they glefully point at any conservatives whose heads appears over the parapet, yelling "Witches, burn them," that the Labour government, between 1997 and 2010 under the traitor and war criminal Tony Blair privatised much of the NHS.
Coronavirus Contains "HIV Insertions": Claim Stokes Fears Over Genetically Modified Bioweapon
The theory that China obtained the coronavirus via a Canadian research program, and started molding it into a bioweapon at the Institute of Virology in Wuhan before it somehow escaped could be an attempt by the establishment (the Davosocracy,) to spread fear and panic as they see resurgent nationalism across the developed world and growing scepticism about
Mother jailed for child cruelty after rejecting NHS care to seek treatment at foreign clinic for teenager's hormone therapy
from: The Ledbury Reporter:
"A MOTHER took her daughter for medical tests for conditions she didn't have and gave her medication that would not have been prescribed by doctors in the UK, a jury has been told. Health professionals, police and social services became involved after an article written by the girl's mother was seen by her father, Worcester Crown Court heard.
NHS Money Wasting Machine And The One Budget That Is Never Cut
After the usual empty promises made at the annual conferences of the three main political parties – all three party leaders swore that only their party can save the National Heath Service (NHS) eternally a key isue in UK politics, we decided it was time our we too a close look at why NHS finances are always in a mess. We assigned the task to our team of old gits with a vast store of business experience behind them and no fears of suffering career damage as the Politically Correct Thought Police exact retribution for the crime of being 'off message'.