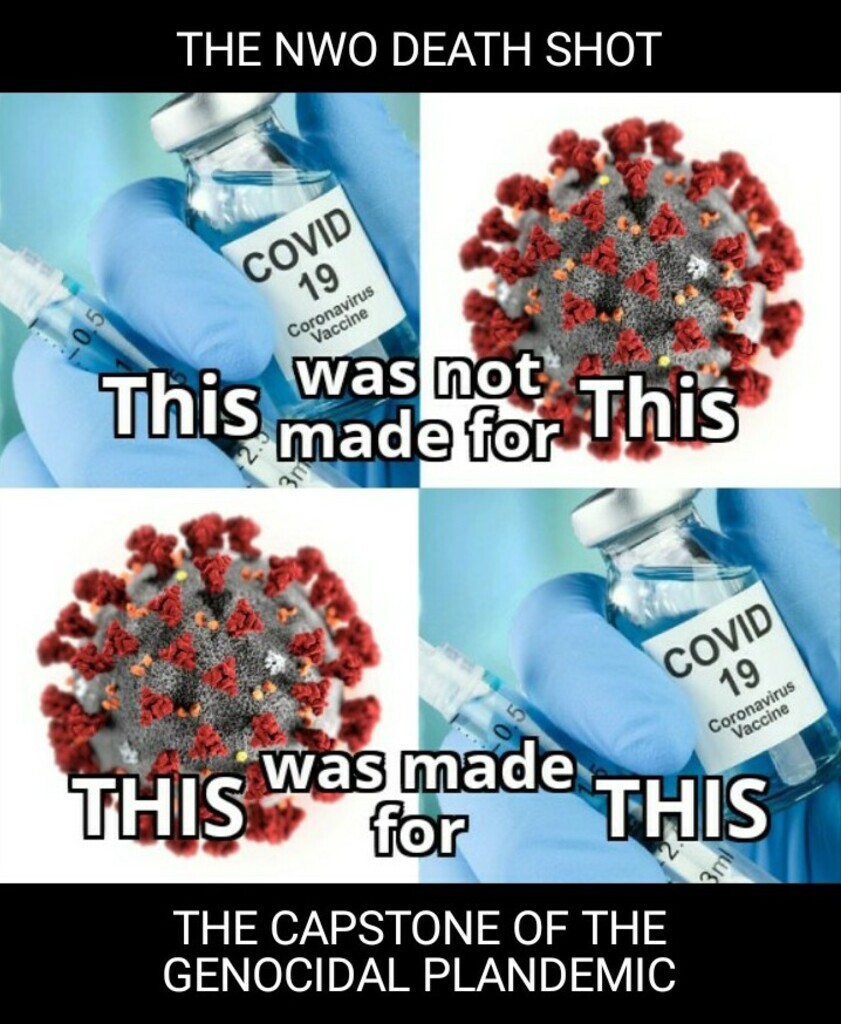 WHAT?!
They're going to (essentially) FORCE us to take a DEADLY, EXPERIMENTAL, gene-altering "vaccine" for a fake as fuck "virus" with a 99.99% survival rate even if it did exist?!!!
What kind of lunatic monsters are these "people"?! How evil and devious can they get? How deep is a bottomless pit? They want us ALL enfeebled, controlled, or DEAD: virile, independent humans do not make good robot-slaves. The made-up "virus" and the manufactured "pandemic" are merely A MEANS TO THAT END.
Is this Crazy World?! (No, this is WAY beyond crazy.) ——————————————— "TOTAL CONTROL"
Power and Withdrawal of Rights by Proxy Equals Terrorism By Gary D. Barnett
Concerning the controlling ruling class and their henchmen in government and government enforcement, total control is always sought, and power is the tool used to gain that control. Many tactics are employed to advance the growth of power, but in most cases, the more hidden and covert are the most desired, because that affords the opportunity for the people to relinquish their freedom and rights voluntarily. Therefore, risk to the state is lessened, as it can avoid showing its hand by not having to resort only to the use of deadly force. In the situation we face today, this has become obvious to those paying attention, but still remains a mystery to the masses at large. After all, as Orwell so correctly stated, "the object of power is power," no matter the techniques used to gain it.
This is exactly what is happening in the case of what is falsely called the Covid vaccine.  It has not been made mandatory that all take this gene-altering and poisonous shot, but the methods that will be used to get the public to consent to taking this concoction are many, and they are very devious. Few understand this, and they will soon voluntarily stand in line to take this injection, even though they have been warned already about how this will come about. . . .
Trail balloons are filling the sky, but almost no one is looking up. Immunity papers, social credit scores, and vaccine passports have been discussed for a long time, and have already been implemented in other parts of the world. . . . Without a passport in the future, there will be adverse consequences aimed at the population at large. It will begin with travel restrictions, and end with all goods and services refused without showing your papers.
Many if not most employers will also require government approved papers in order to work. Additionally, especially as this monetary system is fully converted to digital, gaining access to life sustaining funds, bank accounts, credit, food, and energy will become impossible without showing proof of vaccination. https://www.lewrockwell.com/2021/03/gary-d-barnett/power-and-withdrawal-of-rights-by-proxy-equals-terrorism/thumb_up49thumb_down1chat_bubble8
MORE from Greenteeth on Freedom, Vaccones and the NWO
[
Corona Virus Fear And Panic
] … [
Vaccine News
] … [ Free Speech Murdered ] … [Death of Democracy ] … Living Within The Conspiracy ]
Politicians Are Offering A Trade, Safety For Freedom. But What Are We Really Trading Away?
It's the age old confidence trick, politicians and the elites offter a straight choice between security of freedom and all the risks it entails, then amplify those risks with scaremongering propaganda. In the case of the COVID crisis it has worked so far, with enough people accepting the need for masks, lockdowns and killer vaccines to make The Great Reset seem feasible – but time is running out and people are waking up …
Extinction Rebellion Wants To Destroy Civilization, Not Just Fossil Fuels
Readers may find it hard to believe but while our attention has been focused on the coronavirus pandemic, other things have been happening. Recently the eco – crusties of EkSTIMKtion Rebellion have elbowed their way back into out consciousness and now, with Antifa and Black Lives Matter, form an unholy trinity of Marxist seditionist groups intent not only on destroying capitalism but destroying civilisation …
Globalisation And The Destruction Of Civilisation
Despite repeated assertions that this blog does not align itself with either of those anachronistic labels, left and right, our oppositions to globalisation (an attack on benefits the early trade union movement fought for,) and our support for controlled borders and strict vetting of immigrants we are often accused by those who like to label themselves 'left' (because it sounds cuddlier) …
Globalisation And The Destruction Of Civilisation
Despite repeated assertions that this blog does not align itself with either of those anachronistic labels, left and right, our oppositions to globalisation (an attack on benefits the early trade union movement fought for,) and our support for controlled borders and strict vetting of immigrants we are often accused by those who like to label themselves 'left' (because it sounds cuddlier) …
Can Americans Overthrow The Evil That Rules Them?
The anti – establishment, anti – globalisation mood that manifested itself in the Brexit vote is sweeping across Europe, the cosy government – corporate cartel is desperately trying to control the narrative, but against the combined strength of millions of new media commentators all challenging the official; narrative, the dark forces of globalism are on the back foot.
Is Bilderberg A Sinister Group That Runs The World Or Just A Tea Party For Rich And Powerful People
Are the Bilderberg Group meeting, this weekend in Dresden, Germany, really The Shadow Government (the New World Order, The Illuminati,) that rules the world?
The Oligarchy Is Tottering – Trump Tramples The Neocons' "False Song Of Globalism"
Donald Trump scares the global establishment as do the anti Federalisation parties in the EU. We take a long and detailed look at why, and exactly what the globalist agenda would have meant for freedom and democracy had people not wonken up and opposed it in vast numbers. Kudos to the Islamic Jihad too, medievalist religious nuts they may be, but they resisted American attempt to impose western consumer culture on them.
Turkey Blames Kurds, Assad For Terrorist Attack, Vows Swift Response
Yesterday came the first terrorist attack on Turkish soil. As this blog predicted President Erdogan of Turkey is blaming the Kurds and President Assad of Syria for yesterday's bomb blast in the Turkish capital which killed and injured many people.It was predictable would the attack would be blamed on Assad and the Kurds, thus giving the nutter Erdogan an excuse to intensify his actions against Assad and the Kurds
If You Look At How Fast Global Trade Is Unravelling, You'll Get Dizzy
Governments constantly make positive noises about the health of their economies although most people who are in work have felt no improvement on the position they were in after the crash of 2008. Wagest are stangnant, employment has reduced somewhat (see below) and while the banks are printing money and the super rich are widening the gap between themselves and ordinary people faster than ever, the real situation is frightening.
The New World order Pope Wants You To Pray For One World Religion The Marxist, globalist, Soros apparatchik currently posing as head of the Catholic faith wants to scrap the Catholic Church. He didn't say that in so many words but he has called on Catholics to pray for the creation of a world religion (because love and peace) which would embrace
Democracy Murdered In France
I'm hearing very disturbing news from the French regional elections, predicting that the Front National, comfortable winners in last week's first round of regional elections, hasve been routed in all regions. For that to happen, and to happen through a massive increase in turnout, suggests electoral fraud on a hughe scale. Or has France joined Britain in adopting the Islamic version of democracy, which is one man one vote, one Imam one thousand votes.
Who Runs America, The White House Or The Shadow Government?
Reports of President Barack Obama's meeting with Russian leader Vladimir Putin at the G20 summit over the weekend do not look right in the context of yet another blitz of provocative rhetoric from The Pentagon and the Department of Defence towards Moscow. In view of the USA's constant push towards all out war with Russia, one has to ask who is in control: Obama or the generals?
EU "Sounds Alarm" Over New US Sanctions On Russia; Germany Threatens Retaliation
Late on Friday (21/07/17), Congressional negotiators agreed to advance a cross – party bill that would punish Russia for its (alleged) interference in the 2016 election according to the Wall Street Journal. And while it seems improbable that President Trump would sign the bill if it reaches his desk, the loudest complaint about the bill to date has emerged not from the Oval Office, but from US allies in NATO and the European Union …
Trump catches attention of CFR, Bilderberg, Trilateral

Donald Trump is portrayed as a clown by mainstream media and his combover is the silliest I have ever seen. Still, he's a billionaie so I don't suppose he gives a flying fuck what The Daily Stirrer thinks of him. Not that we think he is all bad, anyone who attacks Obama's global naziism trade deals, TTIP and TPP mush have some good points.
Prepare For The Worst Case Scenario
An article on the cashless society our political and corporate overlords are pushing for proposes that as far as privacy and individual liberty are concerned, what is being planned right now in the political capitals and financial centres of the world is the worst case scenarion. An all digital financial system would mean the end of privacy, nothing you bought or traded would be your own business any more …
How Mainstream Media And The Major Political Parties Are Making Sure Voters Do not Hear The Voices Of Politics' Most Powerful Critics
As the General Election campaign starts to heat up, we try to shift focus away from the squabbling between Conservative and Labour about who can make the most promises they have no intention of keeping and to the real issues concerning jobs, social breakdown , mass immigration, and loss of national sovereignty.