4 September 2021
Police arrested more than 500 Extinction Rebellion's protesters in London today as the daily protests against civilisation continued. A Metropolitan Police press statement said that by 6.30pm today, a total of508 arrests have been made as supporters of the eco – terrorist group continued its 12 day old protest dubbed the Impossible Rebellion and designed to disrupt London's business and social life. Protests have been hapopening daily since August 23.
Today's disruption comes after another demonstration, this time from Animal Rebellion and Nature Rebellion, disrupted traffic around Trafalgar Square. The group, which claims to stand in solidarity with Extinction Rebellion – met at the London landmark during the afternoon for its "March For Nature". Only last week the Animal Rights wankers were getting their knickers in a twist over the government's failure to prioritise the evacuation of rescue dogs from Afghanistan over the evacuation of humans deemed to be at risk following The Taliban takeover in Kabul.
In the Extinction Rebellion event protesters could be seen in colourful costumes holding signs such "The Amazon Rainforest Is At Tipping Point", "Indigenous Emergency" and "Act Now". Speeches were made by celebrities and crusty, unwashed eco – warriors, campaigners chanted, while a large pink octopus creation was paraded through the streets for no apparent reason. .
Extinction Rebellion also posted video on social media showing campaigners sitting in the road and holding signs to block traffic on busy routes across the capital.
Police Deputy Assistant Commissioner Matt Twist said nearly 2,000 officers have been involved in policing the activists every day.
Twist highlighted the huge resources that XR has pulled from London's Metropolitian Police over the last 10 days during the long-running protest. The unwashed eco – warriors have targeted popular landmarks and tourist attractions around the city, including blocking London Bridge with a bus, blocking the road over Tower Bridge with a van and caravan, and members gluing themselves to the Science Museum. The Met revealed it has had to remove 81 people glued to an object and 52 people who chained themselves to to something over the past 10 days.
The action, which the group says is to highlight the government's lack of action on the climate emergency, has been met with force by the Met Police, with videos on social media showing officers using batons and pulling the group's obstructive equipment down.
"It's been extremely busy over the last 10 days, we've had nearly 2,000 police officers every day just looking at trying to manage these protests," Mr Twist told Times Radio.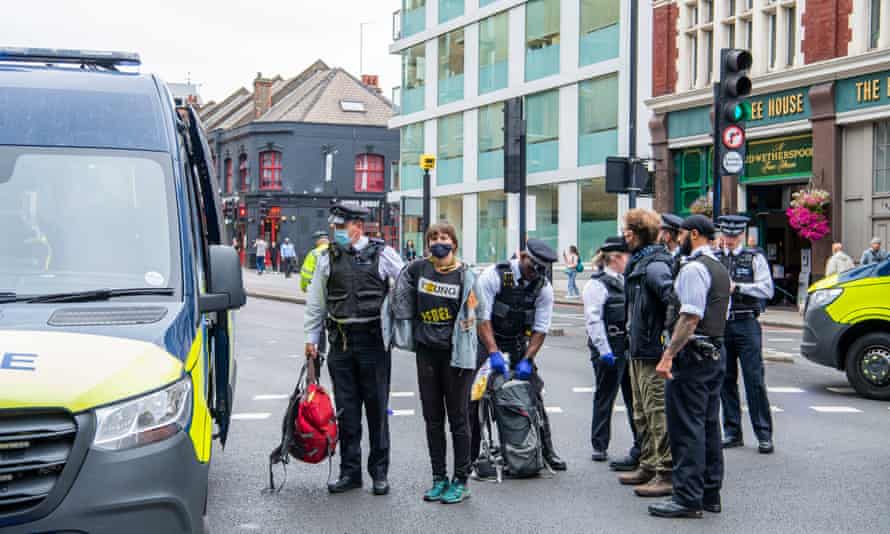 "This is because it's not the numbers of protesters but it's the level of serious disruption that they're looking to cause, which is impacting on other Londoners.
"We've said right from the start, we know Extinction Rebellion has the right to protest and the right to assemble.
"But what we also made clear is these are qualified rights and they have got to be balanced against the rights of the rest of London and Londoners, the people, the businesses, the communities who want to lawfully go about their business."
What is rather puzzling is that all the protestors seem to be equipped with smart phones, blu – ray head sets and other high tech equipment, all of which has a huge carbon footptint and involves some highly polluting processes in its manufacture. There's nothing like hypocrisy to turn people against your cause. It's time to lock up the XR crusties before they give protesting a bad name.
RELATED:
Extinction Rebellion Wants To Destroy Civilization, Not Just Fossil Fuels
Readers may find it hard to believe but while our attention has been focused on the coronavirus pandemic, other things have been happening. Recently the eco – crusties of EkSTIMKtion Rebellion have elbowed their way back into out consciousness and now, with Antifa and Black Lives Matter, form an unholy trinity of Marxist seditionist groups intent not only on destroying capitalism but destroying civilisation …
Worst polluting coal and wood fires banned in fight to cut emissions
Domestic coal and certain types of wood are to be banned from sale from next year in a bid to cut air pollution, ministers will announce on Friday.
Is Hatred Of Greta Thunberg Justified?
As the backlash against the Greta Thunberg cult gathers momentum a lot of lefties are asking why the little Climate Warriorette is so hated by so many people. As usual with the left, they are asking the wrong question. Just as they asked, "Why can't you believe the scientists, when in fact not only is it always legitimate (and scientific,) to question and challenge scientific theory, so it is perfectly rational and logical to challenge the Cult of Saint Greta ….
Ruling Elites support Extinction Rebellion plan for Marxist world to 'fight climate change'
Climate change: Electrical industry's 'dirty secret' boosts warming
Scaremongering IPCC Pushes Climate Hysteria with New Doomsday Report
Billionaire Investor Erik Prince Launches Fund For Electric Car Metals
---
Why Are The World Government Schemes, Agenda 21 and Agends 30 blanked by big media?
Since the early days on the old blog.co.uk platform we have from time to time raised the issues of Agenda 21 and Agenda 30, The New World Order, and the push for a global, authoritarian, socialist government. Any mention of these things in online forums is certain to get the author accused of being a conspiracy theorist, a right wing extremist, a nutcase, a young earth creationist and much worse.
---
Greta Thunberg Slams Australia for Coal Industry, Expands List of Climate Demands
Little Greta Thunberg, who was elected by nobody apparently now speaks for us all on matters relating to climate change. The Swedish climate change hustler who is making a fortune for her handlers from donations to her campaign, again castigated Australia for continuing to mine and export coal despite her previous complaints, adding a call for an end worldwide to the activity to her list of climate demands to be delivered at the upcoming World Economic Forum in Davos …
Another Kick In The Bollocks For Warmageddonists And CAGWARTS*
I've had many arguments with the Warmageddonists, the people who have been saying that if we did not shut down all coal, oil and gas related activites the earth was going to turn into a giant furnace and we would all burn. When the scaremongering first started, the deadline for frying was "after dinner". Then it got to "Tomorrow …… or the day after tomorrow perhaps," then "next year", "before 2050," and eventually "soon."
What if man-made climate change is all in the mind?
If our view of reality is shaped by the mind and our perceptions of information, how successful are attempts to manipulate the perceptions of the whole populations through manipulated data, spin and assertions of authority likely to be. As scientists and politicians moan that the public no longer take sertiously climate change scare stories, we have to conclude, not very.
Meteorologists Begin To Admit To Climate Engineering
The freethinkers and Libertarians of New Media have been questioning the pseudoscientific certainties of the global warming lobby for a long time. During that often acrimonious process (because the Global Warming lobby are ever bit as organised and as driven by blind hatred of those who question them as the Bearded Queens In Bridal Gowns lobby) and most of us have been accused of infanticide, genocide and worse. At last the respectable climate scientists (the ones who didn't sell their arse for the corporate dollar) are speaking, and the media are listening.
Mad Scientists Now In A Race To Create Human – Animal Hybrids
Scientists all over the world are busy creating extremely bizarre human-animal chimeras. Once again The Daily Stirrer has to say "We told you so". There is something very creepy and sinister embedded in the typical scientists desire to play God. It is a complete, psychopathic disregard for moral boundaries. If we can do it that …
UK Offshore Windfarms Produce More Rust and CO2 Than Electricity
A private case going through a British court of arbitration at the moment involves two very large supply organisations. Unfortunately the case is being heard away from the prying eyes and radar like ears of the media. A 1996 Act Of Parliament enabled such things as a way to free up Court time taken up by complex technical disputes…. And, perhaps, to keep embarrassing truths away from …
Doctors may withhold treatment from patients with "green lifestyle issues."
A few weeks ago an item on the BMA's website linked to the "Doctors against climate change" group of the doctors' trade union. This body of medico-environmental socialist – utopians stated …
The Two Faces Of The Politics Of Failure
What a mess the modern way of doing politics based on a politically correct consensus and social engineering has produced. The daily stirrer looks at how the bipolar left – right divide stops things getting better rather than helping get the developed world back on track.
Green Policies Will Not Save The Planet But Are Costing Poor Families The Earth>
Politicians bleat sabout the plight of the poor then press on with their clean, green, sustainable energy policies which include stealth taxes to subsidise expensive and inefficient wind turbine and solar panel power generators. Can they not see it is the green agenda that is driving up inflation …[Environment]