Authored by Paul Joseph Watson via Summit News,
The British government has been accused of trying to bypass Parliament in an effort to implement vaccine passports via the backdoor, with the scheme under review AGAIN despite assurances it wasn't being considered.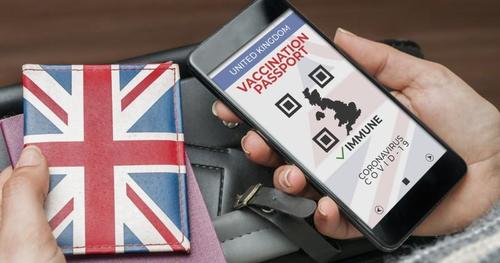 As we highlighted earlier this month, just a day after health secretary Sajid Javid asserted that the system had been scrapped, the government announced that vaccine passports would form an 'integral' part of its winter response to COVID if cases and hospitalizations rose.
Under the government's 'Plan B', vaccine passports will form a "first-line defence" against a winter wave of COVID, despite their widespread use in Israel having proven to have zero impact on minimizing COVID cases.
Aware that it may struggle to get a vaccine passport system through a Parliamentary vote, the government is now launching a 'public consultation' in an attempt to enlist support for the scheme.
"The plans seemed to have been put on the backburner but on Monday night the Government launched a consultation, asking the public for views on the use of vaccine passports this autumn and winter if Covid-19 cases threaten to overwhelm the NHS," reports the Telegraph.

"The Plan B proposals also open the door to the number of venues being widened beyond nightclubs, music venues, outdoor festivals, concerts and sports events."
With the government refusing to commit to a vote, many respondents saw the move as the start of an effort to sidestep Parliament. ….. Continue reading at Summit News
RELATED:
MENUS:
[ Corinavirus fear and panic ] …
[ Covid Vaccine harm ] …
[ Lockdown pandemic ] … [ Covid Vaccine Fascism ]… [ Health Tyranny ]
POSTS:
No End To The Insanity: Media Now Claims That "Double Jabbed" Brits Who Have Colds Are Suffering From COVID
You might think from the title the media are at last getting the idea that the COVID "clotshot" vaccines are not working if large numbers of double vaccinated people are becoming ill but such common sense went out of fashion years ago. What the propagandists are doing is trying to blame the unvaccinated (purebloods as we now call ourselves,) for infecting immunised people with a virus we don't have …
UK School staff receive threats of violence amid anti-vaccination campaign
Government plans to push their dodgy vaccines onto schoolchildren are meeting opposition. On the back of scientific studies showing children are at zero risk from cOVID and do not spread the virus parents, and citizens concerned at this fascistic coercion of citizens to accept an experimental medication are reacting in the only way they can.
France: Thousands of Health Workers Who Refused Covid Vaccine Mandate Suspended
The French government have today suspended 3,000 health
workers who have defied a manadte requiring all medical personnel to be vaccinated against COVID,The Guardian reports. Announcing the move France's health minister said that many have since agreed to be inoculated now that they had seen "the mandate was a reality".
France: Thousands of Health Workers Who Refused Covid Vaccine Mandate Suspended
The French government have today suspended 3,000 health
workers who have defied a manadte requiring all medical personnel to be vaccinated against COVID,The Guardian reports. Announcing the move France's health minister said that many have since agreed to be inoculated now that they had seen "the mandate was a reality".
Israel (98% vaccinated) now has more covid infections per capita than any country in the world
2 September: Just a few months ago, the mainstream media praised Israel for its "pandemic-ending" vaccination campaign. With over 40 percent of the population "fully vaccinated" in the first quarter of 2021, Israel was well on its way to stopping community spread and clearing out its hospitals. The nation of Israel imposed some of the strictest lockdowns during that time, violating the Nuremberg Code and segregating the unvaccinated.
from public life.
Major Study Links Covid Vaccines To Disruption Of Womens Reproductive Cycle
More evidence that COVID vaccine program is a scam emerged today as a study carried out by Imperial College, London suggests a link between Pfizer, Moderna, AZ and J&J vaccines and the menstrual cycle. Some of us have been reporting since early this year on the problems people have experienced after COVID vaccination. Among the problems reported was disruption of women's menstrual cycle … Continue reading >>>
Harvard Epidemiologist Says The Case For COVID Vaccine Passports Was Just Demolished
A newly published medical study found that infection from COVID-19 confers considerably longer-lasting and stronger protection against the Delta variant of the virus than vaccines.The natural immune protection that develops after a SARS-CoV-2 infection offers considerably more of a shield against the Delta variant of the pandemic coronavirus than two doses of the Pfizer-BioNTech vaccine
US CDC Admits Vaccines are failing, the vaxxed can be super-spreaders, demands return to mask mandates for everyone, including the vaxxed
July 29: In a bombshell admission today the United States Center for Disease Ccontrol's director Dr. Rochelle Walensky, the official narrative on the effinciency of vaccines in preventingcovid-19 was destroyed. Back in March Walenksy put on record the promise that vaccinated people could not spread the virus and infect others,yet earlier this week she admitted that vaccines are failing, and vaccinated people may actually be carrying higher viral loads than unvaccinated people, thus contributing more to the spread of COVID-19 than those of us who wisely declined the killer vaccines.
Blood doctor releases findings showing Moderna's mRNA Covid vaccines change red blood cells
You don't have to be a mechanic to learn and understand how dirty oil can ruin a motor, and you don't have to be a doctor or scientist to understand how mRNA Covid vaccines are changing red blood cells to make them stick together. This explains the blood clot phenomena happing around the world after Covid inoculation. This explains the inflamed heart epidemic happening around the globe after Covid vaccination. This explains the explosion of cases of neuromuscular degenerative conditions …
23 Serptember: France's 'Yellow Vests' protesters are back. Anti Macron activists rally in Paris
Frence's Yellow Vests protest movemen, which featured regularly in our pages in 2018/19 are back. In truth they never went away, Initially formed to protest against rising fuel prices, the rising cost of living and President Emmanuel Marcon's authoritarian style of governing have now added lockdowns, vaccine passports and mandatory vaccination to their list of grievances..
Vaccine shocker From Germany: "Out of ten autopsies, five deaths would be "very probably" linked to vaccines
A shocking report from respected German scientists claims out of 10 autopsies carried out on people who tested positive for COVID, five of the deaths were somehow linked to vaccines and the many observed side effects that occur soon after beople have been injected with COVID vaccine.
21 Sepenber: "F**K The Jab, Long Live Australia" – 20,000 Shut Down Melbourne Highway In Massive Lockdown Protest
23 September: Anti-lockdown protests have become commonplace in Australia since the latest round of lockdowns began two months ago although you wouldn't think so if you rely on mainstream media for information. Newspapers and broadcast news channels have almost totally blanked stories reporting the pushback against the government's authoritarian measures which now have little to do with COVID and a lot to do with trying to crush the traditionally cussed spirit of Australians
New Anti – Vaccine protest in London as double vaccinated people continue to get sick with COVID
September 18: Police in riot gear dispersed protesters after purple paint bombs were thrown over the black ironwork of the gates of Downing Street. The Metropolitan Police tweeted that two people were arrested for criminal damage and affray following an "incident".
September 11: Violent clashes in Paris as thousands protest over Covid-19 vaccine passports for 9th consecutive week
Once again today thousands of demonstrators poured into the streets of the French capital on Saturday to protest against the the fascistic government of President Emannuel Macron and the proposed coronavirus health pass policy. It was the ninth consecutive weekend that huge protests have disrupted life in French cities. Today's protest quickly descended
into violence with widespread clashes between demonstrators and police.
Why Are Vaccinated People Still Getting Covid-19?
August 21: The title is a question more and more people are asking as it becomes more obvious every day that the overhypeed vaccines which, according to the narrative, are supposed to be the Messiah that will save us from destruction are not doing what it says on the box. All sorts of excuses are being made by disciples of the Vaccine-Messiah cult, but few contain feasible answers, and a piece posted on Medium.com by someone describing himself as Gideon M-K, health nerd is no exception.