Cops Threaten To Search Shopping Baskets To Catch "Lockdown" Violators
Authored by Paul Joseph Watson via Summit News,
A police force in the UK threatened to start searching people's shopping baskets in order to catch coronavirus lockdown violators, but later had to backtrack following a public backlash.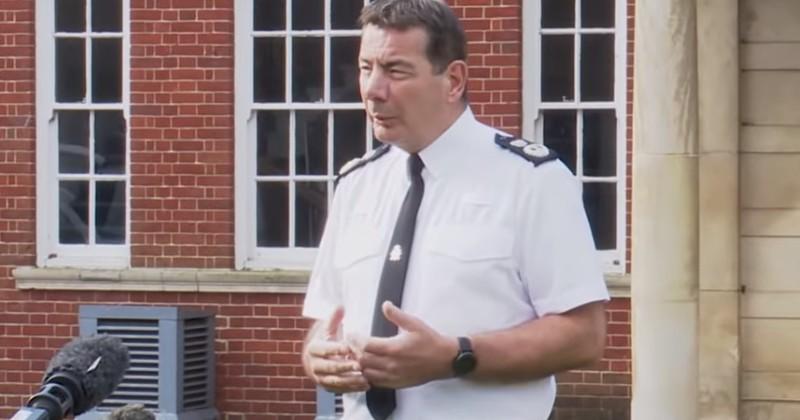 Northamptonshire Police chief constable Nick Adderley prompted outrage after he appeared in a video to warn people who were buying unessential items at grocery stores that their purchases may be scrutinized by the authorities.
"We will not at this stage be starting to marshal supermarkets and checking the items in baskets and trolleys to see whether it's a legitimate, necessary item but again be under no illusion, if people do not heed the warnings and the pleas that I'm making today, we will start to do that," said Adderley.
Northamptonshire Police is among the worst performers in the country for bringing charges after cases of burglary. But its chief constable will damn well rummage through your shopping basket and find that incriminating can of air freshener if he wishes. pic.twitter.com/3rHhM72U0p

— Paul Embery (@PaulEmbery) April 9, 2020
Adderley also said police checkpoints would be set up if people didn't properly adhere to quarantine rules, warning that a "three-week grace period" in his county was over … Continue reading >>>
MORE on The Globalist Power Grab
Look At How Ridiculously Wrong All The COVID-19 Models Were
Authored by Robert Wenzel via TargetLiberty.com,
The dotted line on the chart below indicates the current trend of beds needed for COVID-19 in New York.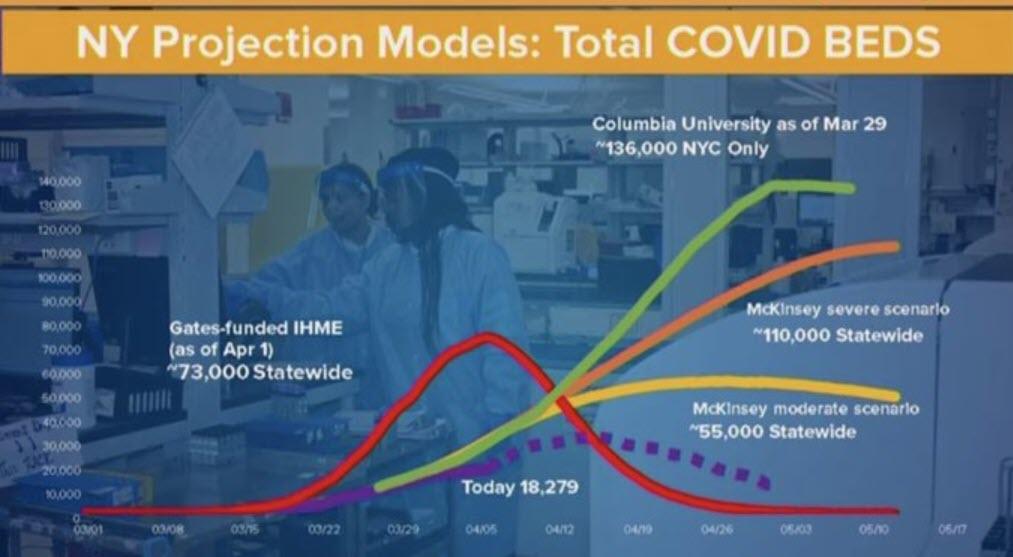 At present, only 18,279 are in use.
The professional forecasters all projected that beds would be a multiple of the beds actually needed.
Notice not one model came in under the actual number.
These are all professional fearmongers who alarmed the country about a virus that appears to be in line with a severe flu season.
Can they really be that incompetent?
Some may be but I called the evil Tony Fauci out a month ago on his phony projections:
MORE crap science and failures of mathematical modelling
A sceptical look at science and technology
Five questions UK media should have asked of its government during Covid-19 – but didn't
by Damien Wilson for RT, 10 April 2020
he unusually supine, bovine and herd-like behaviour of the British media at the government's nightly Covid-19 press conferences has become one of the most depressing spectacles of the whole affair.
This daily ritual should be an opportunity for the nation's finest journalistic minds to hold the government to account for its actions over the disease and to quiz ministers about the catastrophic consequences of their lockdown, so as to be able to present to their viewers and readers a critical, authoritative appraisal of what it all means.
Yet what do we get? The same litany of tireless, pointless and lame questions, set by journalists seemingly more concerned with grandstanding and impressing their colleagues and editors (and sometimes the politicians, themselves). Rather than, at this time of intense national crisis, doing their job. Holding truth to power, as they portentously like to remind us. Pass the sick bucket.
So in the spirit of trying to give these poor saps a hand, here are five key questions they should have asked the government. Feel free to use them, ladies or gentlemen of the media; no need to pay me.
Why did it choose to follow advice from one group of scientists over another? 
In a nutshell, when selecting its initial approach to tackling the spread of the coronavirus, the UK opted for advice from its own scientific expert panel, and they were not in favour of the model suggested by the World Health Organisation (WHO) … Continue reading >>>
Bill Gates: Mass Gatherings May Never Come Back Unless You're Vaccinated