COVID-19 Computer Models Continue To Deteriorate
Reminiscent of erroneous global warming computer models, those created by overzealous Technocrats for COVID-19 have proven to be just as bad, but because they are 'scientists', they will not be held accountable for their folly. ⁃ TN Editor
The number of people hospitalized across the United States as a result of the novel coronavirus illness (COVID-19) is reportedly only a fraction of what some health experts using Artificial Intelligence technology projected a few days ago.
On Monday, New York Gov. Andrew Cuomo told reporters that in his state alone, the epicenter of the viral outbreak in the United States, new coronavirus hospitalizations dropped by about 75 percent, from 1,427 four days ago to 358 on Sunday.
Highlighting the drop in new hospitalizations in NY, the state hardest hit (131,239 cases; 4,758 deaths as of Monday) by the coronavirus, Alex Berenson, former New York Times reporter who has been following the U.S. outbreak closely, observed on Twitter on Monday: "It's over, guys. It's already over."
Jim Malatras, an aide for Gov. Cuomo, reportedly indicated that projections are now showing that New York is unlikely to need 110,000 hospital beds, as previously thought.
The new forecasts show "a much lower demand" that stands in the estimated 20,000-30,000 range, Jesse McKinley, the New York Times bureau chief in the NY capital of Albany, wrote on Twitter on Monday.
That means the new projections for the number of hospital beds needed in NY are between about 70 and 80 percent lower than initially estimated … Contunue reading
MORE FROM OUR SITES ON:
Failings of Artificial Intelligence
Fear and Panic pandemic
Covid19 Death Figures "A Substantial Over-Estimate"
by Kit Knightly for Off – Guardian
A few weeks ago we reported that, according to the Italian Institute of Health (ISS), only 12% of Italy's reported Covid19 deaths actually listed Covid19 as the cause of death.
Given that 99% of them had at least one serious co-morbidity (and that 80% of them had two such diseases) this raised serious questions as to the reliability of Italy's reported statistics.
Prof Walter Ricciardi, advisor to Italy's health minister, explained this was caused by the "generous" way the Italian government handles death certificates:
"The way in which we code deaths in our country is very generous in the sense that all the people who die in hospitals with the coronavirus are deemed to be dying of the coronavirus."
Essentially, Italy's death registration process does not differentiate between those who simply have the virus in their body, and those who are actually killed by it.
Given the amount of fear and panic Italy's comparatively alarming numbers caused around the world, you would think other nations would be eager to avoid these same mistakes. Surely all the other countries of the world are employing rigorous standards for delineating who has, and has not, fallen victim to the pandemic, right?
Wrong …>>>

Coronavirus deaths: Are The Authorities Deceiving Us?
Covid-19 drags French economy into deep recession the likes of which it has not seen since 1945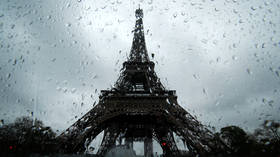 The Bank of France said on Wednesday that the country's economy shrank around six percent in the first quarter of this year, its worst performance since the end of WWII.
According to official figures, the economy dropped 0.1 percent in the last three months of 2019 as the coronavirus pandemic decimated business activity. With two consecutive quarters of negative growth, the country is now technically in recession.
Economic activity plunged 32 percent in the last two weeks of March as the crisis deepened, said the French regulator. It has listed construction, transport, restaurants and lodging among the worst affected sectors of the economy … Continue reading >>>
Oil Prices Tumble As Russia Balks At Proposed US Production Cut
from Zero Hedge
As oil traders look with dread and fear to tomorrow's OPEC+ teleconference one day after crude oil tumbled amid speculation that the production cut standoff will not be resolved there was a sliver of hope that oil prices may rebound after Reuters reported that Saudi Arabia, Russia and allied oil producers will agree to deep cuts to their crude output at talks this week but only if the United States and several others join in with curbs to help prop up prices that have been hammered by the coronavirus crisis.
However, in an attempt to have its cake and eat it too, the U.S. DOE said on Tuesday that U.S. output is already falling without government action, in line with the White House's insistence that it would not intervene in the private markets. And as reported on Tuesday morning, super-major Exxon announced that it would slash capex by up to 30%, which would impact output by several hundred thousands barrels per day… but only in 2021 and onward. In other words, any organic decline would take place slowly, over the course of the next two years.
"With regards to media reports that OPEC+ will require the United States to make cuts in order to come to an agreement: The EIA report today demonstrates that there are already projected cuts of 2 (million bpd), without any intervention from the federal government," the U.S. Energy Department said … Continue reading >>>
MORE on the economic war between east and west
Kissinger says 'even US' can't defeat Covid-19 alone. His solution? Global NWO government, of course
by Helen Buyniski for RT, 8 April, 2020
Henry Kissinger, eminence grise of imperial US foreign policy, has warned in an op-ed that no government – even his beloved hegemon – can defeat Covid-19 alone, implying that the New World Order he's always preached must follow.
If the US doesn't couple its efforts to rebuild its own economy with the first steps toward creating a global government, humanity is doomed, Kissinger wrote in a recent Wall Street Journal op-ed.
Kissinger laments that the pandemic has led to the return of a "walled city" model of nationalist governance, suggesting that "exploration at the frontiers of science" alone can save humanity from disease in his vision of a globalist utopia. But developing cures takes time, and the notion that countries should be discouraged from protecting themselves in the interim is suicidal. If anything, one of the reasons Italy, Spain, and France were hit so hard by coronavirus was the EU's dysfunctional insistence on open borders amid the pandemic.
"Global trade and movement of people" are all well and good, but the pandemic has exposed the weaknesses of the globalist system like never before. It will take years for nations to rebuild, and repeating their mistakes is not something they can afford to do … Continue reading >>>