Authored by Adam Taggart via PeakProsperity.com,
In a year that has experienced a global pandemic, Depression-level job losses, a bevy of large-scale natural disasters from wildfires to Cat 4 hurricanes to derechos, the #1 current concern we're now hearing from our readers isn't any of these.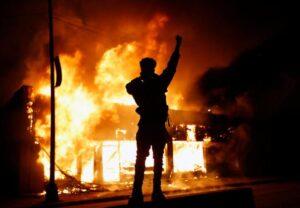 Instead, it's the danger of social unrest breaking out in their local community.
Anyone with eyes can see that the mercury is rising across America. The riots that follow the deaths of folks like George Floyd and now Jacob Blake, the current violence in Kenosha, Seattle's lawless autonomous zone, the movement to 'defund the police', the anger behind the surge of 'cancel culture' — the nation's social fabric is suddenly stretched taut and starting to tear at the seams.
Is it any surprise that gun sales are up 72%(!) vs last year, with first-time buyers driving a material percentage of that increase:
According to a report by the Washington Post, the National Sports Shooting Foundation says that first-time gun buyers played a heavy role in the increase.  Women and black Americans have also shown interest in arming themselves this year.

"Nearly 5 million Americans purchased a firearm for the very first time in 2020. NSSF surveyed firearm retailers which reported that 40% of sales were conducted to purchasers who have never previously owned a firearm," the organization said in its analysis, which tracked background checks associated with the sale of a firearm reported by the FBI's National Instant Background Check System.

"This is a tectonic shift in the firearm and ammunition industry marketplace and complete transformation of today's gun-owning community," said Lawrence G. Keane, a senior vice president at the foundation. "These first-time buyers represent a group of people who, until now, were agnostic regarding firearm ownership. That's rapidly changing…

(Source)
This rise in public ire is something we've been warning of for years here at PeakProsperity.com. While there are many serious injustices that exist in today's society, we believe the root cause for the majority of them lies in the misguided and frequently immoral policies perpetrated by the Federal Reserve and Congress — policies that reward the already-rich at the expense of the general public.
2020 has revealed this truth clearly in the response to the covid-19 pandemic. With the $5+ trillion unleashed between the monetary and fiscal "rescue" stimulus efforts, the battle cry from our "leaders" has been: Defend the rich! 
LIVING WITHIN THE CONSPIRACY
Extinction Rebellion Wants To Destroy Civilization, Not Just Fossil Fuels
Readers may find it hard to believe but while our attention has been focused on the coronavirus pandemic, other things have been happening. Recently the eco – crusties of EkSTIMKtion Rebellion have elbowed their way back into out consciousness and now, with Antifa and Black Lives Matter, form an unholy trinity of Marxist seditionist groups intent not only on destroying capitalism but destroying civilisation …
'Bill Gates seeks to microchip humanity!' Russian Oscar-winning director pushes vaccine conspiracy…
Russian director Nikita Mikhalkov claims billionaire Bill Gates might be seeking to implant humanity with microchips under the guise of vaccination, seeking to control people and ultimately "solve" overpopulation. The ongoing coronavirus crisis has produced a number of wild conspiracy theories, as some are …
Latest COVID Scam move a step too far?
The scam goes on with the latest move to keep the coronavirus fear and panic conspiracy afloat being a rumour that the government will ask over 50s in Britain to"shield" (i.e. place themselves under house arrest,) throughout the winter. But it may be the tipping point, public rteaction has been totally negative.
Coronavirus: Fuelling The Conspiracy Theories – 21 April, 2020
Scientific Evidence for Coronavirus Response Will Be Kept Secret Until Pandemic Is Over Makes us wonder what they're hiding – editor. Photo: Getty from Breitbart Europe The government has decided to keep the scientific evidence upon which it is basing its response to the Chinese coronavirus secret until the pandemic subsides. Boris Johnson's administration …
Is the World Health Organization involved in biological warfare research?
Dr. Francis Boyle, a professor of international law at the University of Illinois College of Law, talked in a recent interview with Owen Shroyer of Infowars about the Wuhan coronavirus now sweeping through the far east,, the Biosafety Level 4 laboratory (BSL-4) in Wuhan, China, where the genetically modified virus appears to have originated, and the World Health Organization's (WHO) clandestine involvement in biological warfare research …Continue reading
Big Pharma billionaire charged with conspiracy and bribery of doctors
Not long ago it would have been inconceivable that one day a Big Pharma company founder and owner would be arrested for running a criminal drug cartel, but that is exactly what happened a few days ago. "Federal authorities arrested the billionaire founder and owner of Insys Therapeutics Thursday on charges of bribing doctors and pain clinics into prescribing the company's fentanyl product to their patients …
France Moves to Make 'Conspiracy Theories' Illegal by Government Decree
I have little time for people who yell 'conspiracy theory'. These emotionally crippled, intellectually retarded, conformity addicted, delusional, left leaning, low – information sucklers of Nanny State's bitter pap might fancy themselves the voices of reason but in reality they never think anything through.The latest 'conspiracy theory' to exercise their vocal chords and typing fingers is the Paris shooting. Given the alacrity with which the socialist government in France has siezed the opportunity to curtail citizens liberties in order to further a global fascist agenda, I would not dismiss the idea.
Everything The Science Whores Told You About Eating Fat Was A Lie.
We have been telling you so for years, but at last the world seems to be cathing up with The Daily Stirrer. Another independent study confirms that the scientists ('A sack of rogues bought and paid for with corporate gods' to paraphrase Burns) have been lying about the health risks of eating saturated fat. It's process vegetable fat, created in laboratories by scientists and other synthesized foods that damage human health.
Downed Malaysia Airlines Flight MH17 News Developments Being Suppress By Mainstream Media.
Given the tarnished reputation of mainstream media after decades of its reporting only news favourable to establishment political and corporate interests, it ought not to surprise anybody that television and print news organisations have been suppressing news of developments in the quest to discover the truth about downed Malaysia Airlines Beoing 777, Flight MH17.
Tacit Approval From US Liberals For Islamic Indoctrination In US Schools.
Some schools in US State Of Virginia are closed today, because parents objected to Islamic indoctrination by the state education system. The US Constitution's clauses on the separation of church and state forbid the promotion of any specific religious teaching, in fact US liberals tend to get their knickers in a twist over signs in classrooms that show the motto "In God we trust."
EU Report Reveals Continent Being Changed By Migration
While political leaders and the mass media constantly preach of the economic benefits and cultural enrichment that sping from mass immigration,EU Report Reveals Continent Being Changed By Migration just a few days ago we reported a study that found the economic benefits are a myth and today a report published by the EUs in house statistical bureau reveals immigrants have an adverse effect socially and culturally.