The European Union Is Dead But Does Not Yet Know It
Authored by Giulio Meotti via The Gatestone Institute,
The new coronavirus appears to be tearing apart the fragile framework of the European Union.
"Europe" said the former Commission chief and a EU godfather, Jacques Delors, "is in "mortal danger".

If citizens feel themselves abandoned at the heart of the pandemic, said Former French Prime Minister Manuel Valls, the EU could "collapse".
The EU objective was evidently supposed to be an "ever closer union". But now, if the EU does not show solidarity and strength at a time of global crisis, what is the EU's purpose? Its ideological supporters have a mantra: each new problem must be solved by more Europe. "Europe is our future, we have no other", Germany's former Foreign Minister Hans-Dietrich Genscher once said.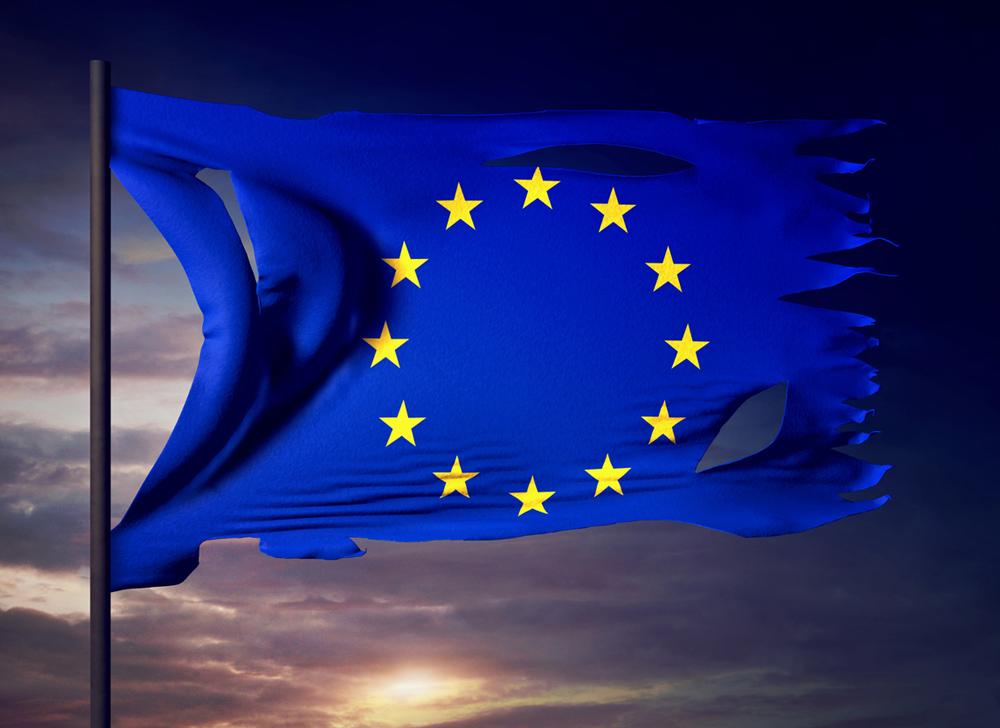 Although these are important and dramatic statements, each time it is as if something even more important and dramatic needs to happen to shake people awake, as if the European Union is never actually seen as dying.
Sadly, these high-flown phrases seem to shrivel into empty slogans.
The truth is that there is no "Union". There is a conglomerate of European states trying to take advantage of some rules called "the union". In times of crisis, old European divisions always seem to reopen — and crises are part of the old continent, possibly its epitaph.
The coronavirus now has put the European Union and its comfort zone face-to-face with all its weaknesses, decadence and cowardice. Continue reading >>>

MORE on Coronavirus Fear &~ Panic
Europe Unglues
China Outraged After Largest German Newspaper Accuses Beijing Of "Exporting" Coronavirus Pandemic, Demands €149 Billion In Damages
Let's see how the pro-China "fact checkers" blow up on this one.
The editor-in-chief of Germany's largest paper Bild on Thursday launched a full frontal attack on China's communist president Xi Jinping for his regime's failure to lying about the coronavirus outbreak and the massive human rights violations carried out by the Communist Party, and demanding no less that €149 billion in damages as a result of China's actions.
In an article titled "What China Owes Us", Julian Reichelt, the prominent editor-in-chief of the Bild, wrote to Jinping that  "Your embassy in Berlin has addressed me in an open letter because we asked in our newspaper Bild whether China should pay for the massive economic damage the coronavirus is inflicting worldwide."
Addressing the Chinese president, the German editor wrote that, "You, your government and your scientists had to know long ago that coronavirus is highly infectious, but you left the world in the dark about it. Your top experts didn't respond when Western researchers asked to know what was going on in Wuhan. You were too proud and too nationalistic to tell the truth, which you felt was a national disgrace."
Reichelt said that, "You rule by surveillance. You wouldn't be president without surveillance. You monitor everything, every citizen, but you refuse to monitor the diseased wet markets in your country. You shut down every newspaper and website that is critical of your rule, but not the stalls where bat soup is sold. You are not only monitoring your people, you are endangering them – and with them, the rest of the world." … Continue reading >>>
Disturbing Developments In UK Policing
A couple of days ago someone brought the following clip to our attention on Twitter:
The other week journalist @MikeSegalov got hassled and shouted at by the police for filming an incident in a park. Here's the footage. Not a good look for the police – breaking social distancing rules by surrounding him and wrongly shouting at a journalist to go home. pic.twitter.com/BKXSXbE6Gm

— Great Editor (@simonchilds13) April 16, 2020
From the tannoy declarations of "you in the blue, go home", to the haranguing tone, to the declarations the journalist is "killing people", it's all pretty disturbing.
And this is far from an isolated incident … Continue reading >>>

UK Public Health Bureaucrats Slammed as 'Not Fit for Purpose', Caught 'Like Rabbits in Headlights'
by Jack Montgomery,  Breitbart Europe
Technocrats at the Public Health England (PHE) agency advising the British government during the coronavirus pandemic have behaved like "rabbits in the headlights" and proved themselves "not fit for purpose", according to a top care executive.
Professor Martin Green, who leads the Care England — which is both a charity and the "leading representative body for independent care services in England" according to its website — said the PHE quango led by Chief Medical Officer Chris Whitty had proved particularly hopeless on the issue of personal protection equipment (PPE).
"PPE has been from the start of this pandemic, a real challenge," Professor Green explained in comments to The Sun.
"It's partly been a challenge because of the distribution but it's also partly been a challenge because we have not received proper and consistent and clear advice from people like [Public Health England]," he said … Continue reading >>>