Throughout the developed world we have witnessed, over the past few years, increased political pressure being applied to news organisations to promote the government line on issues such as multiculturalism and diversity, climate change, vaccines, military interventions and mass surveillance. Some governments have even go so far as to effectively abolish the right of free speech by criminalising so – called 'hate speech', a crime where, in common with medieval witch hunts, to be accused is regarded as suffficient proof of guilt. While Silicon Valley new media giants have made no secret of their political biases, even appearing to be vying for the role of official censors of internet content, the corruption of mainstream news journalism has been more insidious.
Though governments in the democratic world have been following a trend towards greater authoritarianism, implementing mass surveillance policies, and clamping down on freedom of expression, resistance is growing, and nowhere more so than France, a nation with a long tradition of anarchic dissent. For six months the ad – hoc protest movement known as Gilets Jaunes (Yellow vests) have protested against the globalist government of 'boy – president' Emmanuel Macron, a former investment banker pushed into power by the establishment in a bid to fend of a victory by the nationalist Marine Le Pen and her Rassemblement National (formerly Front National.) The Macron government is seen as ruling in the interests of the rich and of global corporations. The Yellow Vests protests were triggered by punitive fuel taxes, a part of Marcron's over – ambitious plan to turn France into a net – zero carbon emissions economy, and by rising living costs and high unemployment. Now what began as an expression of dissatisfaction among people on moderate incomes has evolved into something much bigger, something that could change France and further weaken the European Union
Marcon's response to the protests has been to delpoy the para – military Gendarmerie against the protestors and authorise brutal riot control tactics against unarmed citizens.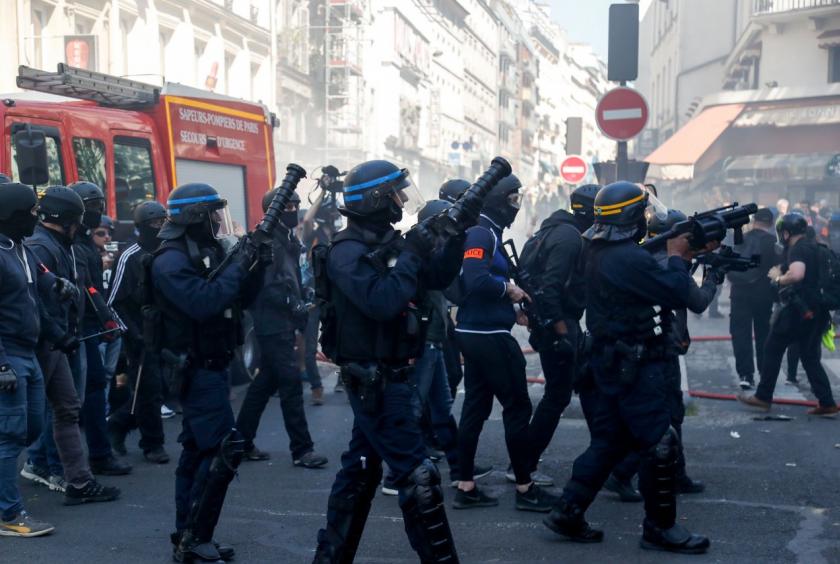 Police armed with riot guns and rubber bullets confron yellow vests protestors
Now, after supporting the government line so far, the news media have turned on Marcon, whose government is already on the brink of collapse as civil unrest threatens to turn into civil war. Over 300 media organisations, journalists, photographers, and others working to deliver news to French citizens have put their names to a letter denouncing the excessive brutality of the methods used in trying to suppress the protests. Rubber bullets, tear gas, water cannon, baton charges and punishment beatings have all been used against people involved in Gilets Jaunes (Yellow Vest) protests and members of the press corps in the cities and towns of France.
The letter claims that press freedom in France has been suffering for years under both conservative and socialist governments. Macron's predecessor in office, the socialist Francois Hollande even went so far as to 'ban' conspiracy theories, though how that was intended to work we're unable to say. The general dissatisfaction with all levels of French government entered a new phase following the start of the Yellow Vest protests in November of last year, Franceinfo reports.
"All these forms of violence have physical (injury), psychic (trauma) or financial (broken or confiscated equipment) consequences. We are personally and professionally denigrated and criminalized," the journal wrote, highlighting the work of journalist David Dufresne who has catalogued at least 698 cases of people being attacked or injured by police at the protests, including 85 journalists.
The signatories to the letter also raised the issue of police demanding press cards, something not always available to independent journalists, saying, "As a reminder, journalism is not a regulated profession. It is not the press card that justifies our profession. That is why we demand that the government take the necessary measures so that law enforcement agencies stop harassing us and let us work freely."
The issue of police violence towards members of the Yellow Vests has sparked concern from other sectors of society, including medical professionals, who, through their profesional body, said they had never seen so many serious injuries, some of which have included lost hands and eyes, during a protest movement.
Earlier this week, a 19-year-old woman who was so badly injured by police during a protest in Marseille on December 8th filed attempted murder charges against the officers, saying she was hit by a rubber bullet and then brutally beaten by plainclothes officers as she lay on the ground.
According to the 19-year-old, she had only just left work for the day before the assault and has been so badly injured that it took her four months to be able to return to her job in the retail sector.
In another example of excessive police violence, a 72 year old woman who fell to the ground after being hit by a rubber bullet was set on and beaten so badly by police officers as she lay on the ground that she lost an eye. Commenting on the outrage President Macron said he hoped she had learned some wisdom from the incident. It is encouraging that French journalists are no longer prepared to play down such revolting arrougance from the ruling elite.
Macron applauds the beating of an old woman by police (Picture via
http://www.neonnettle.com
)