Climate activist GretaThurnberg and fairy tale character Pippi Longstocking – Secret twins)
As Eco – activism wunderkind and Pippi Longstocking lookalike Greta Thurnberg swans about in New York after crossing the Atlantic in a zero emissions superyacht made of carbon fibre (the manufacturing of which produces far more than your or my car or even my brothers V8 Range Rover will throughout their useful lifetimes,) rock band The 1975 have set off on a world tour to publicise a new album which features for one of its tracks the aforementioned Froken Thurnberg reading one of her sanctimonious but scientifically defunct essays on climate change.
For a bunch of British boys 'the 1975' seem to lack the usual appreciation of irony as, according to an open letter written to the lads by Conservative MP David T C Davis, in their zeal to make the world understand how important it is that we all heed the Swedish Pippi Thurnberg's message about the urgency of adopting zero emissions lifestyles, they will be jetting off with their road crew and all their heavy equipment to gigs in South Korea, Hong Kong, Philippines, Thailand, Singapore, Indonesia, Australia, New Zealand and a series of venues across the USA.
And they will not be travelling anywhere by camel train, ox cart, horse drawn barge or even £4million carbon fibre superyacht, these Extinction Rebellion supporting zealots will be flying round the world by Jumbo Jet to teach us all about how irresponsible and selfish we are in flying off on business or pleasure trips by jet aircraft.
Maybe like Pippi Longstocking Thurnberg, The 1975 are far more enlightened than we know, and understand the extent of the climate catastrophe far better than a mature adult can ever hope to. Or maybe they are just a bunch of wankers who are so far up their own arses they have completely lost their self awareness.
The letter sent by David T C Davis MP posted on Twitter: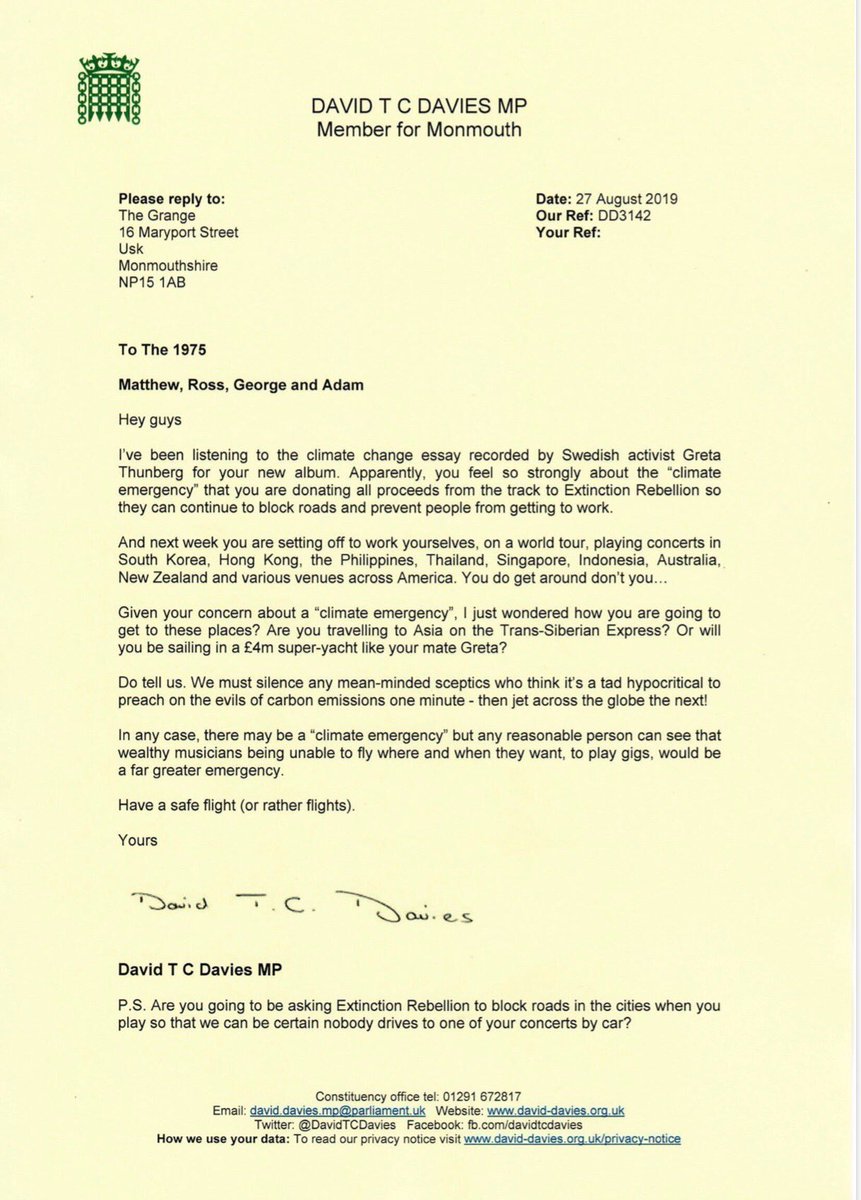 Finnish Climate Study Finds No Evidence That Humans Caused Climate Change
Scaremongering IPCC Pushes Climate Hysteria with New Doomsday Report
Scientific American says chill out over Global Warming