After making a career out of trolling various public figures while in disguise, first as Ali G, then Borat and a host of other whacky characters and most recently in his US television series, "Who Is America," which apparently led to a Georgia state lawmaker resigning his office in humiliation, Sacha Baron Cohen has made a rare appearance as himself, to attack Silicon Valley billionaires who, he claims, are endangering democracy and political stability.  The comedian singled out Facebook's  Mark Zuckerberg as the worst culprit and "One of the six people who decide what information so much of the world sees…." Baron Cohen described Zuckerberg as one of the people who is ultimately responsible for propagandizing the masses.
In an acceptance speech while receiving the ADL International Leadership Award he launched a blistering attack against Facebook, Twitter, YouTube, Google and others, describing themthem as representing "the greatest propaganda machine in history".
It's a pity he didn't think to mention the links all these companies have with the security agencies that make up "The Deep State."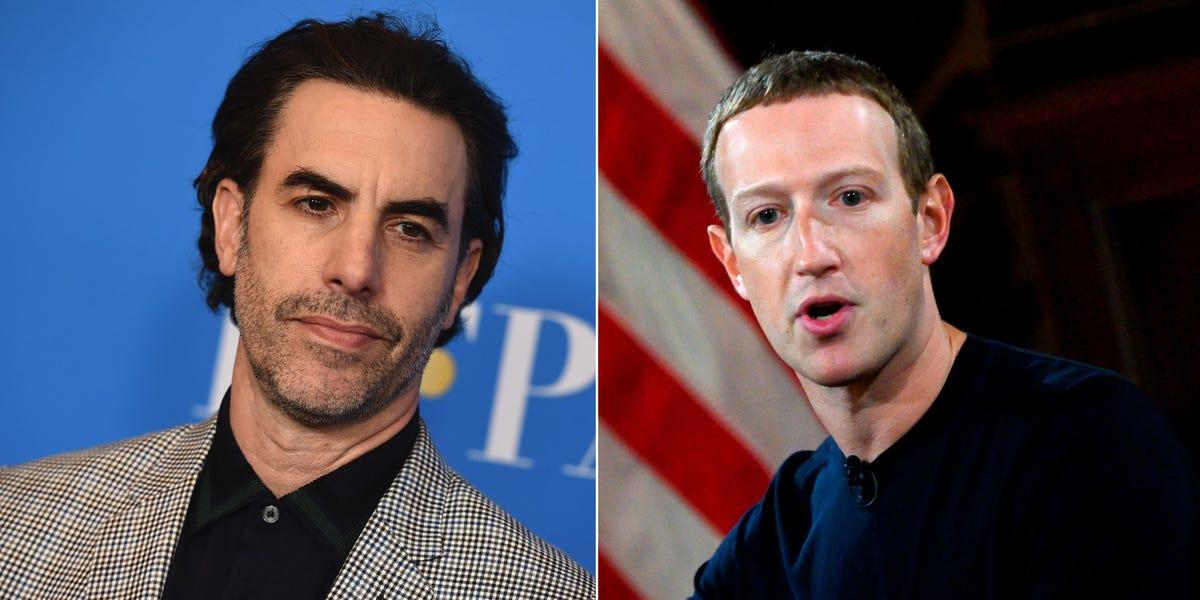 However he did say to a large audience in New York that while the content they publish reaches billions of people the internet social media giants only care about their bottom line as they propagate hate and lies and spread messages that "appeal to our baser instincts".
"All this hate and violence is being facilitated by a handful of internet companies that amount to the greatest propaganda machine in history," he said.
"Think about it. Facebook, YouTube and Google, Twitter and others – they reach billions of people. The algorithms these platforms depend on deliberately amplify the type of content that keeps users engaged – stories that appeal to our baser instincts and that trigger outrage and fear."
Addressing the long-running controversy that followed the 2016 US Presidential Election election, Baron Cohen further took Facebook to task  for running political advertisements from both sides without fact-checking, comparing some of the messages to propaganda used under the Third Reich.
"If you pay them, Facebook will run any 'political' ad you want, even if it's a lie," he said. "And they'll even help you micro-target those lies to users most likely to be susceptible to the message, for maximum effect. Under this twisted logic, if Facebook were around in the 1930s, it would have allowed Hitler to post 30-second ads on his 'solution' to the 'Jewish problem'."
At one point he even suggested social media company CEOs who publish political propaganda on their platform as part of campaigns to influence election outcomes or even genocides in parts of the globe should be sent to jail.
He also attacked Mark Zuckerberg's risible claims that Facebook is actually a bastion of "free expression".
He said: "I think we could all agree that we should not be giving bigots and paedophiles a free platform to amplify their views and target their victims." He also went after "holocaust-deniers" and others which he called anti-Semitic.
"Internet companies can now be held responsible for paedophiles who use their sites to target children. I say, let's also hold these companies responsible for those who use their sites to advocate for the mass murder of children because of their race or religion. And maybe fines are not enough. Maybe it's time to tell Mark Zuckerberg and the CEOs of these companies: you already allowed one foreign power to interfere in our elections, you already facilitated one genocide in Myanmar, do it again and you go to jail
While obviously still believing the now debunked claim that Russia interfered in the US election, (it was actually a great power much closer to home – Google,) he is right in saying that Social Media companies must be held accountable for what they allow people to publish. Refuting Zuckerberg's 'freedom of expression' defense for the hatred and bullying on Facebook, Cohen said further: "This is not about limiting anyone's free speech. This is about giving people, including some of the most reprehensible people on earth, the biggest platform in history to reach a third of the planet. Freedom of speech is not freedom of reach. Sadly, there will always be racists, misogynists, anti-Semites and child abusers."
"So here's a good standard and practice: Facebook, start fact-checking political ads before you run them, stop micro-targeted lies immediately, and when the ads are false, give back the money and don't publish them," the comedian and satirist explained, though in a dead serious tone.
Baron Cohen saved his most cutting remarks for Zuckerberg however, one commentator, Adam Best, tweeted: Sacha Baron Cohen says the Silicon Six billionaires care "more about boosting their share price than about protecting democracy," calls Zuck a modern Caesar and jokes that explains his haircut.
RELATED POSTS:
EU Competition Commissioner: "Google And Facebook Are Sucking Up Data From Every Corner
Zuckerberg Admits Facebook Interfered In Irish Abortion Vote
Facebook's Censorship Drive Backfires As Advertisrs Dump Platform
Digital Gangsters
Trump Warns Facebook, Twitter And Google To Tread Carefully
Google accused of intentionally breaking EU privacy laws