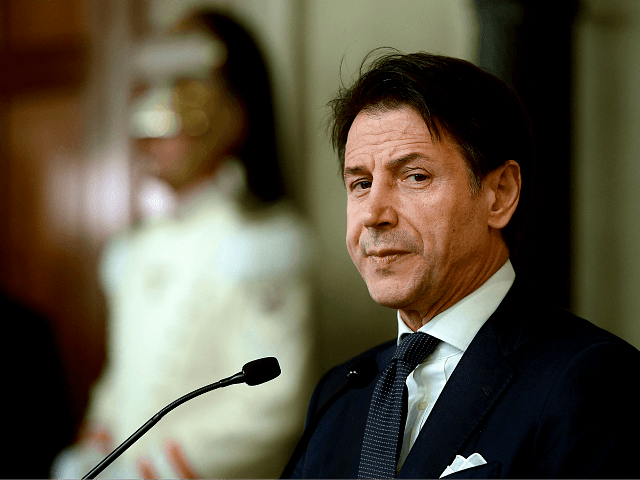 Italian Prime Minister Guiseppe Conte, aonter European leader prepared to betray his country
Matteo Salvini leader of the hugely popular Populist League (Lega) party, which, despite having a democratic mandate, was excluded from the government of Italy by a stitch up enigineered by the Euronazi EU Commission in Brussels, has accused Giuseppe Conte the Italian prime minister apponted by the EU, of handing over Italian sovereignty to the European Union bureaucrats without parliamentary approval with changes to an EU bailout fund.
Changes the European Stability Mechanism (ESM), a fund that gives emergency loans to countries and banks, has been criticized by Salvini and his colleagues in League, who argue that the new system could force Italy to restructure its massive debt in a way that would have the subsequent negative effect of preventing the heavily indebted nation from leavthe Euro single currency, according to a report from Reuters. We should remember that it was the EU's forcing Italy to join the single currency system that is responsible for most of Italy's current economic woes.
On Friday (29 Nov,) Salvini said that the reform was a danger for Italian sovereignty and that, as was the case with the creation of the single currency system, the beneficiary would be Germany, which has banks in crisis, such as Deutschebank which recently laid off a large section of its workforce after losing billions of euros this year. The future of Deutschebank is still in doubt as the bank was forced by the EU to buy €€€billions of negative performing bonds from the EU's basket case economies to fund previous bail outs.
Salvini, who along with his party becomes more popular with Italian voters as a result of every EU power grab, went as far as to address Italian President Sergio Mattarella directly, stating that if Prime Minister Conte signs the treaty to go ahead with the reform "it would sanction a sale of unbalanced national sovereignty."
We expect the collapse of the Brussels appointed, pro Brussels government in Rome imminently.
RELATED REPORTS:
Europe unglues
Europe and democracy
Italy PM Giuseppe Conte resigns, launches blistering attack on deputy Matteo Salvini
Will Italy's Mini – Bot Break The Eurozone?
The EU can go and F*** itself!' Politician's Outburst Rallies Support
Italian Elections: It is the EU, Not Russia, Who is the Meddler
Europe catalogue
Greenteeth Elsewhere:
[ The Original Boggart Blog] … [ Daily Stirrer ]…[Little Nicky Machiavelli]… [ Ian's Authorsden Pages ]… [Greenteeth & Daily Stirrer on YouTube ] … [ It's Bollocks My Dears, All Bollocks ] … [ Minds ] … [ Ian on Medium ] … [Scribd]…[Wikinut] … [ Boggart Abroad] … [ Grenteeth Bites ] … [ Latest Posts ] … [Ian Thorpe at Flickr ] … [Latest Posts] … [ Tumblr ] … [ Authorsden blog ] … [Daily Stirrer News Roundup]
… [ Boggart Network News ]