After the Easter recess, the UK Parliament is back at work today and Brexit-related news is back in the headlines. Nothing has changed since May struck an agreement with the EU for a six-month extension of Article 50, which the EU made conditional on The Prime Minister getting her Brexit-In-Name-Only treaty accepted by British lawmakers before elections to the European Parliament in May.
Talks with tho opposition Labour Party, aimed at finding an alternative to Mrs May's Brexit deal remain deadlocked with Labour's insistence on a second referendum the biggest obstacle. Though the Tory and Labour representatives resumed talks on Tuesday, widely cirulated rumours suggest the talks could fall apart in the coming days.
Whatever happens with the talks is of little irrelevance because the EU has been clear that the withdrawal agreement (suspected to have ben drafted by Angela Merkel because of its one sidedness,) is the only deal it will accept. That deal has already been thrown out three times by The British House of Commons. Though the margin of defeat has shrunk in each successive vote it is still substantial. So long as the Irish Backstop, the section which would keep Norther Ireland tied to the EU while mainland Britain left, remains the immovable object blocking the deal's progress it's unlikely that May will be able to win over enough Brexiteers to push the deal through.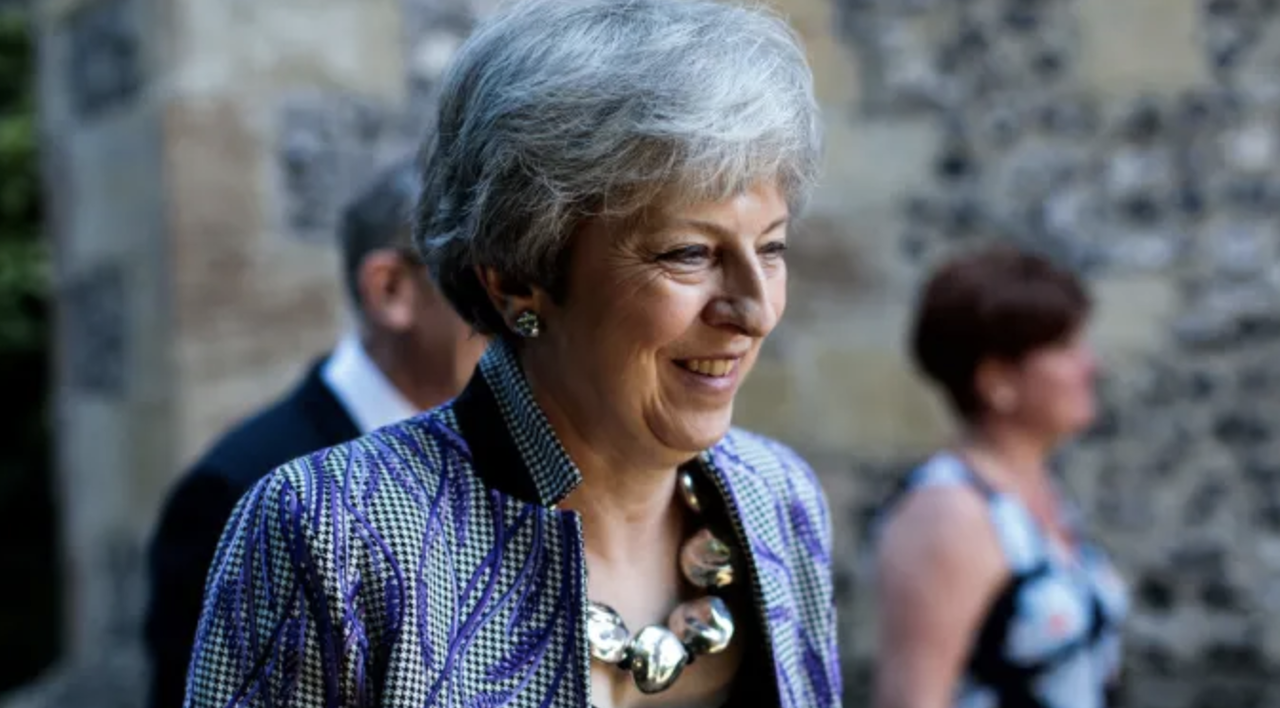 Theresa May looks as if she is about to throw up after hearing the latest Brexit – Picture: Zero Hedge
With few viable alternatives apart from another extension and another and another, the Financial Times reported on Tuesday, surprising absolutely no one, that May, now if not recognised as the most stupid, arrogant, stupid politician ever, surely a contender, is preparing to bring the virtually unaltered withdrawal agreement back for a fourth vote.
Just like the third vote, May will need to embrace some procedural maneuvers to satisfy Speaker Bercow's condition that the deal must be "substantially different" than prior votes if May wants to bring it back. This time, the withdrawal agreement will come packaged in a more far-reaching withdrawal agreement bill.
And a vote could come as soon as next week.
Downing Street sources suggest a fourth vote on May's bill could be the last chance to avoid Britain's participating in the upcoming elections to the EU Parliament, something May had desperately sought to avoid and which would result in the anihilation of the Conservative Party bloc in the European Parliament.
If , as is probable,the bill is defeated again May would be prohibited from bringing it back for another vote until a new session of parliament begins in November.  We guess May, ever a fanatical supporter of the EU and globalism, would stubbornly try to find some kind of procedural loophole to keep bringing her deal back and keep Britain in the EU until opposition evaporates from sher fatigue.
Even if it should eventually manage to pass the Commons, there are still procedural hurdles to negotiate before Brexit could be officially delivered. The Daily Telegraph reports:
The treaty the bill is intended to implement includes provisions such as the UK's £39bn exit payment to the EU, protection of citizens' rights, a transition period and the so-called backstop to avoid a hard border on the island of Ireland. If the legislation is rejected, as currently seems likely, the government could not reintroduce it again in this session of parliament.

"It would be quite a big thing," admitted one ally of Mrs May. In those circumstances the bill could only be brought back if the current parliamentary session was ended.

Approval for the legislation would kick off a tortuous passage through parliament during which the bill could be amended. Attempts to add a customs union or a second referendum would be expected. Even if the bill did eventually become law, Downing Street said there would still have to be a separate "meaningful vote" on Mrs May's deal under the terms of 2018 Brexit legislation. However, that would be expected to be a formality if MPs have already approved the bill to put the draft treaty into effect.
Whatever happens, May's deal, along with May herself, may soon become a footnote in history. That's because, as the Telegraph reported,  Sir Graham Brady, the leader of the influential 1922 Committee of Conservative members with no official government position, is planning to confront the boss on Tuesday and demand that she sets a date for her resignation or the party's members will change the leadership rules to allow her to be ousted (after surviving a no confidence vote late last year, May is immune from further challenges for a year under the current rules).
Other prominent Conservatives, including Nigel Evans,  member for Ribble Valley (where I live though I didn't vote for him,) have called on May to resign immediately.
RELATED POSTS:
Greenteeth Digital Publishing
Daily Stirrer
'Special place in hell' for Brexiteers, says Donald Tusk
Though he is despised in his own country for the way he sold out to the EU, former Polish leader Donald Tusk, now EU Council President, released an astounding attack on Theresa May as she toured Northern Ireland. His comments were condemned by the unionist DUP party, which wants to nix the only thing the EU and UK agree on. Daily Stirrer
'Have you learned NOTHING from Brexit?' Brilliant moment Andrew Neil SKEWERS German MEP
Threat Of Major Scandal Prompted Early Election Move – UKIP
Leaders of the (UKIP) have made astonishing claim that Prime Minister Teresa May's calling an early General Election was done to pre-empt a series of by-elections that could be called following alleged electoral fraud. Accusing the Conservative government of "putting party before country", UKIP appeared to suggest the scandal and ensuing disqualification of MPs could rob the government of its slender majority.
Nigel Farage Swipes Back At Irrational, Screeching, Crazy Clinton
US Democratic Party presidential candidate Hillary Clinton launched a hysterical, irrational attack, filled with half truths and blatant lies, against the most prominent figure in the campaign to get Britain out of the EU (Brexit), UK Independence Party leader Nigel Farage, during a speech at a rally today. Mrs Clinton, responding to Farage's address to a large and enthusiastic audience at a Donald Trump rally, may have been rattled at the prospect of having such a hihly effective campaigner in the rival camp …
Rebellion Against EU Authoritarianism Escalates As 8th Member Nation Threatens Referendum
Brussels went too far, they crossed the line in moving from an economic union to a political pan – European political empire. In the end it was a race as to which member state would quit first, Britain, Natherlands, Denmark or Italy. In the event it is Britain.
Is Brexit A Harbinger Of Doom For The 'Experts'
The Brexit vote, the decision by a democratic majority in Britain to leave the European Union has sent shockwaves around the world. Not only does the EU now face a tsunami of departures, the usurpation of democracy by 'experts' ( technocrats ) has been challenged and exposed as a sham.
BREXIT vs. GREXIT – The Truth About The European Union And How It Treats Members
Unless the testicularly deficient politicians stand up for their nations he only thing that will halt the European Union's push beyond Europe's geographical borders to incorporate Asian, middle eastern and north African nations is war. Power is addictive and the bean counters of Brussels have ambitions far beyond Europe.
The Hypocrisy and Snobbery Of The Remain Campaign And The Antidote

When I had to defriend a Facebook contact because she was arguing in favour of the EU, it was not simply because I support Brexit that I had become pissed of with her, it was the snobbish and condescending way she dismissed supporters of LEAVE and their case. People are entitled to their opinion on the European Union, but they should check the 'facts' they post in support of their arguments.
The Labour Case For Brexit by Kate Hoey M.P.
After my short intro is a savage indictment by Brexit supporting Labour MP Kate Hoey of the way the Labour Party has abandoned the working class and is now trying to betray the party's proud heritage and its roots in the industrial areas by taking Britain into an undemocratic, corporate controlled, capitalist friendly, elite dominated globalist control freak project.
Dutch Referendum This Week Shows why We Should Leave The EU.
Few of you were aware probably that there is an EU referendum vote in The Netherlands this week. As usual with anything negative about the EU barely a word has been printed in the topic in mainstream media and the silence from our notionally unbiased national broadcaster The Bolshevik Broadcasting Corporation (BBC) has been deafening.
French, Belgians, Dutch, Italians Follow Britain in Euroskepticism
Europeans want us British to lead them out of Europe. Don't be fooled by project fear, the European Union (aka the Euronazi Federal Superstate) is falling apart. There will not be chaos if we leave, there will be chaos if we stay.
Head Of European Institute: Brexit 'Better' For Everyone
Brexit would be the best result of Britain's in / out referendum for both Britain and the EU i a Belgian professor who heads up the European Institute at the London School of Economics (LSE) has said.
Johnson's article lines up his reasons why Britain must exit on June 23rd. It's time to be brave
OK, I know a lot of you think Boris is most accurately described by a word many people find offensive, but he's put together a very good argument here on why we must leave the EU. Published in part here under 'fair use' terms and conditions, in the public interest …
Cameron's EU Package: Not A Deal But A Few Turns In The Spin Machine
As we and almost everybody else predicted, David Cameron's deal to improve Britain's relationship with the EU is worthless. It changes nmothing, and can be vetoed once we have voted to stay in.