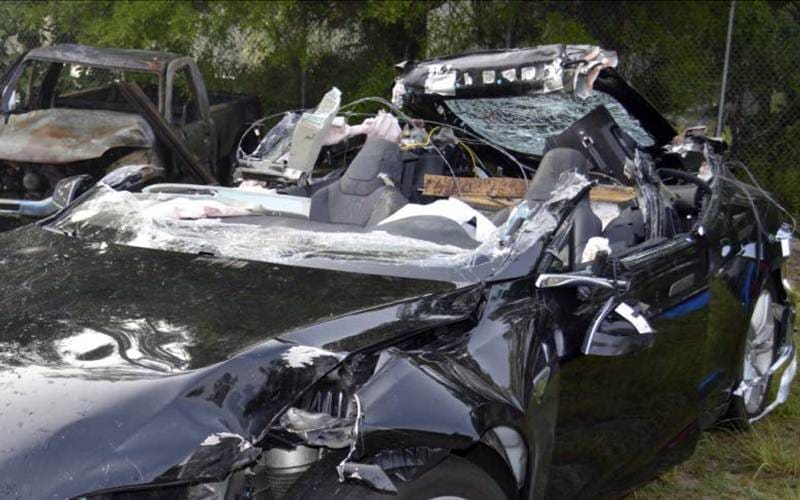 Tesla car crash – Elon Musk doesn't do things by halves (picture: indianexpress.com)
Electric Vehicle maker Tesla, which released astounding Q3 figures yesterday, suggesting the company had turrned a $1billion plus loss in Q2 into a multi million surplus in the third quarter of this year (more on that a little further down the page,) looks to be courting more trouble from Stock Market regulators, and simultaneously tempring the FBI to get involved.
While we already know that following a statement by loony CEO Elon Musk to the effect that he was taking the public company private, a move that netted Musk millions as the value of his holding soared, but resulted in a regulatory investigation as Musk did not have the finance to carrry out the change,  a second SEC investigation is taking place in relation to Tesla's Model 3 production, because Tesla overstated production figures after news was leaked that production was well short of the break – even target. This afternoon the Wall Street Journal dropped a bombshell  by revealing that a Department of Justice investigation into Model 3 production numbers was also not only was taking place, but was also intensifying.
According to the Wall Street Journal, the FBI is examining whether Tesla misstated information about production of its Model 3 dating back to early 2017. Action in the criminal investigation is reported to have intensified since Musk settled with the SEC last week.
The Journal also reports that the FBI has contacted former Tesla employees for testimony in the criminal case. Many former employees have received subpoenas and have been interviewed by the FBI.
Tesla shares quickly dropped almost $25 off highs on the news before bouncing after releasing its own response, stating it has only received a "voluntary request for documents" and not a subpoena. If people believe any statement from Tesla any more they deserve to lose their money.
Here's what an experienced US market analyst had to say about those third quarter profits yesterday:
Analyst Erupts At Tesla: "They Used Every Trick From Every Fraud To Put Lipstick On Q3 Results"
On October 11, I noted that "…I have booked all of my Tesla (TSLAQ – USA) Jan 2019 250/175 put spreads after owning them for almost a year, at a reference price of $255 compared to a reference price of $320 when I first wrote about them. While I am certain that Tesla collapses in the near future, all evidence seems to show that they've used every trick from every financial fraud over the past 100 years to put lipstick on the Q3 financial results." Modern day Ivar Kreuger has not disappointed.
Over the years, I have purposefully kept accounting and numbers to a minimum on this site—they're "boring." Besides, if you must use a fancy spreadsheet to prove a point, then your thesis isn't very good to begin with. The numbers should fit onto a bar napkin after a full night of drinking. Unless, of course, you suspect fraud—in that case, numbers and financial ratios are everything. With that out of the way, let's delve into the Q3 Tesla numbers.
Big picture, from Q2 to Q3, there was a sequential improvement in operating income of $1.038 billion, and they delivered 43,007 incremental cars. That's $24,140 per incremental vehicle on a car that is retailing for as little as $49,000. No other auto OEM even comes close to that. Something simply doesn't add up—so I went looking for it.
I get that when revenue grows, you get operating leverage. This can be seen where SG&A as a percentage of revenue declined for 4 sequential quarters (green). This is normal. You would expect with a huge increase in Q3 revenue, that there would be more operating leverage. Would you expect that SG&A drops 2.8% sequentially on a 70.5% increase in revenue (red)? That's not how manufacturing companies work. The expense is obviously still there, we just don't know where they hid it…
Meanwhile The Daily Telegraph was running a story about how lousy electric cars are when faced with real, open road driving conditions (they don't like hills according to this road test, carried out in southern England. Imagine driving one round the Lake District, the north Pennines, Snowdonia or the Scottish Highlands.