5:09
Record 235 Migrants Cross Channel In One Day: Report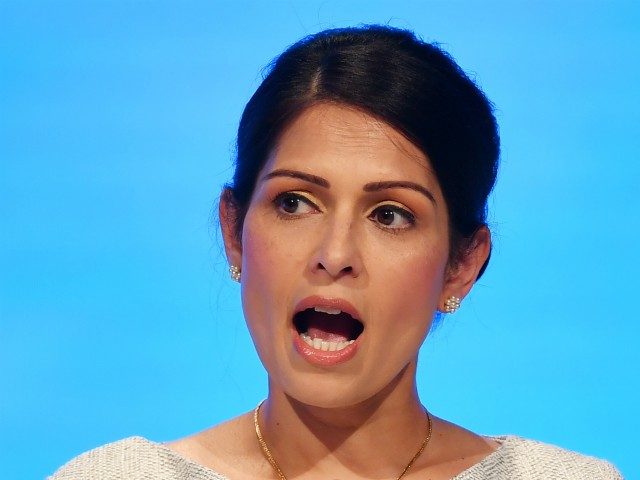 Home Secretary Priti Patel reportedly backs suggestions to send in the Royal Navy amid the growing migrant crisis in the English Channel, after a record 235 illegal aliens landed on Thursday.
This week, the Union for Borders, Immigration, and Customs (ISU) had said that the military needed to be drafted in to support dealing with the crisis — particularly due to the threat of violence from migrants, and to force returns to France at sea.
More than double the number of migrants have landed in the first eight months of 2020 (nearly 3,950) than the whole of 2019 (1,850). Migration Watch UK has warned that more than 7,500 could land by Christmas.
After yet another new record for the highest number of migrant landings in a single day, Patel had reportedly told Home Office staff to draw up plans for the Royal Navy to turn back boats the boats to France. The minister has reportedly been given legal advice that doing so is permissible under maritime law.
A Home Office source told the Daily Mail on Thursday: "The final straw was this record number, which led the Home Secretary to demand this new initiative. The real solution must come from the French – we want the French to take them back."
In May, Nigel Farage reported that he saw French navy vessels escorting migrant boats into British territorial waters, the mainstream media finally confirming the observations in August.
Patel's predecessor as Home Secretary, Sajid Javid, declared the Channel crossings a "major incident" as long ago as December 2018 … Continue reading >>>
RELATED:

Le Pen Calls For Referendum To Stop "Submersion" Of France Via Mass ImmigrationMarine Le Pen, leader of the French Rassemblement National (National Rally) has called for a referendum on immigration policy to stop what she called the "submersion" of France via a "globalist" program of mass immigration. Speaking in a debate on problems caused by mass immigration, Le Pen told the French Parliament that the political establishment had betrayed French people …
Germany sliding into 'dangerous' anti-Europe hysteria warns top economist
Germany Heading ForPolitical Instability After European Assembly Elections?
Chechen Islamic Police Now Enforcing Sharia Law On Streets Of Berlin
German Interior Minister Demands Tougher Asylum Laws After 'Orgy of Violence' Mob Attack
Macron Vows to Fight 'Islamist Separatism' with New Reforms

French President Emmanuel Macron has declared his government will fight against "Islamist separatism" with reforms including ending residency for foreign imams.
Yellow Vests Protest Merkel-Macron Plan To Integrate Defence, Foreign Policy
The left wing wankerati will not doubt be screaming about racism and xenophobia when they learn of the latest exploits of the German Yellow Vest movement who were out protesting against the latest step Hausfrau – Volksfuhrer Merkel and The Boy Macron have taken towards politically integrating Germany and France, on which Original Boggart Blog and The Daily Stirrer have been following developments …
Residents Of Paris Suburb With Migrant Ghetto Feel 'Abandoned' as Crime Surges
In the areas where [ migrants ] have congregated, usually places with a surfeit of run down municipal housing the lawless behaviour in the migrant communities is causing problems for French people. Despite promises from government to increase police presence, residents of the 18th arrondissement of Paris say they feel abandoned as crime rises in the area.
LITTLE ISTANBUL: Turkish Muslims have made Germans feel like foreigners in their own country
When Turks buy a building, they don't allow any German people to move in. The next thing you know, there is a mosque and soon the whole neighborhood has become a 'NO GO Zone' for non-Muslims.
'Islam Doesn't Belong to Germany' – New Interior Minister
While mainstream media was hailing the political mastery of Hausfrau – Volksfuhrer Merkel in negotiationg a new coalition deal to keep her in power for another four years, after Germany had been without a government for almost six months, The Daily Stirrer (and other alt_news sites to be fair) warned that the new government of Europe's most powwerful economy was fragile and full of holes. Only days after Merkel was sworn in for a fourth term, the holes in her coalition started to appear … Continue Reading">
After Triggering Mass Migration Crisis, Germany Bribing Foreigners To Leave
Though Angela Merkel clings to power the effects of her 'open doors' immigration policy damage Germany. It may amuse nationalists to observe as, with one face the pledges support for a United Nations initiative to open all national borders, while with the other she tries to persuade German voters she has listened to public opinion and understands her mass immigration policy is abhorred by a majority of voters …
Migrants Riot And Use BATTERING RAM To Smash Through E U Border Checkpoint
today used a home-made battering ram in an attempt to force their way through a border control point between greece and Macedonia. They also threw rocks at police, who retaliated with tear gas. The migrants destroyed a gate on the border but Macedonian military personnel were on hand and it is not clear if any actually managed to get through the broken gate … (immigration)
Migrants Mass At Greek Border Waiting To Cross Into Europe
An estimated 6,500 undocumented travellers were assembled at the Idomeni camp on Greece's northern border with Macedonia on Saturday according to news feeds, after four Balkan countries announced a daily cap on migrant arrivals. The log jam began after Macedonia began refusing entry to Afghans and imposed stricter document controls on Syrians and Iraqis, slowing the passage of migrants and refugees to a trickle …(immigration)
EU Enlargement Commissioner Accuses Russia Of Flooding Europe With Migrants

We have learned that The European Union's (EU) Enlargement Commissioner has claimed Russia is working to destabilize the continent by flooding it with migrants from Tajikistan and Turkmenistan. This sounds like one of brussels' crazy and incompetent attempts to demonize Russia in the hope of eroding EU members opposition to the all out war the USA, Turkey and Saudi Arabia have been pushing for … (immigration)
NATO Warships in the seas Odysseus Sailed Spell Trouble For EU
In an apparent effort to reduce the flow of migrants making their way from Turkey to Greece across the Aegean Sea, and because of the mistrust between the nations on either side of that body of water, pressure has been put on NATO (of which both Greece and Turkey are members)by the EU to deploy ships to the Aegean Sea … (immigration)
Worlds Biggest Luxury Liner To Be An Immigtant Hostel?
Ocean Gala, a luxury cruise liner which when launched was the world's largest passenger ship will be converted into a concentration camp floating hostel to house Sweden's third world migrants. The only thing that may derail the deal with US Shipmanagers for floating migrant accommodation, would be failure to find a berth in any of Sweden's large deep water harbours. Sweden's open doors immigration policy has led to … (immigration)
Merkel Isolated As Europe Splits Over Refugee Crisis
With the UK Prime Minister David Cameron still desperately trying to convince his 'revised terms' of British membership of the EU are a really good deal, when in fact they will change nothing, our attention should shift to developments elsewhere in Europe.
German Government To 'Create' 100,000 Subsidised Migrant Jobs That 'Pay' Just €1 An Hour
The German government has announced plans to spend nearly € half a billion on creating 100,000 heavily subsidised jobs for unemployed migrants. Or to put it another way, Hausfrau – Volksfuhrer Merkel is going to pay migrants with taxpayers money to turn up at recreational centers and watch TV or play pool while pretending to do these make believe jobs.
Christians, Gays, Women Fleeing European Asylum Centres After Persecution By Muslim Men
In the case of Europe's immigration crisis, much of the fear and loathing is being caused by Muslim males. Most Europeans do not have a problem with foreigners or dark skinned people who are willing to obey the laws and accept local customs and traditions. And one tradition we in the nations that emerged from European cultures is the common understanding that if a woman goes out alone, with arms and legs showing and face and hair uncovered, it does not mean she is up for having rough sex
Islamification Of Germany: Regensburg City Council Considers 'Women-Only' Transportation
Public segregation of men and women, women only buses, segregated sessions at the swimming pool. European politicians have betrayed the people of Europe and are giving away our traditional freedoms in order to appease bestiali Muslim immigrants.
Are The Ruling Elites waking Up At Last To The Problems Cause By Mass Muslim Immigration?
The WEF had been dubbed Bilderberg Lite, a meeting to which the public (assuming they can afford £$€stupid for a cup of very mediocre coffee) is talking about a different matter this time round. Europe's immigration crisis and the similar though not so immediate problem in the USA, and the likely consequences for the economies of the developed world is top of the agenda.
Sharia courts creating dual justice system in UK?
As if we did not have enough immigration problems to deal with as the inflow of illegal immigrants (or refugees and asylum seekers as our ruling elites insist on calling them) shows no sign of slowing.
from RT.uk:
GermanSocialist Idiot Minister: Criticism Of Migrant Rapes Are As Bad As Rapists Themselves
Public hostility to Muslim migrants who raped and sexually assautled German women and attacked German nationals on New Year's Eve increased sharply after a socialist regional politician in the North Rhine – Westphalia federal state appeared to blame Germans for the orgies of violence that took place in Cologne and other German cities as people celebrated the New Year.
New Year's Eve, Germany: 1,000+ Migrants Brawl, Rape, Sexually Assault, And Steal At Cologne Railway Station
Details of the sexual assaults and attacks on peaceful Germans by large gangs of migrants in Cologne in the early on the morning of January 1, are just now emerging. Not a word on this story was printed in mainstream European newspapers or reported in television and radio news bulletins.