As part of The Daily Stirrer's commitment to stirring things up for the environment, we feel obliged to question the 2sacred cow" narratives of the establisment, particularly those which are presented as "for the public good," but which on closer examination are for the good of corporate profits and the increase of political control over our daily lives. One of these narratives in recent years has been the promotion of vaccines, particularly those of dubious value such as the 'flu vaccine, which people of a certain age and above are urged to get each year.
The 'flu vaccine is big business for the pharmaceutical companies that make vaccines, but how effective is it?
from NewsTarget, 03 March 2020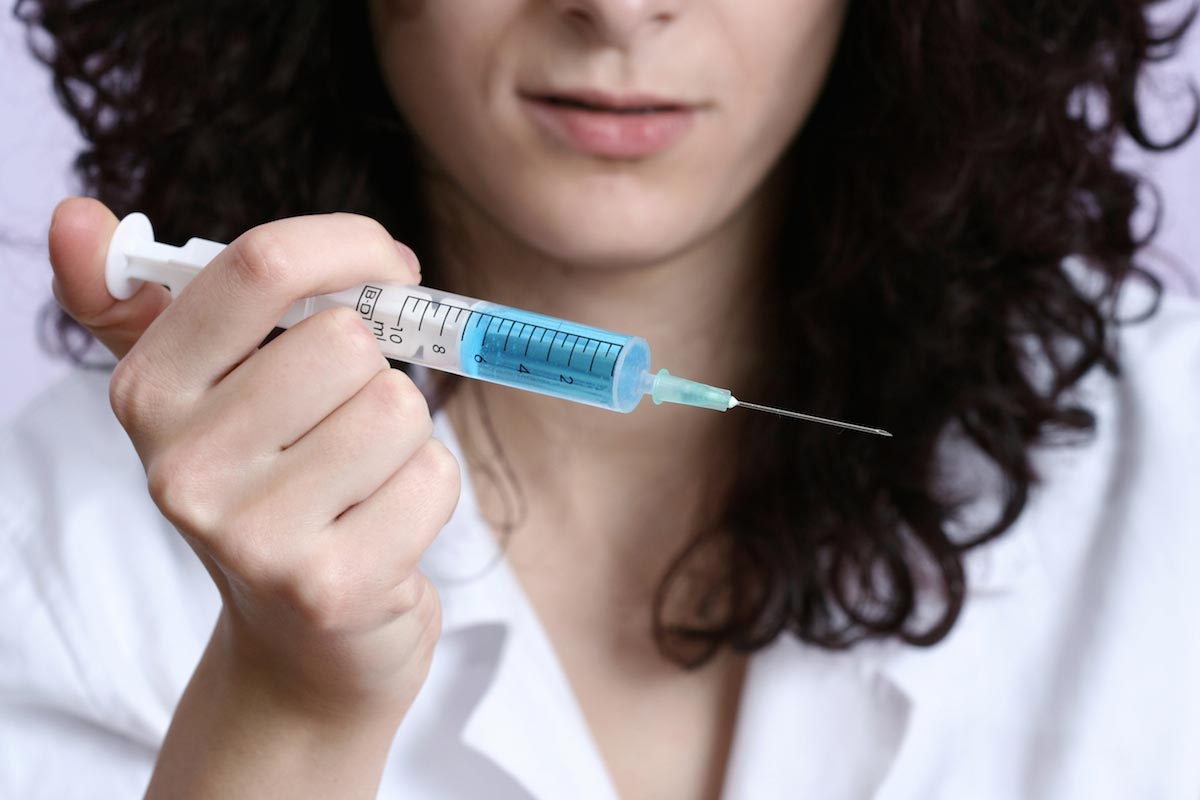 We're often bombarded with "helpful" reminders to get our flu vaccines as winter rolls around, but when you take a closer look at the medical literature, there's a lot about the shot that simply doesn't add up. There are really two main qualities that you'd expect a vaccine that is pushed on the masses to possess: safety and efficacy. Unfortunately, the flu vaccine fails on both counts.
There's a huge body of evidence showing just how ineffective the flu vaccine is and how easily its effectiveness can drop depending on personal factors. The CDC can never really say just how well a particular season's flu vaccine will work as it must be created well ahead of the flu season, and there's no way of knowing which strains will dominate in a particular year – they can only guess. Then, they point out that past seasons have seen efficacies in the range of 40 to 60 percent, as if that's somehow something to brag about!
And when you look at particular years or groups of people alone, it fares far worse, with the overall effectiveness of 2018-2019 vaccine being just 29 percent across all the various age groups and flu viruses. This is according to information compiled by Children's Health Defense.
In February of 2019, flu vaccines were actually ineffective 91 percent of the time. And that upper efficacy of the range the CDC touts of 60 percent has only been reached once in the last 15 years. Some years have seen failure rates of as high as 90 percent, which is what happened in 2004-2005.
MORE ON VACCINES:
According to reports leaked yesterday the power to take children away from unsuitable families could be privatised along with other child protection services under controversial plans to bring us into line with America's for profit prisons, hospitals and social services systems.
The plan, originated in Department for Education (DfE), to permit the outsourcing of children's social services in England to companies such as G4S and Serco and a few new contenders for public service contracts, Smith – Savile, Stuart Hall & Co. and PIE enterprises whose political adviser Harriet Harman said the move was long overdue. Not all experts are as supportive however. Some say profit-making companies should not be in charge of such sensitive family matters, and warn that the introduction of the profit motive into child protection may distort the decision-making process and encourage the wrong type of pimps people to get involved in the industry.
As usual when any fascistic idea emerges from the Department of Education, lefties are quick to point fingers at their favourite hate figure, Michael Gove. We preempt that by reminding you the idea is not new, it originated before the 2010 alongside a bunch of other liberal and progressive ideas floated by Gordon Brown's national Socialist Labour government including the abolition of free speech, creating a new class of criminal activity for those who criticise the establishment or academics, andrestoring the death penalty for people who don't vote Labour.
A DfE consultation paper published last month argues that enabling local authorities to outsource children's social services will encourage innovation and improve outcomes for at-risk youngsters.
Innovation eh? Does that mean pedophiles would be able to experiment with new ways of abusing children under the proposed system.
The Debt burden – source financial helper

Mostly in my guise as Little Nicky Machiavelli, I've pointed out for years that banks create money out of thin air. With many economics pundits predicting another, bigger than 2008, financial crash as ustable currency floods the world it has now finally struck mainstream media that our money is worthless, the only thing underpinning it is debt, your debt, your neighbours debt, Old Uncle tom Cobbleigh's debt, George Osborne's debt my … oops; I have no debts, repugnantly sensible person that I am, I saw it coming. The outcome is inevitable when loans come first … and then deposits FOLLOW.
In fact the money you borrow is bundled with the debts of others and used as collateral by your bank to secure loans from investment banks which will be used to make further loans to punters like you. If you think this sonds a lot like creating money from air, it is exactly that. The global economy is a giant Ponzi scheme, thanks to 'liberal' and 'socialist' (for both read corporatist) politicians and fuckwit economists with the intelligence of turnips perverting Keynesian economics to justify the infinite public spending oligarchic collectivism requires.
This is the most important secret about modern banking because it demolishes one of the biggest myths preventing a true economic recovery, challenges one of the main pork barrel profit centers for big banks. If finance ministers heed to common sense brigade and ignore the siren song of academics, running a national economy is just like managing a household budget but with much bigger sums involved and thus much bigger economic catastrophes as the consequence of continually spending more that your income opens up incredible opportunities for a prosperous economy.
This undeniable truth which stands conventional wisdom on its head has now gone mainstream, with not just bloggers like myself, financial market pundits like Tyler Durden of Zero Hedge and the Financial Times' Martin Wolf – one of the world's most influential mainstream financial writers – says that, since banks create money out of thin air, they should be stripped of this power, and limited to normal depository functions.
In other words they should not be able to lend money that is not underwritten by deposits or substantial assets, a bundle of debts is not a substantial asset, it is an effing debt, money owed which carries a risk that it will not be repaid. For example, The Deutschebank's $75 trillion holdings of debt derivatives is worth absolutely eff all until people repay their debts. Simples. Or maybe not if you consider it amounts to 20 times Germany's GDP.
Wolf indicates the centrality and importance of the issue with his subtitle: The giant hole at the heart of our market economies needs to be plugged.
RELATED POSTS:
How Global Financiers Rigged the Bank Bailouts

What water privatisation has mean in Argentina
Not so long ago, towards the end of last year, I used the words of John Lennon to provide a perspective on the psychopathic views expressed by the CEO of one of the world's leading food processing companies. Lennon said, "Our society is run by insane people for insane objectives. I think we're being run by maniacs for maniacal ends and I think I'm liable to be put away as insane for expressing that. That's what's insane about it"
He spoke the truth of course and what's worse, when he died in 1981 things were a lot less insane that they are now.
I used that quote in a short blog post highlighting a statement made by the boss of Nestle who was expressing the view that water cannot be owned by everything and must be privatised so greedy, fascistic corporations like the one he runs can profit from it. (See the blog post with video)
The question of when water becomes property is one that nobody has yet attempted to answer. The US Government has already taken to jailing people for collecting in barrels rainwater that falls on the rooves of their home and outbuilding, for building ponds on their land to collect rainfall and for allowing farm animals to drink public property from streams and lakes.
We did warn of what was on the way, everything the increasingly tyrannical administration of The Emperor Obama are doing in violation of the US Constitution and The Geneva Convention was detailed in the policy document released by the United Nations under the title Agenda 21 which promises the abolition of private property. Well Obama may be leading the race to fascism, but we and our EU partners are being dragged that way too.
It will be interesting to see how our infallible, omnipotent leaders plan to seek restitution from the Sun, when our star's rays cause rainclouds, or government assets of surface water to evaporate, thus destroying valuable resources the government planned to license to corporate water merchants when the vapour had condensed enough to fall to earth. They are still working on that one, meanwhile the idea that water is not a naturally occurring thing but an economic asset is taking hold.
Join the resistance now, before the shits demand the skin off your back.
RELATED POSTS:
Agenda 21: Wyoming welder faces $75,000 a day in EPA fines for building pond on his property
Agenda 21 may not have gained much traction here in Europe yet but it is forging ahead with its agenda of seizing control of private property and abolishing individual freedom in the USA where the fascist excesses of The Emperor Obama and his tyrannical administration are at war with the people. Think I'm exaggerating? Fools…
Agenda 21
Agenda 21 and global fascism
The Flight From Freedom
Oh Brave New World
Interesting Times
The Future Is Cancelled

A wise physician knows the worthlessness of most medicine – Benjamin Franklin (picture source)
A new study published today by a research team at Oxford University reveals that as many of us alternative media reporters said at the time, the drug Tamiflu, prescribed for hundreds of thousands of people during the swine flu 'pandemic' a few years ago, does nothing to halt the spread of influenza and the Government at that time wasted nearly £500 million OF OUR EFFING MONEY stockpiling it, a major study has found.
Are they saying vaccines and drugs are useless? You might well ask. No, what they are actually saying is that the purpose of most vaccines drugs and therapies in to make us patients for life and thus turn us into cash cows and guinea pigs for the Pharmaceutical Corporations' profit making machine.
You many remember that the Swine Flu pandemic was going to kill squillions of people and would be so potent that when the clever scientists gave us their clever drugs to bring us back to life the disease would kill us again … and again. That's exaggeration, but the miniscule threat (that turned out to be not a threat at all, there were less caess of flu in swine flu year than a normal year. Swine flu was overhyped to the extent that when the disease failed to jump the species barrier and kill squillions of people, that august body the Whores' Health Organisation World Health Organisation was forced to redefine the word 'pandemic'. Itstead of meaning '"Will infect tens of millions and kill millions on every continent, it now means "Will maked a few people here and there feel a little off colour.
But the scientists and their Big Pharma paymasters, lying whores and greedy bastards that they are, would not hold up their hands and say "Sorry folks, we got it wrong," thus salvaging a little credibility. Oh no, they insisted that their lapdog politicians timeley action in purchasing vast stocks of Tamiflu had averted the pandemic. Really? An interesting statistic emerged later; in Germany (population 80 million) ten per cent of the population received Tamiflu and there were 3000 deaths attributed to Swine Flu. In Britain, (population 60 million)around two per cent of people in 'vulnerable groups', i.e. old people, children and those with pre-existing medical conditions, received Tamiflu and 30 deaths were attributed to Swine Flu.
The latest review, authored by independent medical researchers at Oxford University, claims that Roche, the drug's Swiss manufacturer, gave a "false impression" of its effectiveness and accuses the company of "sloppy science". It has previously been reported that most of the researchers who worked on trials of Tamiflu had financial links to the manufacturers (see below).
The Oxford study found that Tamiflu, which was given to 240,000 people in the UK at a rate of 1,000 a week, has been linked to suicides of children in Japan and suggested that, far from easing flu symptoms, it could actually worsen them. They also expressed support for the view that Tamiflu damages the human immine system making it more likely people who take it will develop other problems. Many reports have mentioned the damage done by vaccines to auto – immune systems.
Roche claimed at the time of the 2009 swine flu outbreak that trials showed it would reduce hospital admissions and complications such as pneumonia, bronchitis or sinusitis. Based on the results, the Department of Health bought around 40 million doses of Tamiflu at a cost of £424 million and prescribed it to around 240,000 people. In 2009, 0.5 per cent of the entire NHS budget was spent on a drug that scientists knew did not work.
We should perhaps consider making the fuckers take their own drugs as part of the clinical trial process.
READ MORE ON THIS
Scientists say UK wasted £560m on flu drugs that are not proven – The Guardian
UK wasted £600m of taxpayers' money on useless flu pills – The Independent
Millions wasted' on flu drug Tamiflu – BBC News
Drugs – Pharma Menu
By Dr. James LeFanu; The Daily Telegraph
There is rather more than is immediately apparent in the recent grudging acknowledgement that the swine flu vaccine increased the risk of the serious sleeping disorder narcolepsy fourteen-fold – and that those affected (mainly children) are entitled to compensation.
As many will recall, the threatened swine flu "pandemic" of 2009 proved something of a non-event, with only 10 per cent of the predicted number of cases and a miniscule mortality rate of 0.0005 per cent.
This discrepancy between the dire warnings and what turned out to be among the mildest flu outbreaks of the past 100 years prompted an inquiry by Paul Flynn MP for the Council of Europe that criticised "the waste of huge sums of public money and the provocation of unjustified fears", while presciently anticipating "health risks from vaccines and medicines that have not been sufficiently tested".
Simultaneously, an investigation by the British Medical Journal noted how key scientists advising the World Health Organisation on planning for an pandemic "had done paid work for pharmaceutical companies that stood to gain from the guidance they were preparing".
Put simply, over the previous decade the pharmaceutical giants had developed a swine flu vaccine at great expense, and obtained a product licence for an antiviral drug, on the basis that it reduced the duration and complications of a flu attack.
Continue Reading:
So once again Boggart Blog, Little Nicky Machiavelli and The Dauily Stirrer are vindicated. We all warned that the annual flu scare and taxpayer funded campaign to push vaccines was a scam. A battle is won but the war is never ending. The next skirmish, currently being fought mainly in Japan and the USA concerns the HPV virus and the vaccine which drug companies and liberal fascists claim must be given to pubescent boys as well as girls to prevent the little lads developing cervical cancer.
RELATED POSTS:
TIME Magazine runs vile hit piece against Robert Kennedy Jr. for daring to tell the truth about Mercury in vaccines
Dr. Offit, Vaccine Pusher in Chief is exposed as a liar.
OH NO MEASLES, WE'RE ALL GONNA D— Wait, How Many People Died Of Measles Before Vaccinations
Germany Is Building a European Army Before Your Eyes
CDC Admits as Many as 30 Million Americans Could be at Risk for Cancer Due to Polio Vaccine
Pfizer Preadatory Capitalism: Posh Boy Cameron Can't Explain What He Doesn't Understand
The Vaccine Paradox – When The Only Way To Sell Vaccines Is To Make A Crime Of Being Unvaccinated
Measles Witch Hunt – Propaganda War Against Parents Who Refuse Vaccine
Measles Outbreak Traced to Fully Vaccinated Patient for First Time
Vaccine Propaganda
Vaccine Truth Emerges
Vaccines Damage The Immune system
Vaccines Can Cause Herm

For larger view click on image
Are you mentally ill? I see a lot of heads shaking.
How about members of your family? Hmm, not quite so many heads shaking but still a big majority.
Your friends? A bit more uncertainty here but people are saying "A tad eccentric maybe but not completely bonkers."
The fact is though you may not be aware of it yet, you and everybody you know is probably suffering from some kind of mental illness.
For years now the criteria defining mental illness have been steadily expanding. This has resulted in more and more people who were previously considered to be sane are now capable of being diagnosed as mad. Conditions like attention-deficit hyperactivity disorder (ADHD), Aspergers syndrome, depression, and even common anxiety are increasingly being diagnosed, particularly among children between the ages of three and 17.
And of course if you are the kind of organized person who stored your CDs in Alphabetical Order you are afflicted with OCD. On the other hand if you don't store your CDs in Alphabetical order you have issues with authority and need cognitive behvioural therapy. Do you see what is emerging?
Not long ago the inventor of ADHD admitted it was a made – up disorder, just a catch all created as an excuse to medicate lively, energetic children. A drug had been developed and an illness had to be invented for it to treat. And so the chemical cosh for kids that do not conform became the standard treatment for noisy, active children. And also for quiet introverted children. And if you think that is contradictory, try querying it in a public forum, you will probably be told you are not a scientists, therefore you do not understand science and should not comment. Like wot I did.
Psychology is one of those academic disciplines I usually refer to as pseudo-science. There are no consistent tests to determine a person's mental health and so it is all about opinion. Some people might remember a scence in the movie dead Poets Society in which a traditionalist teacher introduces pupils to a method of "scientifically" assessing the quality of a poem. Psychologists do the same, they try to find ways of passing off subjective opinion as scientific proof.
Whether or not the children referred to above actually have any illness is besides the point, doctors are diagnosing them as such because they are paid by Big Pharma to prescribe the treatments so individualism cannot be tolerated, what is human well being compared to corporate profit? The consequence of this push to make everybody a patient for life has been a huge increase in pharmaceutical drug use. According to the latest data compiled by the Center for Disease Control (CDC), nearly one-quarter of a trillion dollars is spent every year treating children for mental disorders that may not actually exist . Between 1994 and 2011, the number of children being diagnosed with mental illness has skyrocketed inexplicably.
One of the explanations for the huge increase in autism spectrum disorders that comes up in every debate about vaccine safety is the statement that "better diagnosis" is responsible for the increase over the past three decades. Better diagnosis of what. Cout cases against the makers of MMR vaccines have succeeded when the law suit alleged the vaccine had caused brain damage, simply because there is no medical definition of autism or Asperger's Syndrome.
The latest edition of the American Psychiatric Association (APA)'s Diagnostic and Statistical Manual of Mental Disorders (DSM-5) will shortly be released, in this document it seems any type of individualistic behaviour is classed as mental illness. For years government and medical propaganda has been urging us to eat more healthily, now healthy eating is a mental illness, Orthorexia.
The U.S. Centers for Disease Control and Prevention (CDC) has announced that one in five American children are now among the ranks of those considered to have mental illness. Britain and the European Union are pushing in the same direction. And once DSM-5 gets into the hands of doctors and psychiatrists in the coming months and years, this percentage will only further increase.
Join the resistance, refuse medication and conformity; you owe it to your kids because it's highly likely they are not crazy or the spawn of Stan but normal, healthy, lively, curious, imaginative, individual young humans.
Source: The New American
RELATED POSTS:
Pre Menstrual Mental Illness
Nonconformity and Freethinking Now Considered Mental Illnesses
You know how Boggart Blog hates to have to say "We told you so". Really, we would much rather be wrong because our being right only proves the world is run by greedy, theiving, self interested bastards and their lapdogs, the political parties of all shades (except UKIP although Little Nicky sees New World Order attempts to subvert and corrupt them have started).
Get your head round this:
'Energy giant nPower has admitted paying no UK corporation tax for three years despite making £766million in profits.
The revelation emerged yesterday during fierce questioning of the company's chief executive by MPs. NPower joins Amazon, Google and Starbucks in coming under fire for making millions in Britain while contributing little to the Treasury's coffers.
The company's average dual fuel bill has risen by £257 in just two years – leaving households facing punishing annual payments of £1,352.'
And yesd, much of that increase on your fuel bill is the resut of stealth taxes imposed under Blair and Brown to pay corporate bastards like Npower for NOT GENERATING ELECTRICITY.
Having said that The Coalition have done chuff all to put things right, in fact if it was up to the Lib Dems raffia mafia we would all be out in the forest collecting sticks to burn by now while each and every one of us would have a chuffing wind turbine on our head.
Under questioning from the panel of MPs, CEO Paul Massara admitted the firm had paid no corporation tax in the three years.
He explained the situation was perfectly in order because nPower had put the cost of building wind farms against its tax liability.
Labour MP John Robertson said: 'Everyone watching these proceedings will be absolutely shocked that you are willing to stand up and say we deserve not to pay tax. If I said that, I would be crucified.
'You have used the rules to suit yourself. I am glad I don't get my energy from you, if I did I would be switching as soon as I left this room, I am so annoyed about it.'
Mr Massara replied: 'We have invested £5billion in the last five years building power plants, creating jobs, creating employment and helping to keep the lights on.
'There is no mystery to it, there is no desire not to pay tax. The fact is you are allowed depreciation for your investments. And we have been the biggest investor by a mile in the renewable offshore business.
'If we had not made that investment, we would not have the (tax) deductibility that we would be allowed. That is a simple UK accounting rule.'
Mr Massara said the only way the UK will get the £110billion of investment needed in new power supplies by 2020 will be through tax breaks for energy firms.
Isn't it ironic that those who scream loudest for more money wasting wind farms are the same people as wail and gnash teeth about corporate tax dodging. Good job the elitist, petite bourgeois, cupid stunts all have two faces isn't it.
MORE FROM THE GREENTEETH STABLE
Boggart Abroad … Daily Stirrer home … Greenteeth Bites … Boggart Blog … Greenteeth Labyrinth … Author … Gather … Bubblews … Authorsden … Scribd
HSBC said profits nearly tripled last year to $19bn (£12bn) pre-tax – the highest earnings generated by a British bank since the start of the financial crisis.
Europe's biggest bank said it had made a promising start to the year but despite the strong figures the shares fell 3pc
Analysts said the profits were about $1bn lower than expected and Stuart Gulliver, the chief executive, had cut the bank's long-term return on equity target to 12pc-15pc from 15pc-19pc.
Oh tough, it makes your heart bleed doesn't it? How do you think the banking giant made its profit? By stealing from us of course.
Financial advice helplines have been getting a lot of complaints that credit card bills paid by cash or cheque several days before the due date are consistently not being cleared until a day after they are due, thus the cardholder despite making every reasonable effort to pay the bill on time incurs a late payment penalty.
Sleazy little scams like thiis have become commonplace as the fucking crooks bankers try to recoup the stupendous amounts they lost gambling on toxic debt derivatives. Such brilliant businessmen are these warthog felching bloodsuckers financial wizards that sleazy little acts of theivery are the only way they can think of to turn a profit on their crooked dealings.
What they hope of course is we can all be bullied into giving them direct debiting rights on our accounts. Once that happens your wage or salary will be gone before you even see your payslip.
If the coalition wants to give itself a chance of survival, the Conservatives want to remain in power or the Lib Dems simply want to survive they should reopen the National Girobank thus giving The Post Oiffice a lease of life and freeing us from having to deal with thieving scumbag sons of a pox whore's scablice companies in the finance industry.
Yes, it might open up new opportunities for robbers but as the great Woodie Guthrie once sang:
This wicked world we live in
Is full of thieving men
some will rob you with a shotgun
Others do it with a pen
Or a few keystrokes on their computer these days.
RELATED POSTS:
More News On The Public Sector Fat Cats
EU Equalities Bill Punishes Women And Men With Equal Iniquities
Young Must Hope For Housing Crash
Eurozone Unravels In Debt Crisis