Boggart Blog and other Greenteeth Digital Publishing websites do not often report on the Royal family, the main contributors are reluctant Royalists because, as editor Ian puts it, when yu think of the havoc 'President' Thatcher or 'President' Blair could have caused without the restraining effects of The Crown it shows how valuable The Monarch can be without their actually doing anything.
But as there is a major crisis going on, we thought we'd better stick our oar in along with the rest.
Senior members of the Royal Family are holding emergency talks on Monday to discuss the future of the Duke and Duchess of Sussex after the couple caused the crisis when they announced last week that they would step down from their roles as front line of the family.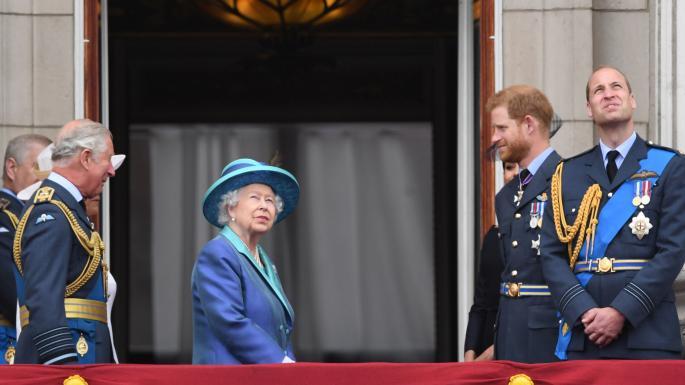 The Queen at Buckingham Palace with Grandsons William and Harry and sons Charles and the paedophile prince (allegedly) Andrew Source: Zero Hedge

Prince Charles cut short an engagement in Oman and flew back to attend the conference, held at Sandringham, the Queen's private estate in Norfolk. Also in involved will be the Queen, William, and Harry and various aides and constitutional experts, while The Duchess of Meghan is expected to join them via a video link from Canada, where she is flew las week with young Archie, having insulted The Queen, The British nation and The Duchess of Kate and pissed off all the people in Britain that her arrogant, self – righteous, attention seeking attitude and her blatant invocation of the race card when she wasn't getting what she wanted had not already pissed off.
An insider has told The Times that the pair both feel "tethered" by their responsibilities, which incuded the onerous duty of being expected to be nice to common people. The source added that the couple regarded themselves as having been pushed away by what they saw as a bullying attitude from the Duke of Cambridge. These claims have been strongly contested by sources close to the Cambridges, as well as some close to Prince Harry.

"She wants to leave," the source said of the duchess. It is well known this Californian airhead and third rate actress believed she would be granted the title "Princess," despite being told that as a divorcee that would not be the case.

Poor dear, someone should have told her the British monarchy is real life not fucking Disneyland.

"Harry has been under intense pressure to choose. It is sad. He loves the Queen. He loves this country. He loves all his military stuff. I think it will genuinely break his heart to leave. I don't think that's what he really wants. I think they want some halfway house." –The Times
Phil The Greek is reported to have advised his grandson, "It is perfectly acceptable to step out with actresses but one does not marry them."
Couldn't have put it better.
Prince William, meanwhile, has expressed "sadness" over the strained relations between House Cambridge and House Sussex, telling the Times that the royal family was no longer "a team."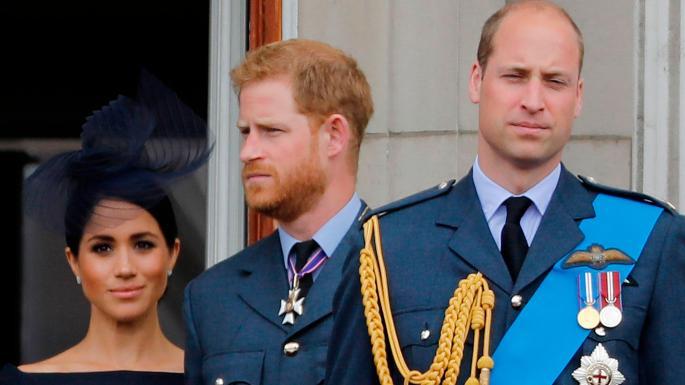 "I've put my arm around my brother all our lives and I can't do that any more; we're separate entities," William – the Duke of Cambridge, reportedly told a friend.
Harry says they want to be financially independent and no longer wish to receive taxpayer money. Possibly unconnected but Harry was seen touting his wife's talents as a voiceover artist (voicing a Princess character maybe,) to Disney CEO Bob Iger.
Observers say the couple is likely to generate income from a UK trademark from their brand, 'Sussex Royal,' which they applied for in June – along with sponsorships and speaking tours.
According to the Times, senior royal officials – including secretaries, press advisers and Sir Michael Stevens who handles royal finances, have been locked in talks for two days to work out various solutions to discuss on Monday.
The alternatives will cover central issues such as how much work the couple will carry out for the royal family and where they will live.
The Sussexes hope to divide their time between Britain and Canada but their current residence, Frogmore Cottage, Windsor, is among the topics on the table. The residence was controversially renovated for at least £2.4 million at taxpayers' expense. The couple are said to be prepared to give that up, although it is possible that they will remain there but pay a commercial rent.
The question of how much royal work they carry out may have an impact on the extent to which the Prince of Wales continues to fund them with the money he receives from the Duchy of Cornwall. –The Times Some reports suggest Prince Charles is determined to cut the purse strings. Some sources maintain Charles advised his son against the marriage, not because he disliked Megan but because he doubted that an actress from 'woke' California would cope with the constraints of life as a member of the Royal family.
Latest reports from the Royal household suggest that following  "constructive discussions," the Queen has agreed to a "period of transition" for Harry and Meghan.
"Although we would have preferred them to remain full-time working Members of the Royal Family, we respect and understand their wish to live a more independent life as a family while remaining a valued part of my family," wrote the Queen, acknowledging that her grandson and his wife want to live more independent lives, according to the Washington Post.
RELATED POSTS:
ABC TV News Covered Up Evidence On Paedophile Epstein, Whistleblower Former News Anchor Claims
When the furore about the convenient death of billionaire paedophole Jeffrey Epstein died down after the alleged sex criminal was found dead in his cell in a New York remand centre, many of Epstein's rich and powerful friends who had been ferried by private jet to sex parties on his private Caribbean Island must have heaved a sigh of relief.