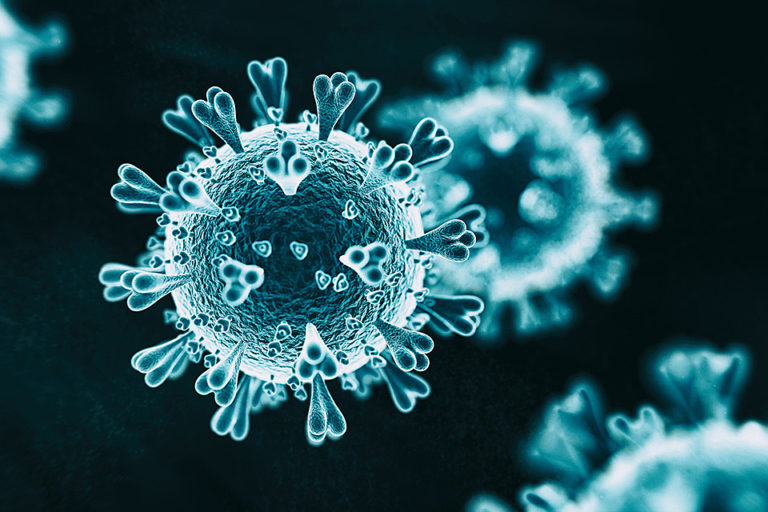 (Derek Knauss) I have a PhD in virology and immunology. I'm a clinical lab scientist and have tested 1500 "supposed" positive Covid 19 samples collected here in S. California. When my lab team and I did the testing through Koch's postulates and observation under a SEM (scanning electron microscope), we found NO Covid in any of the 1500 samples.
Related Report: Pfizer Stopped Testing COVID-19 Vaccine Results in Late October, Placed Samples in Cold Storage to Be Tested the Day After the Election
by Derek Knauss, January 9th, 2o21
What we found was that all of the 1500 samples were mostly Influenza A and some were influenza B, but not a single case of Covid, and we did not use the B.S. PCR test. We then sent the remainder of the samples to Stanford, Cornell, and a few of the University of California labs and they found the same results as we did, NO COVID. They found influenza A and B. All of us then spoke to the CDC and asked for viable samples of COVID, which CDC said they could not provide as they did not have any samples. We have now come to the firm conclusion through all our research and lab work, that the COVID 19 was imaginary and fictitious.
The flu was called Covid and most of the 225,000 dead were dead through co-morbidities such as heart disease, cancer, diabetes, emphysema etc. and they then got the flu which further weakened their immune system and they died. I have yet to find a single viable sample of Covid 19 to work with. We at the 7 universities that did the lab tests on these 1500 samples are now suing the CDC for Covid 19 fraud. the CDC has yet to send us a single viable, isolated and purifed sample of Covid 19. If they can't or won't send us a viable sample, I say there is no Covid 19, it is fictitious. The four research papers that do describe the genomic extracts of the Covid 19 virus never were successful in isolating and purifying the samples. All the four papers written on Covid 19 only describe small bits of RNA which were only 37 to 40 base pairs long which is NOT A VIRUS. A viral genome is typically 30,000 to 40,000 base pairs.
With as bad as Covid is supposed to be all over the place, how come no one in any lab world wide has ever isolated and purified this virus in its entirety? That's because they've never really found the virus, all they've ever found was small pieces of RNA which were never identified as the virus anyway.
So what we're dealing with is just another flu strain like every year, COVID 19 does not exist and is fictitious. I believe China and the globalists orchestrated this COVID hoax (the flu disguised as a novel virus) to bring in global tyranny and a worldwide police totalitarian surveillance state, and this plot included massive election fraud to overthrow Trump … Continue reading >>>
MORE from our sites
Politicians Are Offering A Trade, Safety For Freedom. But What Are We Really Trading Away?
It's the age old confidence trick, politicians and the elites offter a straight choice between security of freedom and all the risks it entails, then amplify those risks with scaremongering propaganda. In the case of the COVID crisis it has worked so far, with enough people accepting the need for masks, lockdowns and killer vaccines to make The Great Reset seem feasible – but time is running out and people are waking up …
Covid Cops Catch Couple Having Outdoor Sex on Coldest Night for 26 Years
Several public figures including Nigel Farage and actor (cancelled) Laurence Fox have spoken up in the past few days denouncing the government's latest crackdown on people who breach the pointless and ineffective restrictions imposed on society as tyranny, but those of us who have no platform in mainstream media must try to draw attention to the absurdity of our COVID response.
And The Hoax Goes On …
Every time we dare to think we see a bit of light at the end of the tunnel (or any of those others cliches we use to indicate a bad time is coming to and end,) The Elites who have been driving the pandemic for their own ends come up with a new twist on the scaremongering to keep project fear rolling along. The lies just keep rolling out as the economic and social damage is swept under the carpet …
Are the people to blame for the Covid spread – or are we using the wrong control measures?
As we near 100,000 deaths in the UK so far, the Covid-19 epidemic is still accelerating rapidly. The collective dogma, promoted by SAGE in the UK and the CDC across the pond, is that Covid is a flu-like virus transmitted in aerosols. However, current control measures against aerosols (which do seem to be preventing any influenza this year) are ineffective against Covid, short of locking people in their homes.
Getting To The Truth Of Covid?
A friend spent some time in hospital earlier this year, in September in fact. The problem was not COVID related and was easily dealt with by routine treatments. She was discharged and returned home thinking that would be the end of it. A few days later she could hardly walk and was complainming of fatigue and aching muscles and joints. As the weeks wore on things did not improve and on returning to the hospital for further tests she was told she might have picked up a case of "Long Covid." Having trained and worked as a nurse she recognised this diagnosis as bollocks
Big Tech Ban President Trump, But Reveal Their Contempt For Free Speech And Diversity Of Opinion
As the Trump presidency enters its final week in the USA the haters are sharpening their knives and drooling at the prospect of taking revenge on Trump and his supporters for denying them the power they crave for four years …
Government Admits Using Bad Covid-19 Figures To Justify Second Lockdown
The British government has admitted to showing misleading daily Covid fatality projections in its televised coronavirus briefing last weekend, during which PM Boris Johnson announced a second national lockdown. The revelation comes after the UK stats watchdog criticized the government's lack of transparency in its use of Covid data …
Britain's Covid response is utterly mad – here are 10 reasons why
There is no reasonable scientific or medical justification for lockdowns, convoluted social distancing rules, masks or travel restrictions by Dr John Lee in The Daily Telegraph This year, like many years, there's a new respiratory virus on the block. But this year, unlike any year ever before, the world has gone mad. Governments around the world …
Covid-19 is an 'unrestricted bioweapon': Virologist Dr Li-Meng Yan
accuses China of fabricating genomic sequence A report claims that coronavirus is a 'laboratory product' created by using a template virus owned by military research laboratories under the control of the Chinese Communist Party By Mihika Basu from meaaw.comChinese virologist Dr Li-Meng Yan from Hong Kong, who has repeatedly questioned the origin of the coronavirus, …
Once Again Independent Research Shows Similarity Of COVID to HIV
The theory that China obtained the coronavirus via a Canadian research program, and started molding it into a bioweapon at the Institute of Virology in Wuhan before it somehow escaped could be an attempt by the establishment (the Davosocracy,) to spread fear and panic as they see resurgent nationalism across the developed world and growing …
Biggest Lies About COVID-19 Exposed: But Globalist Elite Will Not Let It Die
Leo Hohmann, Harbingers Daily, 9 October 2020 Since February, the U.S. media has been pounding Americans with non-stop reporting about COVID-19 coronavirus. Eight months later, the data shows everything the media said about the virus was false. Yet, those posing as "journalists" continue to repeat the lies from February and March as if they are …
No Medical Justification For Emergency Measures"
AIER reports that the following letter has made an impact on public health authorities not only in Belgium but around the world. The text could pertain to any case in which states locked down their citizens rather than allow people freedom and permit medical professionals to bear the primary job of disease mitigation.
So far it has been signed by 435 medical doctors, 1,439 medically trained health professionals, and 9,901 citizens.
Lockdown 2 – Backlash Against Project Fear
In her column for The Daily Telegraph today Juliet hartley Brewer just about summed up the mood in the country after the governments latest moves to turn Britain into a miniature version of Communist China. Ms. Hartley brewer, known for her Consrvative leanings, laid into the government, and its plans for a second lockdown even though the first failed wirh disastrous consequences, and was absolutely ruthless in
The Second Wave Is Another Hoax From The Lientists
As it becomes clear day by day that the alleged 2nd Wave of the COVID – 19 pandemic is a complete and utter hoax cooked up by the deep state in collaboration with lientists paid by the vaccine manufacturers it is now essention that We The People stop this fascist coup d'etat by simply withdrawing cooperation.
You Could Be Arrested for Breaking New Coronavirus Rules, Says Boris
It is fair to say the extension of restrictions on movement and socialising announced by the government yesterday have been received with underwhelming enthusiasm by the public. Despire firgures broadcast by BBC News and other establishment propaganda parrots in mainstream media suggesting wholesale approval of the new measures, the feel one gets from internet comment threads and pub conversations suggests the opposite.
Lockdown #2 More Likely As 'Cases' Rise Nationally"

We might have said this before so as the talk of a second lockdown gets louder in mainstream media, with pseudo-scientists spewing fake statistics generated by mathematical models of reality and sanctimonious politicians bleat that their imposition of fascist control freakery on society is for ouir own good. We are told today that Coronavirus is increasing in every area of the UK …
For every 3 COVID19 deaths lockdown may have caused 2 more – Official
The 4 month lockdown imposed by government on the advice of "scientists" while realists in the medical profession said poses almost zero risk to healthy people under the age of seventy, may have indirectly caused 16,000 excess deaths in two months, according to government analysts. This is what those medical realists, predicted at the outset.
Red Flags Soar As Big Pharma Given Exemption From COVID-19 Vaccine Liability Claims
Last week we warned readers to be cautious about new COVID-19 vaccines, highlighting how key parts of the clinical trials are being skipped as big pharma will not be held accountable for adverse side effects for administering the experimental drugs. A senior executive from AstraZeneca, Britain's second-largest drugmaker, told Reuters that his company was just granted protection from … Continue reading
Covid virus tests useless

As the Coronavirus rolls on with every trumpeted breakthrough fizzling out into a great big nothing, political leaders and media 'influencers' keep telling us we must follow the science. Yet with so much contradictory and conflicting evidence, perhaps it's time we learned that "following the science" is the worst thing we can do? The Daily Stirrer has been telling you since the start of the farrago that scientist is a synonym of wanker,
Covid 19: Statistics, Lies and the Corruption Of Science.As the COVID — 19 pandemic continues to dominate the news and defy the efforts of researchers to understand its many mysteries, including its origins and why it affects people who contract the virus in wildly different ways, one thing we have learned for certain so far is the extent to which the Pharmaceuticals manufacturers cartel (colloquially Big Pharma,) exercise a pernicious influence over medical research and healthcare.
COVID19 PCR Tests are Scientifically MeaninglessPoliticians and "experts" scream and shout about testing and isolation being the way to halt the COVID 19 pandemic to a halt, but everything else they hsve told us about the disease has been absolute bollocks, why should this be any different? Well surprise, surprise, it isn't any different. The idea that testing everybody ten times a day (OK I might be exaggerating for effect,) will do any good is just another diversionary tactic …
Critics Batter The Fake Science Used To Justify The Lockdown As Boris Waffles
Regular readers may recall this blog was among the first to expose the fact that the pandemic model predicting 500,000 COVID – 19 deaths if the entire nation was not placed under indefinite house arrest was based on a deeply flawed mathematical model of the pandemic built by a "scientist" at Imperial College, London, a college heavily reliant on funding from the Bill and Melinda Gates foundation. You may also recall we have reported on the determination of psychopathic megalomaniac Gates to insert himself into this phoney crisis
Coronavirus: Fear and Panic and a Globalist Power Grab World Leaders Insist 'Economic Lockdowns Ravage the Very Fabric of Societies'
An impressive array of more than 500 prominent world leaders, academics, and Nobel Laureates have written "A Call to Defend Democracy" in the face of a worldwide rise in government authoritarianism during the Wuhan coronavirus pandemic. The June 25 text declares that beyond health concerns the COVID-19 pandemic is "a political crisis that threatens the future of liberal democracy."