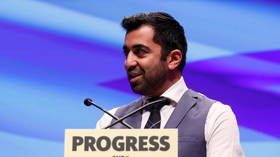 The Thought Police have arrived north of the border. In a scenarion that could have been taken from the pages of George Orwell's dystopian novel, "1984", Scotland's justice minister yesterday announced the new hate crime bill proposed by the governing Scottish National Party will take state surveillance of individuals to an unprecendented level. If enacted the law will criminalise anyone whipping up hatred against "protected groups" in any circumstances That includes people making "insulting" remarks within their own home, Justice Secretary Humza Yousaf has revealed.
Just how this part of the law could be policed is unclear at this stage although since the Brexit vote pissed off The Mad Wee Hag Nicola Sturgeon, and her far left cronies in 2016, the Jimmy Krankie lookalike First Minister has led her party so far to the left they now make Pol Pot's Khmer Rouse look moderate.
To incentiveise neighbours and family member to spy on each other is a favourite tactic of authoritarian socialist regimes of course so it is quite likely Ms. Sturgeon will be coming cap in hand to the government in London begging for money to fund a policy that will put Scotland on a par with Stalin's Soviet Union, Hitler's Germany and Castro's Cuba.
Quizzed on the bill by the Scottish Parliament's Justice Committee on Tuesday, Yousaf assured critics that the proposed legislation would protect the "right to be offensive." However, anyone "stirring up hatred" against others on the basis of religion, age, disability, sexual orientation, transgender identity or "variations in sexual characteristics" will be prosecuted to the fullest extent of the law, he said.
We're not sure how that could possibly work but as English is probably not Mr. Yousaf's first language maybe he's a little confused and thinks that having The Right to be offensive while actually facing possible criminal charges if we actually offend anyone is sufficient to protect the right of free speech.
Corbyn blames Boris and Tories for 'rise of NAZIS' in UK
Speaking during Labour's Faith and Race manifesto launch, Jezza The Jew Hater said: "What we're faced within this country, and across Europe and in the United States is a rise of the intolerant far right, the far right that can only ever seek to give out a message of division and hatred. They walk in the footsteps of the Nazis …
Politically Unbiased BBC Launches Left Wing Attack On Donald Trump For Illegal Immigrants Stance
The BBC, Britain's publicly funded broadcaster is bound by a charter which commits it to be balanced and non partisan in its news reporting. Repeatedly however, the BBC, its management now doniated by left wing luvvies is becoming more and more blatantly left wing in its unbiased reporting
Labour Scourge Of Tax Avoiders Is A Tax Dodger? WTF is going on?
We have often made points about the hypocroisy of the left, particularly those lefties, but surely Margaret Hodge (nee Oppenheim – the diamond people) is the undisputed champ of left wing hypocrites. As a senior Labour MP Margaret was always eager to condemn tax avoidance. Unfortunately like most self righteous Labour millionaires she did not practice what she preached.
Britain's Racist Future:Labour Set To Throw Selection On Merit Out The Window
With four weeks to go until a General Election that could change the face of Britain forever, the Labour Party, which hopes to be elected to govern this great and proud nation, has unveiled a set of policies that would make minorities into privileged castes and relegate the white Working and middle classes to the status of second class citizens.
Once We Respected Red Cross Because The Did Good Work. Now They Promote Politically Correct Tyranny.
The cancer of politically correct thinking has spread throughout British public life. Probably the most perfect illustration of how out of touch the new elite, the Meritocracy (who only merit a kick up the arse) have become with the lives of ordinary people is the politicisation of the institutions of government, local government, education, the law and now even the charity sector. Read what happened to a charity worker who dared to have his own opinion on a gay rights issue
Cultural Marxism Curriculum: The Frankfurt School
Western civilization at the present day is in a crisis different from anything that has been previously experienced. Other societies have changed their social or cultural values under the influence of external forces or by gradual development. But none, like our own, has ever consciously faced the prospect of a fundamental alteration of the beliefs and institutions on which the whole fabric of social life rests being imposed …
Labour's Cockfish Reveals How Mainfesto Will Piss You Off.
All three main parties in the UK General Election are campaigning from a Politically Correct Consensus (i.e. Control Freak) platform. But whenm it comes to politically correct control freakery, Labour will always outdo the others. The main early thut of their campaign is a promise to criminalise sugary snacks and breakfast cereals, fatty foods and some fizzy drinks. And they're serious, they have handed the job of selling this idiocy to The Cockfish of British politics.
Diversity' Does Not Mean Quotas. Why Do The Left Have To Rewrite The Dictionary.
One might think, given the amount of screaming and shouting about diversity we hear from the left, they might take a little time to find out what it really means and stop applying their superficial and shallow meaning to it. The left however are hupocrites which is why they can claim to have a monopoly on truth and goodness while embracing the tactics of fascism in silencing opposition. Thus they have no problem reducing 'diversity' to a question of skin colour or sexual preference while insisting only one shade of opinion is acceptable.
Big Tech tyranny is the biggest threat to democracy in our era
This weeks main story, pushing Coronavirus aside at last, has been the attempt by Twitter to censor U.S. President, classifying his somewhat rabid tweets as misinformation. Whether you love or hate Trump or any other occupant of The White House, their utterings can never be dismissed as 'misinformation' because they represent what one of the most powerful people in the world is thinking.
University free speech society told free speech a 'red risk', external speakers must be vetted
Sheffield University's recently formed Free Speech Society has been warned that free speech is a "red risk" and all external speakers at events it organises will have to be vetted by the University Thought Police squad and the topics they intend to talk about shown to be in line with ideas and opinions the titty – sucking babies who run the Student Union are not frightened by.
Big Tech tyranny is the biggest threat to democracy in our era
This weeks main story, pushing Coronavirus aside at last, has been the attempt by Twitter to censor U.S. President, classifying his somewhat rabid tweets as misinformation. Whether you love or hate Trump or any other occupant of The White House, their utterings can never be dismissed as 'misinformation' because they represent what one of the most powerful people in the world is thinking.
French Intellectual Jailed for Calling Mass Immigration an "Invasion"
French intellectual Renaud Camus (above) has been conditionally sentenced to 2 months imprisonment for arguing that mass immigration in Europe represents an "invasion." Summit.news reports: The writer, who is the author of Le Grand Remplacement (The Great Replacement), was charged with "public incitement to hate or violence on the basis of origin, ethnicity, nationality, race or religion."
There Is No Freedom Without Transparency
The Democrat / Republican political puppets in the USA would be supported by European leaders including Prime Minister David Cameron in the UK, France's Francois Hollande and Germany's Angela Merkel who, even as I type, are preparing massive interventions in Libya and Iraq, both turned into chaotic and lawless failed states by previous US / European interventions
There Is No Freedom Without Transparency
Facebook Declares War On Free Speech
Facebook has for some time had a policy of removing text that the majority of people would consider racist. Now the social media site is now deleting and blocking comments that only one person at Facebook decides is "racist." The sinister, Orwellian reality of a society in which the expression of majority opinion is being turned into a crime has already been witnessed across Europe. Even more disturbing, social media operators such as Facebook and Twitter appear to be collaborating with governments in the suppression of free speech.
Facebook Declares War On Free Speech
That includes off-color dinner table conversations with friends and family. Asked whether people would be allowed to speak freely within their own homes, Yousaf said he disagreed "in terms of principle and policy" with the idea of keeping the law out of the living room.
"Let's just give an example, which is intentionally stirring up hatred against Muslims," he said. "Are we saying that that is justified because it is in the home?"
The bill's definition of hate speech is a broad one, and its text would criminalize anyone acting in "a threatening, abusive or insulting manner" towards one of its protected groups.