Offician data released by the Office for National statistics (ONS) suggests that the so-called "long-COVID", one of the main building blocks of the case for forced vaccinations and vaccine passports in the UK is less common than the pro – vaccine propaganda generated by government and parroted by politicians and mainstream media is far less common than figures used in news reports and scaremongering articles and broadcasts would have us believe..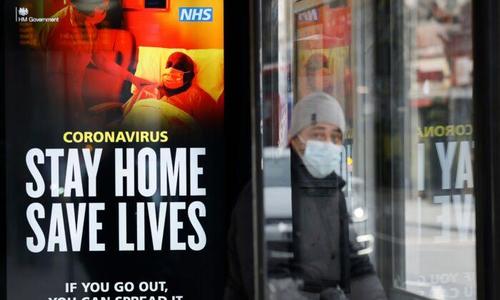 According to latest figures by the ONS on Thursday of this week, only 3 percent of people who tested positive for the CCP (Chinese Communist Party) virus had symptoms lasting more than 12 weeks, "substantially lower" than the ONS' previous estimation published in April (13.7 percent). And it must be remembered that 92% of the UK population have to date not been infeced by COVID even if we take government figures at face value although it is known the flawed diagnostic test used to identify COVID "cases" returns more false potitives than accurate results.
The ONS justified the new figures by claiming recent analysis benefited from both longer follow-up time and updated statistical methodology. One of the features of this pandemic has been the blatant use of exaggerated figures to increase the fear factor, and then quietly correcting the published data when the required effect had been achieved and the sensation subsumed under a stack of more recent fake news.
To arrive at the lastest figures, researchers analysed data between April 26, 2020, and Aug. 1 this year from more than 20,000 Coronavirus Infection Survey participants who had a positive PCR test for the CCP virus, and who can be matched to a control participant.
The 12 symptoms that ONS asked about were fever, headache, muscle ache, weakness/tiredness, nausea/vomiting, abdominal pain, diarrhoea, sore throat, cough, shortness of breath, loss of taste, and loss of smell.
Due to the observational nature of the study, it's impossible to know for certain what were the causes of the symptoms, the ONS said. Thus they could be nothing at all to do with COVID as one of the few things known with certainty is that COVID predominantly affects people with compromised immune systems, and weakened natural immunity makes on vulnerable to many conditions that could cause some of the avive symptoms.
While including non-continuous symptoms, 5 percent of the COVID group had symptoms at a point in time between 12–16 weeks after infection. In the control group, 3.4 percent of the participants had these symptoms, "demonstrating the relative commonness of these symptoms in the population at any given time," the ONS said. In plain English, all the symptoms associated with long COVID are very common for a variety of reasons.
The ONS stressed that there's currently no universally agreed definition of long COVID, and different studies are using different methods in their research into the phenomenon.
To include other known COVID symptoms outside of the 12 specified symptoms, researchers also asked participants to self-report long COVID. So again we see normal statistical methods being trampled on because there are no controls onthe reliability of the data included in the research.
Approximately 11.7 percent of participants with COVID-19 would describe themselves as having long COVID 12 weeks after infection, and 7.5 percent said they had long COVID that resulted in limitation to day-to-day activities.
"Irrespective of the approach to measurement, post-acute symptom prevalence was highest in females, adults aged 50 to 69 years, people with a pre-existing health condition, and those with signs of high viral load at the time of infection," the ONS added.

One statistic nobody is linking to long COVID is the surge in claims for disability benefit. It seems some people just don't want to go back to work.
MENUS:
[ Covid Vaccine Fascism ] … [ Covid vaccine harm ] … [ Coronavirus fear and panic ] … [ Covid Vax Censorship ] … [ Health Tyranny
POSTS:

Are Vaccines The New Messiah Or Are They Bollocks?
Throughout the pandemic of 2020 .21 we have been encouraged by a carefully constructed narrative to believe vaccines will be our messiah and only compliance with government diktat can save us from the kiler virus. But is it all bollocks?
France: Thousands of Health Workers Who Refused Covid Vaccine Mandate Suspended
The French government have today suspended 3,000 health workers who have defied a manadte requiring all medical personnel to be vaccinated against COVID,The Guardian reports. Announcing the move France's health minister said that many have since agreed to be inoculated now that they had seen "the mandate was a reality".
France: Thousands of Health Workers Who Refused Covid Vaccine Mandate Suspended
The French government have today suspended 3,000 health workers who have defied a manadte requiring all medical personnel to be vaccinated against COVID,The Guardian reports. Announcing the move France's health minister said that many have since agreed to be inoculated now that they had seen "the mandate was a reality".
Israel (98% vaccinated) now has more covid infections per capita than any country in the world
2 September: Just a few months ago, the mainstream media praised Israel for its "pandemic-ending" vaccination campaign. With over 40 percent of the population "fully vaccinated" in the first quarter of 2021, Israel was well on its way to stopping community spread and clearing out its hospitals. The nation of Israel imposed some of the strictest lockdowns during that time, violating the Nuremberg Code and segregating the unvaccinated. from public life.
Major Study Links Covid Vaccines To Disruption Of Womens Reproductive Cycle
More evidence that COVID vaccine program is a scam emerged today as a study carried out by Imperial College, London suggests a link between Pfizer, Moderna, AZ and J&J vaccines and the menstrual cycle. Some of us have been reporting since early this year on the problems people have experienced after COVID vaccination. Among the problems reported was disruption of women's menstrual cycle … Continue reading >>>
Harvard Epidemiologist Says The Case For COVID Vaccine Passports Was Just Demolished
A newly published medical study found that infection from COVID-19 confers considerably longer-lasting and stronger protection against the Delta variant of the virus than vaccines.The natural immune protection that develops after a SARS-CoV-2 infection offers considerably more of a shield against the Delta variant of the pandemic coronavirus than two doses of the Pfizer-BioNTech vaccine
US CDC Admits Vaccines are failing, the vaxxed can be super-spreaders, demands return to mask mandates for everyone, including the vaxxed
July 29: In a bombshell admission today the United States Center for Disease Ccontrol's director Dr. Rochelle Walensky, the official narrative on the effinciency of vaccines in preventingcovid-19 was destroyed. Back in March Walenksy put on record the promise that vaccinated people could not spread the virus and infect others,yet earlier this week she admitted that vaccines are failing, and vaccinated people may actually be carrying higher viral loads than unvaccinated people, thus contributing more to the spread of COVID-19 than those of us who wisely declined the killer vaccines.
Blood doctor releases findings showing Moderna's mRNA Covid vaccines change red blood cells
You don't have to be a mechanic to learn and understand how dirty oil can ruin a motor, and you don't have to be a doctor or scientist to understand how mRNA Covid vaccines are changing red blood cells to make them stick together. This explains the blood clot phenomena happing around the world after Covid inoculation. This explains the inflamed heart epidemic happening around the globe after Covid vaccination. This explains the explosion of cases of neuromuscular degenerative conditions …
Doctors and Scientists Warn Of Covid Vaccine Dangers Government And Big Pharma Corporations Are covering Up
July 17: Doctor says mRNA vaccines "will kill most people" through heart failure, 62% of vaccinated people already show microscopic blood clots from Natural News, 14 July 2021 ALERT: Doctor says mRNA vaccines "will kill most people" through heart failure, 62% of vaccinated people already show microscopic blood clots
UK COVID Vaccine Fail: 40% of Those Hospitalized for COVID-19 Were Fully Vaccinated
21 July: The Government's Chief Scientific Adviser Sir Patrick Vallance gave a press conference yesterday to warn the nation that 60% of those admitted to hospitals for COVID-19 had received both doses of a COVID-19 vaccine. Vallance later issued a tweet explaining that he had previously misspoken, with the actual number around 40%. I have read and heard from other sources the first figure is more accurate but no matter, …
17,503 DEAD, 1.7 million injured (50% SERIOUS) reported in European Union's database of adverse drug reactions for COVID-19 shots
19 July: A Health Impact News subscriber from Europe reminded us that this database maintained at EudraVigilance is only for countries in Europe who are part of the European Union (EU), which comprises 27 countries. The total number of countries in Europe is much higher, almost twice as many, numbering around 50. (There are some differences of opinion as to which countries are technically part of Europe.) …
FDA Warns Johnson & Johnson COVID-19 Vaccine Can Cause Your Immune System To Attack Your Nervous System
Guillain-Barre has been detected (read fact-sheet below) in about 100 people who had recently received Johnson & Johnson's Covid-19 jabs, and the FDA said on Monday that 95 of those cases required hospitalization. One vaccine recipient died from the disorder, the agency said, without providing details. Many of the patients were men aged 50 and older, and symptoms developed in most of the cases within six weeks after they were vaccinated …
UK Research Group: Coronavirus Vaccine 'Unsafe for Humans' Due to Adverse Events
Scientists and doctors looked at data from the British government's Yellow Card vaccine event reporting system. They found that the "overwhelming" number of adverse reactions from COVID-19 vaccines definitely raised alarm bells. The Yellow Card system is the British equivalent of the Vaccine Adverse Event Reporting System (VAERS) in the U.S. The system is run by the Medicines and Healthcare Products Regulatory Agency (MHRA).
Protect our children from this vaccine assault
DEAR parent, carer or person concerned about the wellbeing of the children and young people in our lives: I am extremely concerned at the prospect of our young people and children being given the Covid vaccine. While the Joint Committee of Vaccination and Immunisation (JCVI) did say that the vaccine has many potential side effects and children are at extremely low risk from the virus itself…
12 July: Eric Clapton warns fans about covid vaccine dangers (again)
Rock legend Eric Clapton, lead guitarist with The Yardbirds, Cream, Blind Faith and Derek and the Dominoes, who also recorded and performed with many other artists and bands has speaking out once more about the horrors he is now having to endure thanks to his Wuhan coronavirus (Covid-19) "vaccination." …
Death By Vaccine – The Greatest Scandal Of 21st Century
27 June: In his book Deadly Medicines and Organized Crime, Dr. Peter Gotzsche arguably recognized as one of the world's foremost experts in evaluating evidence-based medicine (EBM) writes, "The reason why we take so many drugs is that drug companies do not sell drugs. They sell lies about drugs….
Evidence-based medicine consultancy issues "yellow card" warning about dangers of covid vaccines
A "community interest company" that says it conducts research on behalf of the general public with no conflicts of interest has issued a "yellow card" warning against Wuhan coronavirus (Covid-19) "vaccines," which "may require further investigation" to "identify issues which might not have been previously known about" concerning their safety.

Covid Vaccine Project? Invasion of The Body Snatchers meets The Milgram Experiments
Boris Johnson is on a collision course with elected representatives of his own party today, as the Prime Minister prepares to abandon every promise he made to end lockdown on June 21st, and announce a four week delat delay to the pan to lift pandemic restrictions. The much-heralded 'freedom day' scheduled for June 21 is now due to be pushed back until July 19, with health minister Edward Argar telling the BBC this would allow authorities time to "close the gap" in the number of adults who have had their second jab
The Truth Behind COVID-19 Vaccines (4)–Why High Incidence of Myocarditis in Young Vaccinated People
Vaccines causing myocarditis in young vaccinated people are finally getting the attention of health authorities and the media. However, keep in mind many more people die from all kinds of unpredictable side effects or suffer lifelong disabilities besides myocarditis, and no one knows about the impact of vaccines on fertility and other unpredictable consequences.
There have been numerous adverse reactions reported following mass vaccination worldwide. Myocarditis is currently attracting more and more attention due to its high incidence rate among young people who are vaccinated.
SHOCKING JUMP in Vaccine Deaths Reported This Week at CDC-Linked VAERS Tracking Website
There are more US deaths related to vaccines in 2021 in less than 5 months than there were the entire past decade.
The number of deaths linked to vaccines this year has absolutely skyrocketed. According to the CDC's own data, in 2021 n the first 3 months, the VAERS website recorded over 1,750 deaths due to vaccines in the US. That number is now at 5,997.
10,570 DEAD 405,259 Injuries: European Database of Adverse Drug Reactions for COVID-19 "Vaccines"14 May 2021 – The European database of suspected drug reaction reports is EudraVigilance, which also tracks reports of injuries and deaths following the experimental COVID-19 "vaccines."Here is what EudraVigilance states about their database:
This website was launched by the European Medicines Agency in 2012 to provide public access to reports of suspected side effects (also known as suspected adverse drug reactions). These reports are submitted electronically to EudraVigilance by national medicines regulatory authorities and by pharmaceutical companies that hold marketing authorisations (licences) for the medicines.

RELATED: