News feeds are telling us that earlier today (Sunday) a terror attack was made on a bus full of tourists travelling to see the Pyramids at Giza, near the Cairo, the Egyptian capital. Egyptian official news sources said the blast wounded at least 16 people, with no reports of fatalities so far.
The Egyptian government described the attack as having been by means of a roadside bomb placed on a heavily used stretch of road that in the tourist season is packed with busloads of sightseers en route to the famous World Heritage site, which leads security forces to believe it is the work of Islamic extremists intent on crippling Egypt's vital tourist trade — the second to target foreign visitors to the pyramids in under six months.
in December an explosion ripped through a tourist bus in Al-Haram area south of Cairo, which killed two and left a dozen injured, in what was the first such attack in two years.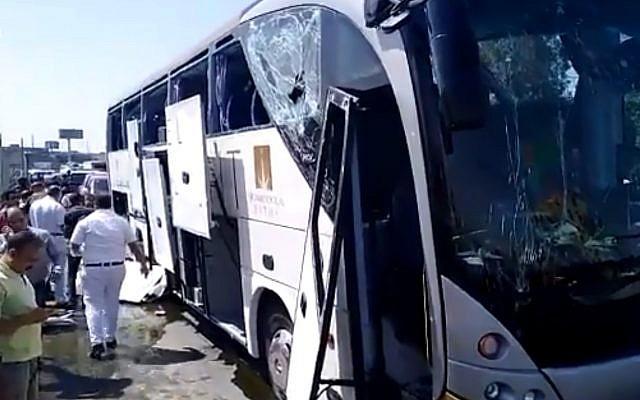 Eye witness reports suggest the bomb was a relatively small explosive device, and photographs of the aftermath show the bus suffered impact damage, but is intact.
According to Bloomberg:
Some of the wounded were foreign nationals, according to Mohammed El-Saghir, head of police investigations in Giza's al-Haram neighborhood. The blast occurred in front of a museum that's under construction, and there was not immediate claim of responsibility.
In the hours following the incident, reported numbers of injured people rose to 18, with police saying they're attempting to track the source, which a number of reports have linked with Islamic militant groups engaged in a long running conflict with Egypt's security services.