While the bureaucraps of Brussels were still congratuating themselves on brokering the stitch up that forced Matteo Salvini's Lega (League) party out of Italy's governing coalition, mainstream media barely bothered to cover the news that Lega won the state elections in Umbria towards the end of October 2019. Thus the story that should have had Europhiles like Emmanuel Macron and Guy Verhofshit crapping themselves as Boris Johnson finally saw off efforts by EU fanatics in the UK and Eurofederalists in Brussels to stop Brexit, was barely noticed.
Lega and the Brothers of Italy and Forza Italia took at whopping 53% of the vote, with Lega taking 37%, a result from which the Eurocrats should have learned that although their backroom deal overturned the result of Italy's democratic election and put two EU supporting parties that are actually on opposite sides of the political fence together in a minority government that cannot govern, the rebel Matteo Salvini and his anti – establishment party are more popular than ever with voters.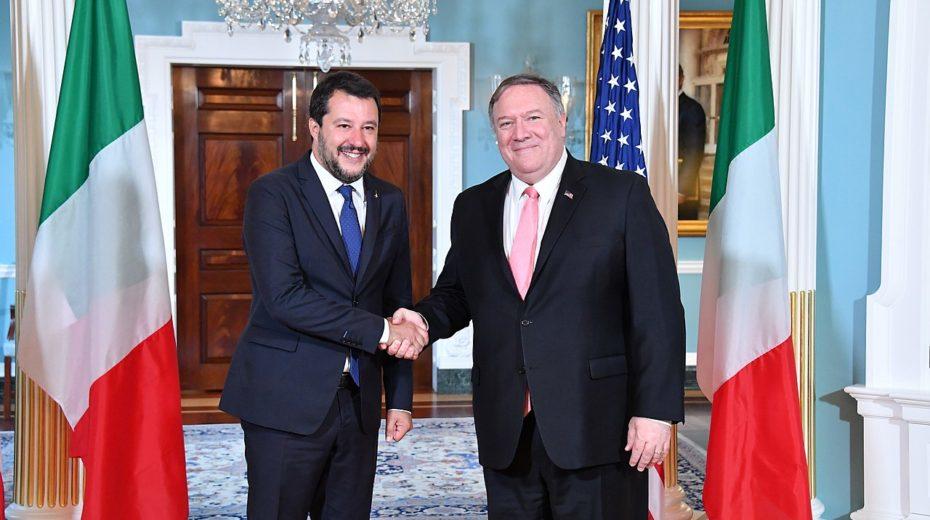 Matteo Salvini meets US Secretary of Stat,e Mike Pompeo, though not in power Salvini is recognised as Italy's de facto leader
The real importance of the result in Umbria is that it demonstrates Lega's ability to turn a stronghold of the centre – left Democratic Party (PD) against history.  PD had held Umbria for over fifty years until last October, now they are also rans.
The result showed that even though Salvini is no longer in government in Rome, his popularity, far from diminishing, has increased. The Umbria result back up conclusions from  polling and confirmed that standing up to Brussels has seen Lega strengthen its position as the dominant party in Italy. Current polls have Lega commanding 31-33% of the vote, remarkable in a country with more than ten political partioes capable of winning seats in its national assembly.
Another interesting, (and disturbing for Brussels,) aspect to the story, however, is the surging popularity of far right group The Brothers of Italy (FdL) who are picking up disaffected Forza Italia voters and held them for months now, continuing to hold a solid 10%. Mainstream media have habitually referred to Lega as far right nationalists, just as they have tried to taint Germany's AfD, France's Rassemblement National, The Sweden Democrats, Austria's Freedom Party and the UK's Brexit Party with the same labal in the hope offalsely linking them to The Nazis.
Overall  the ousting of Salvini and Lega from the ruling coalition has backfired. When coalition partner in the Eurosceptic government, Five Star Movement (M5S) agreed to a deal brokered by EU officials to form a coalition with the fanatically Eurofederalist and notoriouslu corrupt PD,  M5S's slide in the polls, and in the actual election in Umbria has accelerated. Remember, M5S was formed to stop PD from holding onto power, ending corruption in Italian politics and challenging the establishment on EU membership and continued use of the euro as Italy's currency. It isidely recognised by economists and financiers across the democratic world that Italy's being forced by Brussels to join the single currency has trashed the always volatile financial situation of the world's eighth largest economy.
Making that deal with the establishment like that has alienated a lot of M5S's base and it's support is now threatening to collapse below the all-important 16% level, which once breached to the downside opens the door for someone else to gain dramatically.
And that is the backdrop against which the PD/Five Star Movement (M5S) government is dealing with.
Lega is currently polling higher than PD/M5S together nationally. And with a state election  due in Emilia-Romagna on January 26th it looks as if things are likely to get even more tense in Rome. As the Financial Times reported in a recent article, Salvini and Lega have already made serious inroads in the traditionally left wing area.
Giorgio Bennetti, a 35-year-old sweets seller with a stall in Ferrara's centre, believes that many voters are willing to switch to the right to express a general political dissatisfaction. Local issues, such as the collapse of the Ferrara savings bank — 130,000 investors lost their savings — have also given voters reason to want to punish the PD, which was in charge both locally and nationally when the rescue happened in 2015.

"This is a protest vote; people don't believe that the left is working for them any more," Mr Bennetti says. "My grandmother used to say that people have no problem changing their shirts from red to black if they need to."
But taking advantage of a similar public mood to that which  took Donald Trump to the US Presidency in 2016 and Boris Johnson's Conservatives to a super-safe majority in the UK last month, nominally right-wing candidates have become the champions of domestic working middle class by sensing that the public is sick of politically correct stupidity and virtue signalling.
In Italian political terms, the former Communists in Emilia-Romagna now firmly trust Salvini to protect their futures and the jobs rather than traditional centre left parties, but also they trust Lega to protect and preserve Italian culture and Italian identity.
Current polling for the state election in Emilia-Romagna  has Lega with 31% of the vote, a massive 12-point rise over the last election while PD has lost even more down 20 points.
RELATED POSTS:
Catalogue of Greenteth posts on Italy
France catalogue
Europe catalogue
And the next to leave the EU? Quitaly
Italy PM Giuseppe Conte resigns, launches blistering attack on deputy Matteo Salvini
Latest EU Attack On Italy's Salvini Shows The Elite Are Scared
Italian Elections: It is the EU, Not Russia, Who is the Meddler
The EU can go and F*** itself!' Politician's Outburst Rallies Support In Italy

Italy most likely member to quit the EU and demand independence after Brexit -shock poll
23:01 (11 pm) 31 January, the United Kingdom is no longer part of the European Union.
Throughout the day, the last on which the UK will be a member of the European Union, more than 7,000 people took part in an online, and completely meaningless except as a gesture, poll which asked which nation they thought would be next to leave the 27 member bloc …