1 Sep, 2021 16:53 Get short URL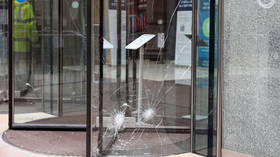 Several middle class crusties attached to the unwashed eco-terorist group Exstitnktion Rebellion deployed hammers and chisels to smash the glass doors of investment bank JP Morgan's offices in London's financial district, as part of a protest against the contniued use of fossil fuels The eco – terrorists claim the investment bank is still funding fossil fuel related energy projects.
Reuters published video from the scene showing the protestors – one with "stop the harm" written on her back – jump over a fence and begin hitting the glass doors and windows of the financial services giant's offices in The City as London's financial district is known. The video shows a security guard stand nearby, speaking speaking animatedly on a mobile phone, as at least four activists repeatedly pound the glass.
A spokesperson for the group said JP Morgan, Barclays and HSBC were to be targeted in its protests today (1 September) to highlight these banks' roles in "funding and accelerating the climate and ecological emergency" by investing billions of dollars in fossil fuels.
A Metropolitan Police statement statedd that officers had arrested eight people "after a group of activists smashed windows at a commercial premises on Victoria Embankment." Wednesday's incident is the latest in an ongoing series of London protests being staged by the group, which said it would hold a fortnight of demonstrations starting on August 21.
Last weekend crusties linked to the group were filmed being removed from London's iconic Tower Bridge by police, after they had blocked traffic for hours. In a another incident on Monday, police and crusty activists scuffled as the group attempted to erect a high wooden structure close to the French Consulate and London's Science Museum, in an effort to block a busy junction.
RELATED:
Extinction Rebellion Wants To Destroy Civilization, Not Just Fossil Fuels
Readers may find it hard to believe but while our attention has been focused on the coronavirus pandemic, other things have been happening. Recently the eco – crusties of EkSTIMKtion Rebellion have elbowed their way back into out consciousness and now, with Antifa and Black Lives Matter, form an unholy trinity of Marxist seditionist groups intent not only on destroying capitalism but destroying civilisation …
Worst polluting coal and wood fires banned in fight to cut emissions
Domestic coal and certain types of wood are to be banned from sale from next year in a bid to cut air pollution, ministers will announce on Friday.
Is Hatred Of Greta Thunberg Justified?
As the backlash against the Greta Thunberg cult gathers momentum a lot of lefties are asking why the little Climate Warriorette is so hated by so many people. As usual with the left, they are asking the wrong question. Just as they asked, "Why can't you believe the scientists, when in fact not only is it always legitimate (and scientific,) to question and challenge scientific theory, so it is perfectly rational and logical to challenge the Cult of Saint Greta ….
Ruling Elites support Extinction Rebellion plan for Marxist world to 'fight climate change'
Climate change: Electrical industry's 'dirty secret' boosts warming
Scaremongering IPCC Pushes Climate Hysteria with New Doomsday Report
Billionaire Investor Erik Prince Launches Fund For Electric Car Metals
Why Are The World Government Schemes, Agenda 21 and Agends 30 blanked by big media?
Since the early days on the old blog.co.uk platform we have from time to time raised the issues of Agenda 21 and Agenda 30, The New World Order, and the push for a global, authoritarian, socialist government. Any mention of these things in online forums is certain to get the author accused of being a conspiracy theorist, a right wing extremist, a nutcase, a young earth creationist and much worse.
---
Greta Thunberg Slams Australia for Coal Industry, Expands List of Climate Demands
Little Greta Thunberg, who was elected by nobody apparently now speaks for us all on matters relating to climate change. The Swedish climate change hustler who is making a fortune for her handlers from donations to her campaign, again castigated Australia for continuing to mine and export coal despite her previous complaints, adding a call for an end worldwide to the actibity to her list of climate demands to be delivered at the upcoming World Economic Forum in Davos …