Marine Le Pen, leader of the French nationalist party Rassemblement National (National Rally) has called for a referendum on immigration policy to stop what she called the "submersion" of France via a "globalist" program of mass immigration.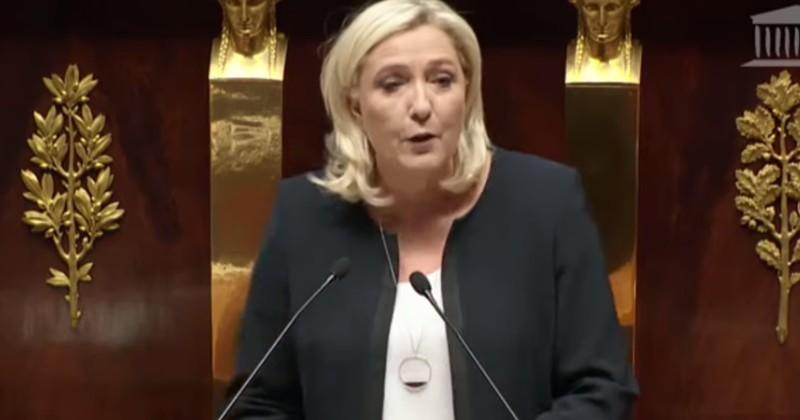 Marine Le Pen
Speaking in a debate on problems caused by mass immigration and the growth of lawless, migrant dominated ghettos in French cities and towns, Le Pen told the French Parliament that the political establishment had betrayed French people and by overseeing a policy of mass immigration and the dilution of French identity at the expense of ordinary people.
Le Pen said the last 30 years of immigration laws were designed to be ineffective, allowing a virtual 'open borders' approach to immigration control which had resulted in  the current social problems. She said the policies had been "nothing more than political grandstanding."
In another part of the speech she said the French people "recognise that uncontrolled immigration is a threat to their daily lives, to their way of life, and even, at times, a threat to their lives."
"Our country is experiencing a veritable submersion, yes a submersion, I dare to use that term, because it describes the reality of the unbroken wave that is crashing upon our cities, our towns, and now, because of your irresponsible policy of placing migrants in the rural areas, even the smallest villages," said Le Pen.
She continued by  lambasting establishment politicians for trying to make discussion of immigration taboo and demonizing those who spoke out against uncontrolled immigration, saying a giant demographic displacement of people was taking place. In conclusion she accused the ruling duopoly of "treason" for failing to "defend their people."
"But above all, without ever consulting the people, they organized the streams of legal migration and tolerated illegal immigration," she added, saying this was driven by "the globalist ideology that guides them inexorably." "The torrent of migration is destroying our welfare system, is making the entire penal system explode and is undermining the unity of the nation," she added.
Le Pen also accused globalists of reducing man to his "economic dimension, as a producer and consumer, an interchangeable man, with no identity or cultural reference points, nothing but a cog in the wheel of global commerce."
This is of course an almost perfect decription of the aims of Cultural Marxism as defined in the 1920 by members of the notorious Frankfurt School of political and economic academics.
Attacking President Macron and his lamentably inept administration for exacerbating the problem by attempting to deflect attention from their failures by virtue signalling, Le Pen dismissed the "debate" as a pointless "rehearsal for a high school play," calling for a national referendum on stopping mass immigration.
"In this chamber a majority want this migration madness to continue. In France, a majority want this migration madness to stop," she concluded.
Le Pen was heckled throughout the speech by pro-mass immigration, establishment politicians, but her words are likely to ignite still more unrest in France where months of strikes and disruption have destabilised the nation.
MORE ON FRANCE & IMMIGRATION
[ Mass Immigration catalogue ] … [ France menu ]
Oxford Covid Vaccine Fails But Big Pharma Will Sell It Anyway
Many highly – placed members of the lockdown forever cult, Bill Gates among them, have been spreading the idea that lockdown must continue until a vaccine for COVID – 19 is available because only a vaccine can save us. More level headed types (i.e. those of us routinely dismissed as conspiracy theorists, have warned that as the virus affects the upper respiratory tract and nasal passages, where there can be no antibody response it is unlikely there will ever be an effective vaccine …

The Islamic Republic Of France
France's left-wing elite are accused of cowardice for failing to support 16-year-old girl facing death threats after she insulted Islam online, the ruling class have been also accused of cowardice for failing to support a 16-year-old girl who has faced death threats after she allegedly insulted Islam online.
General Strike brings France To Standstill As Nation Protests Macron Policies
France has been closer to social breakdown than the political establishment in the EU and their mainstream media sock puppets will ever admit since the the gilets jaunes demonstrations at their height nearly torched Paris and other cities. It would be a mistake to think, as television news bulletins and large circulation newspapers have suggested …
French police drag Yellow Vest "protesters" away from Bastille Day parade as they jeer Macron
As Mr Macron was riding by at the start of the parade, he was greeted by people in the crowds who turned their backs, booed and whistled. Before the parade, he delivered a message to the French people and said he wanted to highlight France's "irrevocable commitment to consolidate French and European security".
RELATED POSTS:
Macron Threatens G20 On Climate Then Backs Off
France's boy president and current climate scaremonger in chief and leading European federalist Emmanuel Macron arrived in Japan for the G-20 summit full of sound and fury, which like the stuff of Macbeth's soliloquy in Shakespeare's play turned out to signify nothing.France's boy president and current climate scaremonger in chief and leading European federalist Emmanuel Macron arrived in Japan for the G-20 summit full of sound and fury, which like the stuff of Macbeth's soliloquy in Shakespeare's play turned out to signify nothing.
Residents Of Paris Suburb With Migrant Ghetto Feel 'Abandoned' as Crime Surges
In the areas where [ migrants ] have congregated, usually places with a surfeit of run down municipal housing the lawless behaviour in the migrant communities is causing problems for French people. Despite promises from government to increase police presence, residents of the 18th arrondissement of Paris say they feel abandoned as crime rises in the area.

bYellow Vest Violence Erupts Again, 23rd Straight week Of Protests
Clashes between Gilets Jaunes (Yellow Vest) protesters and French riot police on Sturday (20 April,)during the 23rd straight week of protests across France. Police arrested 137 protesters Euro News reports.
Slash taxes now, French tells Macron after three-month 'great debate'

France must slash taxes now, or face ongoing civil unrest. According to the French prime minister, this is the main message from an unprecedented three-month "great debate" in the wake of anti-government "yellow vest" protests. Announcing publication of the findings from two million online contributions and 10,000 hours of town hall debates around the country, Edouard Philippe said on Monday there was "huge discontent" in the country. Astronomical levels of taxation was one of the prime concerns, alongside unemployment, immigration, and surrender of national sovereignty to the European Union.
Macron Isolated After More High Profile Resignations. Pressure Mounts On French President
On top of the Yellow Vests debacle, which is now destabilising France as the anti – government protests continue, a string of resignations from the tottering government of President Emmanuel Macron has prompted Gérard Larcher, leader of the French Senate to warn Macron that his authoritarian tendencies were partly to blame for the civil unrest crisis and political instability that have weakened his presidency.
Ghosts Of '68 Threaten Macron's Technocratic Dream.
The idealistic hope that mass protests and civil disobedience could trigger real social change met with some success in the nineteenth and early twentieth centuries but looked to have died after the USA's 1960s civil rights movement and anti – war protests. The recent mass demonstrations of Frane's gilets jaunes (yellow vests) movement in 2018, a movement … Continue reading
Migrants Riot And Use BATTERING RAM To Smash Through E U Border Checkpoint
today used a home-made battering ram in an attempt to force their way through a border control point between greece and Macedonia. They also threw rocks at police, who retaliated with tear gas. The migrants destroyed a gate on the border but Macedonian military personnel were on hand and it is not clear if any actually managed to get through the broken gate … (immigration)
Migrants Mass At Greek Border Waiting To Cross Into Europe
An estimated 6,500 undocumented travellers were assembled at the Idomeni camp on Greece's northern border with Macedonia on Saturday according to news feeds, after four Balkan countries announced a daily cap on migrant arrivals. The log jam began after Macedonia began refusing entry to Afghans and imposed stricter document controls on Syrians and Iraqis, slowing the passage of migrants and refugees to a trickle …(immigration)
EU Enlargement Commissioner Accuses Russia Of Flooding Europe With Migrants
We have learned that The European Union's (EU) Enlargement Commissioner has claimed Russia is working to destabilize the continent by flooding it with migrants from Tajikistan and Turkmenistan. This sounds like one of brussels' crazy and incompetent attempts to demonize Russia in the hope of eroding EU members opposition to the all out war the USA, Turkey and Saudi Arabia have been pushing for … (immigration)
NATO Warships in the seas Odysseus Sailed Spell Trouble For EU
In an apparent effort to reduce the flow of migrants making their way from Turkey to Greece across the Aegean Sea, and because of the mistrust between the nations on either side of that body of water, pressure has been put on NATO (of which both Greece and Turkey are members)by the EU to deploy ships to the Aegean Sea … (immigration)
Worlds Biggest Luxury Liner To Be An Immigtant Hostel?
Ocean Gala, a luxury cruise liner which when launched was the world's largest passenger ship will be converted into a concentration camp floating hostel to house Sweden's third world migrants. The only thing that may derail the deal with US Shipmanagers for floating migrant accommodation, would be failure to find a berth in any of Sweden's large deep water harbours. Sweden's open doors immigration policy has led to … (immigration)
Merkel Isolated As Europe Splits Over Refugee Crisis
With the UK Prime Minister David Cameron still desperately trying to convince his 'revised terms' of British membership of the EU are a really good deal, when in fact they will change nothing, our attention should shift to developments elsewhere in Europe.
German Government To 'Create' 100,000 Subsidised Migrant Jobs That 'Pay' Just €1 An Hour
The German government has announced plans to spend nearly € half a billion on creating 100,000 heavily subsidised jobs for unemployed migrants. Or to put it another way, Hausfrau – Volksfuhrer Merkel is going to pay migrants with taxpayers money to turn up at recreational centers and watch TV or play pool while pretending to do these make believe jobs.
Christians, Gays, Women Fleeing European Asylum Centres After Persecution By Muslim Men
In the case of Europe's immigration crisis, much of the fear and loathing is being caused by Muslim males. Most Europeans do not have a problem with foreigners or dark skinned people who are willing to obey the laws and accept local customs and traditions. And one tradition we in the nations that emerged from European cultures is the common understanding that if a woman goes out alone, with arms and legs showing and face and hair uncovered, it does not mean she is up for having rough sex
Islamification Of Germany: Regensburg City Council Considers 'Women-Only' Transportation
Public segregation of men and women, women only buses, segregated sessions at the swimming pool. European politicians have betrayed the people of Europe and are giving away our traditional freedoms in order to appease bestiali Muslim immigrants.