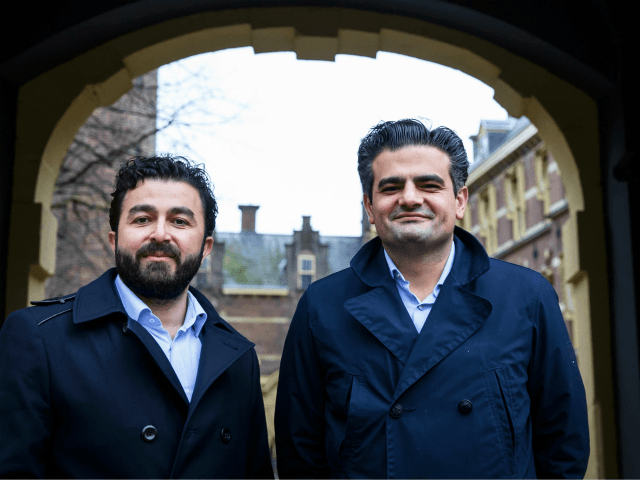 Leaders of the DENK party, a Muslim supremacist group
Anyone native Dutch person who is concerned about the possibily of Dutch people becoming a minority in an increasingly 'multicultural' Netherlands should leave, according to the leader of Muslim extremist, pro-migrant party DENK.
Tunahan Kuzu (pictured above, right), whose founded-by-migrants, for migrants party wants to create a 1,000-agent 'racism police' to drive up prosecutions against people with "xenophobic" beliefs (i.e. anyone who doesn't accept that Netherlands is an Islamic theocracy), made his controversial statement in a YouTube video earlier this week.
In a conversation about identity in the Netherlands, the Istanbul-born MP tells Turkish-origin YouTuber Ismail Ilgun: "When Dutch people see you as a foreigner, they are basically saying they feel superior and that you don't belong."
Calling for the tables to be turned, he said any native Dutch people with concerns about "the changing face of the Netherlands, where different people from different backgrounds live together in a city like Zaandam or a neighbourhood like Poelenburg" should "get the hell out".
Famous for his 'Hoodvlogs' videos showcasing the exploits of Turkish youths in Poelenburg, a crime-plagued "problem district" of Zaandam where less than 30 percent of the population is Dutch, Ilgun was branded "scum of the earth" by Prime Minister Mark Rutte in 2016.
The Dutch have been one of the most tolerant and welcoming nations to both Indonesian and Turkish immigrants since at least the 1960's, and from many other nations since, and look where it has got them. These bold as brass invaders can spout whatever hatred and threats they like without fear because all they have known is tolerance from the supplicant natives who have mostly been cowed into silence.
Europe used to be at the forefront of intellectual ability and innovation, while respecting the traditions responsible for such success. How did so many collective minds lose the ability to think critically? Was there a mind numbing virus that affected only indigenous Europeans? Was there a secret plan implemented that miraculously lowered the IQ of Europeans—after which, of course, they couldn't figure out what happened? How does a continent persuade itself that it needs to die the death of cultural exitinction, and celebrate it with rainbow regalia? There's a bit of angry buzzing from a few who realize they've been played for fools. The sort of frenzied buzzing one hears a disoriented fly make before the fly swatter silences it once and for all. The Russians, Chinese, Indians, Japanese—none have been as stratospherically stupid as Europeans.
Stefan Molyneaux posted a video of his conversation with Jared Taylor on YouTube about this very question. To make a long story short, they both suggested that the reason for this capitulation is that the West is a guilt culture, based on our dominant religion Christianity. The Christian churches have played on this for 1600 years.
"Jesus died on the cross for YOUR sins."
"Tough, I didn't ask him to."
This policy of guilt tripping us worked until the nineteenth century when people started to openly question the nonsensical stories of Christianity. Just when we should have broken free of the tyranny of power addicted priests, along came Cultural Marxism and guilt tripped many of us about inequality. This guilt culture is very susceptible to outsiders who do not feel guilt as we do to take advantage of us. It can be seen all over Europe and north America.
Some see in Nietzsche's writings an astute understanding of the political power of guilt. Those groups who harbor resentment towards those who have wealth, power, artistic excellence, end up hating them and wanting to take what the more affluent class have. What's the most cunning way to revolt in a guilt driven culture? Not by using physical force against people who control the wealth, the police and the standing armies. By far the most effective approach is to undermine the fabric of society by accusing the dominant culture of victimising the minorities. Thus Cultural Marxism cold have been made to order for those groups whose members have not succeeded. The purpose of Cultural Marxism's main weapon, politically correct thinking, is to make the successful feel guilty, immoral and unjust for succeeding and enjoying an affluent lifestyle.
The guilt induced must be profound enough to make those who have done well feel immoral for having what they do. They can be shamed into giving up what they have for the sake of the "oppressed." A very crafty way to undermine those who have what you want, without having to resort to force. Just make them feel morally inferior and guilty, and their world is your oyster. Some see Nietzsche as prophetic in the way the PC progressives toss around morally loaded terms, and take on the role of modern Pharisees. Taking them seriously was a fatal error.
By saying "guilt-based society" they are talking about what controls people's behavior. So for instance a shame-based society (the Middle East is an example of this) people are more concerned with what other's think of their transgressions, rather than an internal moral compass that has gone awry. That is why they will kill a daughter or sister for shaming their family, while for a European or American that concept is barbaric. If I feel bad about stealing something from work, it comes about because I've internalized the concept of "thou shalt not steal," and so feel guilty whether or not anyone knows about it. Of course we (Europeans and Americans) do feel shame, and of course Arabs and Asians do feel guilt to some extent. But the concept refers to which of these feelings tends to more strongly influence our behavior.
Obviously these are generalizations but this idea of guilt controlling us runs through our religion and some pretty ancient legends and beliefs. So the theory that foreigners learn about our tendency to feel guilty when we don't live up to the impossible standards set by 'the perfect human being,' the fairy story character Jesus of Nazareth, and use that to their advantage. And if you think about it, it makes sense. Can you even imagine moving to Japan and then scolding them for being racist when they won't hire you to work for the government? They wouldn't care because for them racism is not something to be ashamed of.
RELATED POSTS:
Netherlands EU Referendum Nobody Knows About
Everybody knows we are holding an IN / OUT referendum on EU membership in Britain later this year, in fact the IN campaign are so desperate they've had to turn the fear-and-panic generator up to eleven with increasingly stupid stories about the horrors an OUT vote will inflict on us. Hardly anyone knows about the … Continue reading
Last week we reported on the Merkel / Macron plan to 'reform' Europe (i.e. make Franco – German dominance unassailable) by accelerating the push for political and cultural integration, letting in more illegal immigrants and tightening finance policy to make sure debtor nations have no alternative to blind unquestioning obedience to Brussels. When the … Continue reading
Netherlands' Lies Over Putin's 'Aggression' Expose NATO War Agenda
Netherlands Prime Minister Mark Rutte, who can do without any geopolitical dramas because he leads a fragile coalition government, this week faced a vote of no confidence in the national parliament after his foreign minister finally came clean over a dangerous lie he has been telling for two years concerning Russian President Vladimir Putin
Dutch Socialists Calls For Government To Review EU Treaties
The Dutch Socialist Party is calling for a complete review and renegotiation of current EU treaties, to give the people a voice by means of plebiscites on matters affecting sovereignty, independence and the political nature of the European Union, a Dutch senator said on Tuesday.