I told you way back in March that something stank about this COVID – 19 pandemic. As was obvious right from the off this disease, a close relative of the common cold was not the indiscriminate, wholesale killers the official narrative tried to tell us it was. I wrote then that the incipient crisis looked more like a massive grab for power and control by the global elites.
Now, two minths later, with the economies of the world's must succesful democratic nations all but trashed, evidence is emerging that proves I was right. Anyone among the sheep who rushed to call me a conspiracy theorist want to apologise?
??????????????????????????? I'm waiting ??????????????????????????
Oh well suit yourselves. Fortunately I backed the same horses as Bezos, Gates, Buffet, Ellison and Zuckerberg – with a lot less money of course but I've done very nicely thank you.
US billionaire wealth skyrockets to over $3 TRILLION during pandemic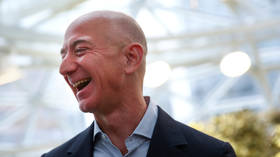 Over the last two months unemployment in the United States has risen to levels not seen since the Great Depression. However, US billionaires got even richer during the same period of coronavirus pandemic.
A new report by Americans for Tax Fairness (ATF) and the Institute for Policy Studies showed their fortunes soared by $434 billion or 15 percent during the nation's lockdown between mid-March and mid-May. The billionaires' combined net worth rose from $2.948 trillion to $3.382 trillion.
The top five US billionaires—Jeff Bezos, Bill Gates, Mark Zuckerberg, Warren Buffett and Larry Ellison—saw their wealth grow by a total of $75.5 billion, or 19 percent. Together they captured 21 percent of the total wealth growth of all 600-plus billionaires in the last two months … (Continue reading >>> )